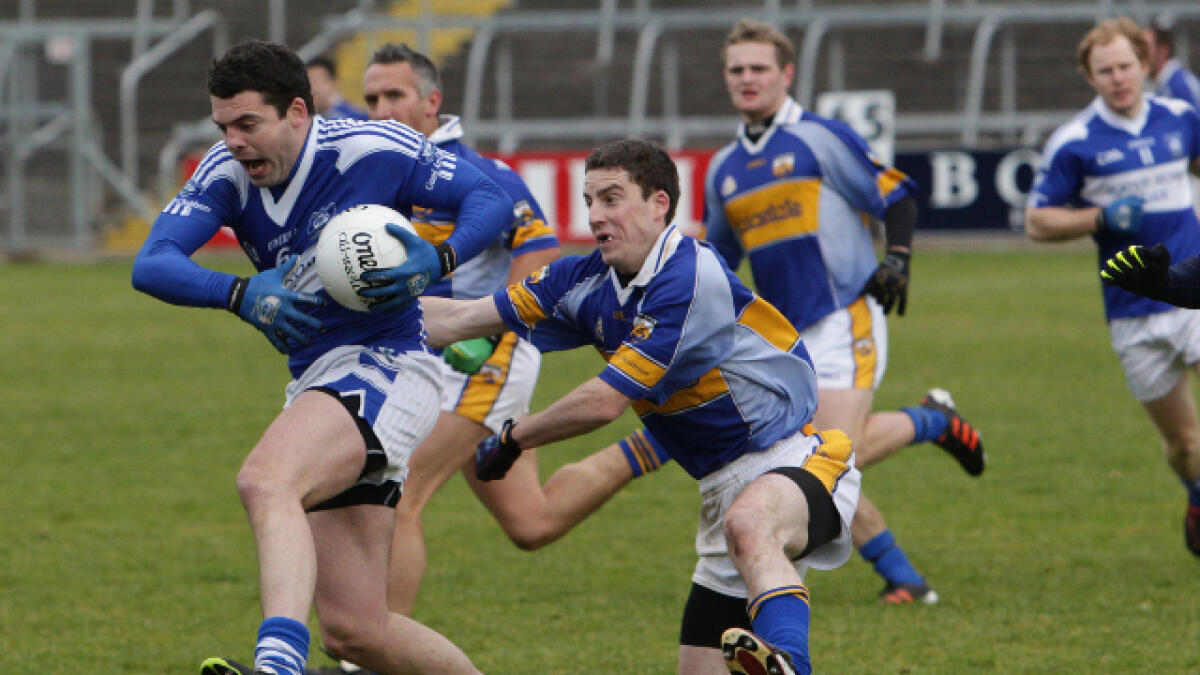 This weeks fantasy football leaderboard
There is a new leader in this week's Hayes Expert Fantasy Football competition - and it's Castlerahan footballer Stephen Cooney.
With Castlerahan, Lavey and Ballinagh having played twice due to replays, there has been plenty of movement at the top of the leaderboard, but Stephen has streaked clear.
Among the highest-performing players this week was Niall McDermott of Ballinagh, who scored a whopping 0-16 over two matches, for a total points total of 35!
THE LEADERBOARD
One Hit Wonders --- Stephen Cooney --- Castlerahan --- 505
Bruskey FC --- Paudie Donohoe --- Lacken --- 483
The goodfornothings --- Andy Mcgovern --- Killygarry --- 480
El Loafians --- Pan Loaf --- Cuchulainns --- 468
AJS FC --- Alan Smith --- Ballinagh --- 466
lavey4sam --- Darren Monahan --- Lavey --- 465
Corlismore cavaliers --- Cian Bannon --- Gowna --- 462
the toffees --- mickey graham --- Cavan Gaels --- 462
Summer ballers --- Jack Wharton --- Cornafean --- 461
The units --- Thomas Galligan --- Lacken --- 460
The chosen few --- Helen Bannon --- Gowna --- 459
The Wild Rovers --- Noel McEnroe --- Munterconnaught --- 459
Gowna Galacticos --- Derek McGahern --- Gowna --- 454
Hanleys hooter Utd. --- John Fortune --- Cavan Gaels --- 452
Corfree exports --- Conor Madden --- Gowna --- 449
Wavins Wonders --- Paddy Farrelly --- Kingscourt --- 441
Red Devils --- Chris Tierney --- Castlerahan --- 439
The snakes --- James Farrelly --- Kingscourt --- 439
Breffni boys --- Hazel O Connor --- Cavan Gaels --- 439
--- Christine Farrelly --- --- 438
Not like these hamstring boys... --- Paul Fitzpatrick - Celt Staff --- Redhills --- 434
Barrys Bitchs --- Barry Fortune --- Cavan Gaels --- 434
The reds --- Finnegan --- Lacken --- 433
KgarryCharms --- Conor Connolly --- Killygarry --- 433
The Expendables --- Eddie Sheridan --- Lacken --- 432
FitzysXV --- Sean Fitzsimons --- Cavan Gaels --- 429
Outside Bet --- Killian Maguire --- Ramor --- 429
Richmond Snakes --- Johnny Sheridan --- Lacken --- 427
Bradys dream team --- Alan Brady --- Laragh --- 425
Cootehill Celtic --- Gerard Argue --- Cootehill --- 424
Need A New Telly For College --- Alex McDermott --- Kingscourt --- 424
Game of Throw ins --- Mark Clarke --- Cuchulainns --- 423
Ballydurrow Men --- John O Reilly --- Munterconnaught --- 423
Celts --- --- Cootehill --- 422
The Goonies --- Eddie Gaffney --- Drumgoon --- 422
Black Card KnowItAll Rednecks --- Mark Hyland --- Lacken --- 418
Eamonns army --- David Brady --- Ballyhaise --- 416
BreffniGivesTheBlues --- D F --- Redhills --- 415
Lachain gales --- Oisin Smith --- Lacken --- 415
Paddys hammer club --- Philip Bogue --- Ballinagh --- 414
Dazzlerr --- Darren McCahill --- Killygarry --- 414
Up The Rories --- John McMahon --- Belturbet --- 411
Moynagh88 --- Philip Moynagh --- Lacken --- 410
321 --- Damien Faulkner --- Redhills --- 409
Galligans delight --- PJ Galligan --- Killygarry --- 409
Galacticos --- Kevin Lynch --- Mullahoran --- 407
The Quarrymen --- Brendan Farrelly --- Kingscourt --- 405
Dancing Queen --- Luke Lynch --- Munterconnaught --- 405
Quitters never win --- Shane Mc Gonagle --- Lavey --- 403
Breifne Highfielders --- Tommy Smyth --- Mountnugent --- 403
Larry Reilly (c) --- Alan O Mara --- Bailieborough --- 403
14 Man Defence --- Aodhagan Mackey --- Castlerahan --- 399
team of superstars --- jack houldsworth --- Gowna --- 396
The Lakers --- Cillian OReilly --- Killeshandra --- 396
Mud Dogs --- Stephen --- Crosserlough --- 396
Keadue GFC --- J R --- Ballyhaise --- 395
The Fox and The Hounds --- Emma McKeever --- Gowna --- 392
--- Andrew Andrew --- --- 392
marks team --- mark mccabe --- Castlerahan --- 392
Hassle Travel --- Damien Galligan --- Killygarry --- 392
The foam rollers --- Dan Wharton --- Cornafean --- 390
--- Ronan Baxter --- --- 390
The Begby Babes --- niall o riordan --- Cavan Gaels --- 390
Skeagh stars --- Senan I Reilly --- Bailieborough --- 390
Tommy Murphy Champs --- Ferdia Sweeney --- Castlerahan --- 388
The One Hit Wonders --- Damien McKiernan --- Lacken --- 388
Costa Rica --- Ciara Farrell --- Cavan Gaels --- 386
Hon the Reds --- Mick McGovern --- Killygarry --- 385
--- Fiachra Sweeney --- --- 383
Brendan4AoifeMcLad --- Caoimhin Reilly --- Butlersbridge --- 383
Blackdeath squad --- Austin OReilly --- Castlerahan --- 382
BendtheRulesRuletheBends Lawd --- Cathal Sheridan --- Kildallan --- 381
Stellos Stars --- Kevin Costello --- Ballyhaise --- 380
Commentators Curse --- Damien Donohoe --- Drumalee --- 380
CianD3112 --- Cian Donohoe --- Cavan Gaels --- 379
Buckleys Winners --- Daryl Buckley --- Lacken --- 378
Lakesiders --- David Hughes --- Munterconnaught --- 377
Carrick Rovers --- Aisling Matthews --- Munterconnaught --- 375
LetItIn --- Brian Sankey --- Shercock --- 374
MYR2014 --- Sean Nolan --- Munterconnaught --- 374
The All Stars --- Amy Wharton --- Cornafean --- 372
Drumcor rovers --- Martin Lennon --- Cornafean --- 372
The outcasts --- Padraic OReilly --- Ballinagh --- 371
Crunchies --- Declan O Reilly --- Munterconnaught --- 371
Liam Wilsons --- Liam Wilson --- Mullahoran --- 370
Brefnie --- noel galligan --- Drumalee --- 369
the sauce --- philip tierney --- Ballymachugh --- 369
PMG --- Paul Smith --- Castlerahan --- 369
Im in the Celt --- Richy Murphy --- Redhills --- 368
Black Card Bandit --- Jim Brady --- Ramor --- 368
Shanemcd --- Shane McDermott --- Cavan Gaels --- 367
KillyLough --- Peadar Soden --- Killygarry --- 367
gareths15 --- Gareth Henry --- Butlersbridge --- 366
Team Losers --- cian mccabe --- Castlerahan --- 365
Heroes --- Eamonn OReilly --- Ballyhaise --- 365
Fantasy ballers --- Alan Doyle --- Ramor --- 364
PUKE FOOTBALL --- kevin brady --- Castlerahan --- 364
--- John Cahill --- --- 362
Munchiemen --- Aidan O Dwyer --- Munterconnaught --- 362
Fragiles fillets --- Fergal Maguire --- Kildallan --- 359
Packa lies --- Leigh Dunne --- Drumalee --- 359
Morley cucus --- Christopher Tully --- Cuchulainns --- 359
Smashers --- Shane Wharton --- Ballinagh --- 358
Stars of the lough --- Dwayne Quigley --- Crosserlough --- 356
ABCDE FC --- Philip Rogers --- Knockbride --- 355
Kilcogy Slashers --- Brendan OReilly --- Mullahoran --- 354
Shercock Stars --- Simon McIntyre --- Shercock --- 354
Championship15 --- Corey Smith --- Drumgoon --- 354
Always a winner --- Seanie Farrelly --- Kingscourt --- 353
ellieslads --- regina smith --- Cavan Gaels --- 352
Dyslexics Untied --- Caolan McCarthy --- Drumalee --- 352
Callanagh Giants --- Aaron Galligan --- Mullahoran --- 352
Phil Galligans blue army --- Enda Boylan --- Arva --- 350
Shankill --- Declan King --- Laragh --- 350
Rocket --- Colin O Rourke --- Crosserlough --- 349
poitins 15 --- martin lyons --- Ballinagh --- 348
rock rovers --- Marion mc gahan --- Cootehill --- 348
Donals XV --- Donal McDonald --- Belturbet --- 346
ramor21 --- Grainne Farrelly --- Ramor --- 346
--- john mckiernan --- --- 345
The dream team --- Darragh Brady --- Maghera --- 344
moher celtic --- padraig smith --- Lavey --- 344
Long ball in --- Joseph Farrelly --- Kingscourt --- 343
takeyourpointsgoalswillcome --- Conor Sexton --- Killinkere --- 342
Franks Army --- Frank McGovern --- Killygarry --- 341
WouldYaGwan --- dualta murphy --- Lacken --- 341
Southern Gaels --- Ryan Coyle --- Lacken --- 340
Pierce Smith FC --- Daniel Hackett --- Drung --- 340
Leahyslads --- Jamie Leahy --- Castlerahan --- 339
The 14 Sweepers --- Jason Smith --- Killygarry --- 339
Blanket Defence --- Patrick Mulligan --- Arva --- 338
thelads --- Fergal Smith --- Lavey --- 337
Club Foot --- John F Farrelly --- Cavan Gaels --- 337
bridge 4 champo --- Fionntan Reilly --- Butlersbridge --- 335
fox's XV --- stephen fox --- Castlerahan --- 334
Stragella GFC --- Pat Carroll --- Killygarry --- 334
Champs --- Leanne Leddy --- Lacken --- 332
Cavan All-stars --- Oisin Kelly --- Killygarry --- 331
Blockbusters --- john brady --- Ramor --- 331
Oldman athletic --- Barry Mcgahan --- Cootehill --- 329
Muff GFC --- Eoin Lynch --- Kingscourt --- 327
Fortune FC --- Shane Fortune --- Cavan Gaels --- 327
Cellinos XV --- James Madden --- Gowna --- 327
Denn legends --- shane galligan --- Denn --- 326
Cupid Stunts --- Damien Flynn --- Killygarry --- 326
BarcaLonar FC --- Oisin Dolan --- Shannon Gaels --- 326
Wexfordmunchie --- Fintan O Reilly --- Munterconnaught --- 325
the soul destroyers --- Declan Farrell --- Templeport --- 325
defensive system --- sean feeney --- Killeshandra --- 325
Jacks Army --- Jack Mckenna --- Laragh --- 324
RamorUnited --- Jack Doyle --- Ramor --- 323
The Breffni Galacticos --- Jamie Costello --- Lavey --- 322
breffni cats --- pat delaney --- Cootehill --- 322
Killykickers --- Finian Mc Carthy --- Killygarry --- 322
Rockfield Rangers --- Daniel Luby --- Killeshandra --- 322
Breffni blues --- Sarah Gorman --- Bailieborough --- 321
Ballinagh Boys --- eoghan mcgrath --- Ballinagh --- 318
Shercock Stars1 --- ollie ward --- Shercock --- 318
FC Corduff --- David Wilson --- Lacken --- 317
--- Graham Harrison --- --- 317
finns allstars --- Martin Mc Govern --- Templeport --- 317
Gunners dreadnoughts --- Gavin Brady --- Mullahoran --- 315
Let it in --- Dean O Reilly --- Shercock --- 314
Ballyhaise Kickhams --- Enda Fay --- Ballyhaise --- 314
Victorious Secret --- Eddie Halligan --- Cavan Gaels --- 314
Bunch of Punts --- Brian Reilly --- Redhills --- 313
The Lads --- Pee Cahill --- Crosserlough --- 313
Green and gold --- Ciaran Mc manus --- Templeport --- 313
Gains Braaah --- Darragh Prior --- Ballyhaise --- 312
Breffni Royals --- Micky Brennan --- Drumalee --- 312
uptheredz --- Shane Doyle --- Cornafean --- 311
Team Safe --- Sean McBreen --- Crosserlough --- 309
Backs Tight 4wds loose --- Niall Brady --- Arva --- 309
DRUMGOON --- BARRY MC CABE --- Drumgoon --- 306
Lilywhites --- Orla Smith --- Drumalee --- 306
LARAGH GFC --- paul smith --- Laragh --- 306
--- Eoghan McCormick --- --- 305
connollys corner --- kenny connolly --- Cootehill --- 305
Darbecemm slashers --- Brian Galligan --- Cavan Gaels --- 304
London MacFinns --- Derek Dunne --- Maghera --- 304
JDs Allstars --- John Denning --- Drumalee --- 304
Cavan Aces --- John Farrelly --- Cavan Gaels --- 303
High Flying --- John O Dowd --- Drumlane --- 303
Maddens Men --- Cian Madden --- Gowna --- 303
NaghronGFC --- Aaron Dourneen --- Ballinagh --- 302
Speed Merchants --- David Carolan --- Cuchulainns --- 302
The Invincibles14 --- Ryan Madden --- Gowna --- 301
Killeroos --- Killian Farrelly --- Cuchulainns --- 301
Drumalee GFC --- David O Keeffe --- Drumalee --- 300
Corglass Gaels --- Eamonn Tully --- Ballinagh --- 299
Cavan Superstars --- Stephen Rooney --- Ballyhaise --- 299
An outside chance --- Neil Brady --- Killygarry --- 298
Dream Team --- --- Mullahoran --- 297
Na Buachailli --- Conor Bannon --- Redhills --- 297
Cuckoos --- Richard Leddy --- Cuchulainns --- 297
Redhills --- Sinead Brady --- Redhills --- 296
--- Donal Farrelly --- --- 296
Drumora --- James Cartwright --- Cornafean --- 296
Millennium man --- Raymond Galligan --- Lacken --- 295
Big swinging --- Cavell Keogan --- Denn --- 295
banditos --- kurt bravender --- Ballyhaise --- 294
Will we ever win Sam --- Carmel Denning --- Drumalee --- 293
Siege Mentality --- Mark Farrelly --- Killinkere --- 292
Muff Rangers --- Orla Mc Cabe --- Kingscourt --- 291
The Dependables --- Cormac Fitzpatrick --- Killygarry --- 289
--- Holly Lynch --- --- 289
Ballyconnell pranksters --- Conor Crowe --- Kildallan --- 289
in the celt --- Stephen Gargan --- Ramor --- 285
masters of mayhem --- Conall Farrell --- Drumgoon --- 285
ClubBanjos --- Barry Corrigan --- Drumlane --- 284
--- Angela Hamilton --- --- 284
Delaney GFC --- Finan Delaney --- Ballinagh --- 283
Gussy Gaels --- Vincent O Keeffe --- Cavan Gaels --- 282
Ivory toast --- Brandon Boylan --- Crosserlough --- 282
Benchwarmers --- Caitriona Smith --- Killygarry --- 280
Corlurgan Celtic --- Pat McEnroe --- Lavey --- 279
Celtic lads --- gary clegg --- Cootehill --- 279
hardhitters --- Darren Donohoe --- Templeport --- 278
Bandits --- Conal Donohoe --- Laragh --- 278
uncle butsy --- andrew graham --- Cavan Gaels --- 277
Red Black and Blue --- Kevin Lovett --- Killygarry --- 276
UpInAHape --- Damien McCaul --- Killeshandra --- 276
the blues --- jim hamilton --- Shercock --- 274
Screwballs --- Declan Smith --- Lavey --- 274
jmacs --- Joe McGovern --- Ramor --- 271
Kilnavara Gaels --- Karen Galligan --- Cavan Gaels --- 270
--- Paul Martin --- --- 268
Breffni Sarsfields --- Jimmy McMahon --- Shercock --- 266
sir hits a lot --- ned brunton --- Mountnugent --- 266
Gimpy Boys --- Brían Wallace --- Belturbet --- 265
Killy kikers --- James Brady --- Killygarry --- 263
--- Aileen Morris --- --- 263
MacxArmy --- John Mc Donagh --- Laragh --- 262
dcelts --- darren mcmullen --- Cootehill --- 262
junior b pinters --- Robert mccabe --- Mountnugent --- 261
super15 --- Eoin Brady --- Killeshandra --- 260
Who u r shamrocks --- Andy Gorman --- Bailieborough --- 259
Killerbees --- Michael Smith --- Killinkere --- 258
Dingins GFC --- Damien Bannon --- Gowna --- 258
INITTOWINIT --- Claudia Potratz --- Ballinagh --- 257
The maroons --- johnny crafford --- Castlerahan --- 256
the daily stars --- jack Flanagan --- Knockbride --- 255
Goballsdeep --- Brendan Smith --- Denn --- 254
Gladiators --- Nicola Sheanon --- Ballinagh --- 254
cians knockbride boys --- Cian Donohoe --- Knockbride --- 253
--- Stephen Lovett --- --- 253
Reds GFC --- Gary ORourke --- Ballyhaise --- 247
lavey gaa --- patrick smith --- Lavey --- 247
Crowes Butchers 15 --- Aaron Crowe --- Cavan Gaels --- 246
On route to kingspan breffni park --- Caoim McCabe --- Denn --- 246
Underdogs --- Michael McGibney --- Cornafean --- 244
champions --- jack brady --- Mountnugent --- 243
Cavan Slashers --- Ciaran Graham --- Cavan Gaels --- 242
cavan --- stephen fitz --- Shannon Gaels --- 233
The Shamrocks --- Shane Traynor --- Bailieborough --- 231
The Celts --- Gearoid McDonald --- Cootehill --- 229
Crosserlough --- Shane Mcveety --- Crosserlough --- 227
Swad Gaels --- Martin Birt --- Swanlinbar --- 223
Glan United --- Jason Mcgovern --- Shannon Gaels --- 219
Pipsmuppets --- Philip Morgan --- Ramor --- 216
Ballyhaise --- Niall Mc Kiernan --- Ballyhaise --- 215
Long Ball --- Alan Kelly --- Cavan Gaels --- 214
BigBoys --- Darragh McGovern --- Kildallan --- 213
Swanlinbar123 --- Ruairi Curran --- Swanlinbar --- 211
Bailie Utd --- Kyle McGuinness --- Bailieborough --- 208
Smith XV --- Bernard Smith --- Denn --- 207
Breffni Exiles --- Damien Murray --- Gowna --- 204
Hguolressorc --- Kieran Denneny --- Crosserlough --- 204
smith clan --- brendan smith --- Gowna --- 202
Dazzling Damos --- Damien McIntyre --- Shercock --- 196
Winning GFC --- Krista Dunne --- Drumalee --- 192
--- Andrew Fallon --- --- 191
the mightys --- pamela --- Ballinagh --- 191
Pimp my side --- Ben Brunton --- Mountnugent --- 176
Blue Army --- Derek Middleton --- Knockbride --- 176
Blue cats --- Ellen Tinnelly --- Kingscourt --- 175
KiKi Cavan92 --- Ciara Cox --- Cavan Gaels --- 174
No chance scoo --- darren scorr --- Cootehill --- 167
Flukey United --- Valerie Brady --- Ramor --- 167
fast and furious --- sara mc caffrey --- Drumalee --- 152
CK Cavan --- Catherine Kenna --- Arva --- 120
Mad men --- Micheal Mc gibney --- Drumgoon --- 99