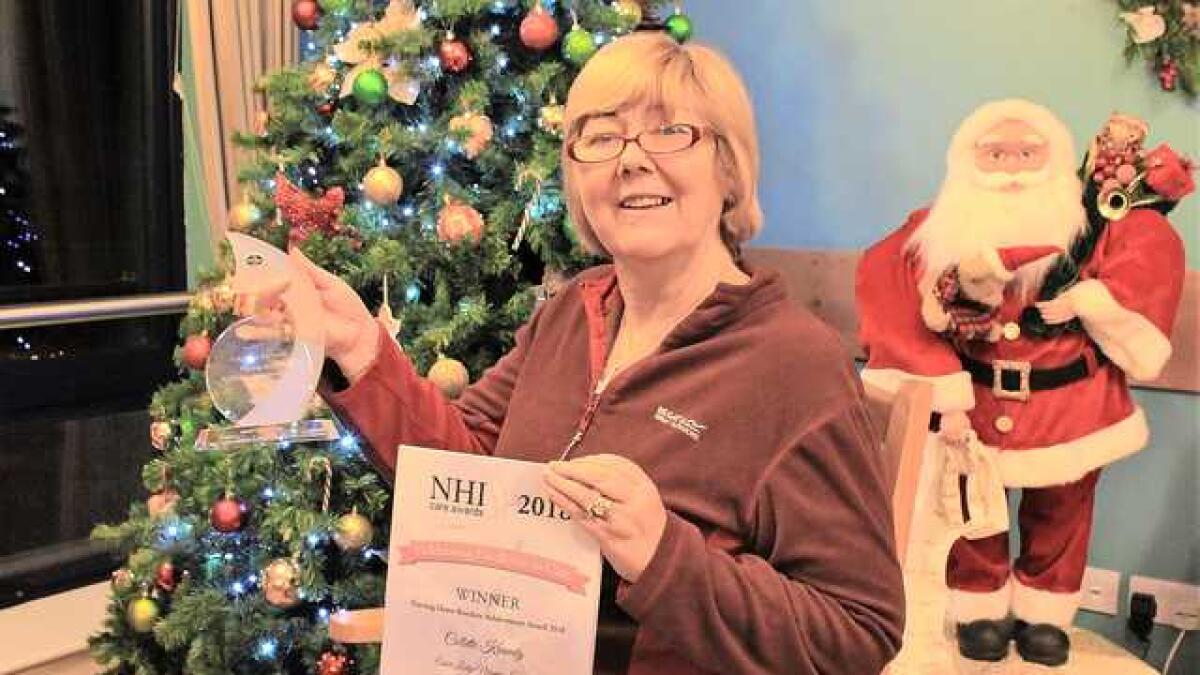 'They gave me two weeks to live'
Seamus Enright
A Cavan nursing home resident given just "weeks to live" at one stage has been honoured for her remarkable recovery following a traumatic brain injury almost five years ago.
When "proud Dub" Collette Kennedy first arrived at Esker Lodge in May 2014, she was fully dependent and in serious need of care.
The prognosis from medical specialists was grim for the former hairdresser who had sustained an acute brain injury after a fall.
But through sheer force of will, combined with dedicated specialist care and day-to-day support, Collette gradually won her battle for survival, exceeding all expectations to make an incredible physical and psychological recovery.

In recognition of her unique bravery and resilience, Collette received the title of 'Resident Achievement Award Winner 2018' last month at a gala Nursing Homes Ireland (NHI) annual ceremony at Dublin's Citywest Hotel.
"I don't know what all the fuss is about," mocks Collette self-depreciatingly.
However, when she does begin to reveal the magnitude of what she's gone through, Collette's extraordinary recovery quickly shifts from remarkable to the miraculous.
Doctors had "done all they could" when Collette was discharged from Beaumont and moved to Cavan. Virtually immobile, she required assistance for nearly all daily living activities having emerged from an induced coma believing her two adult children were still in their infant years.
"They gave me two weeks to live when I came in here, no chance really," remembers Collette, who credits husband Joe as playing an inspirational role in encouraging her return to health.
Collette and Joe were childhood sweethearts having met in their teens. But Joe passed away in November last year, following his own battle with illness.
Tragedy

"He was my strength and, even though [Joe is] gone now, I know he's still here with me, pushing me on," Collette tells The Anglo-Celt, pointing to the couple's wedding photo on a brightly-lit windowsill.
Joe's tragic death compounded what was an already devastating catalogue of loss endured by Collette down through the years, who not only lost her son Mark, age 17, but her brother, mother and father in quick succession also.
By her own admission, she turned to alcohol, not constantly, but in the "quiet hours" after work when putting on record or CD, Frank Sinatra being her father's favourite, Billy Joel for Mark, and Diana Ross for her mum. "I'd sort of go off into my own little wonderland."
When Collette learned her daughter was pregnant and she was to become a grandmother, she swore off the drink. That is until one month before Vicky was due to give birth. It was then that Collette fell.
"It's something I'll never forgive myself for. I should have been there with her, for her, instead I was in the hospital with everyone else worrying whether I was going to make it or not."
Brain injuries Collette adds, are "very difficult" to understand. "There are young people who suffer brain injuries but, for one reason or another they never improve, whereas I have. Life has not brought me luck, but I do feel lucky by my recovery."
Collette's struggle to regain health saw her attend the National Rehabilitation Hospital (NRH) in Dun Laoghaire. But upon reflection, she doesn't feel she recovered "as well as I maybe should have.
"That was about three years ago. I was in a different mind then. Then one day I just started fighting," she recalls.
Setting aside, "but not forgetting" her substantial battle with grief, Collette began by helping with day-to-day chores at Esker. She soon progressed to her finding a familiar footing in the nursing home's weekly salon, while also set about maintaining the garden and assisting in organising daily activities.
"I found myself. If I'm honest, I probably wouldn't have been doing as much [before the fall] as I am now. But I enjoy it."
Her "bubbly personality" and "larger than life character" were among the many key characteristics highlighted by the Esker staff who nominating the "vivacious" Collette for national recognition. "Collette's extrovert personality always gets the party going," staff told NHI award judges, further describing her as a "strong voice" in support of her fellow residents.
Many staff travelled to the NHI ceremony to see Collette collect the title, which she says was a "fabulous night".
Having recently celebrated her 60th birthday, Collette's ultimate goal is to one day live independently in the home she once shared with Joe. "Through her hard work, she is now very close to reaching this goal," Esker staff said in their NHI submission.
Collette feels it too. "I'm coming along. It's bit by bit, one day at a time, but I'm getting there. I'm the youngest here [at Esker], it is what it is. I will forever be thankful for what staff have done for me here, but my place is in my home. I feel I'm ready, I know I'm ready."