'Club championships should go ahead' - survey
320 club players respond to Anglo-Celt questionaire
Almost seven out of 10 male club footballers in Cavan believe there should be a club championship this season, a new survey conducted by The Anglo-Celt suggests.
The survey, which was circulated privately to footballers in the county, amassed 320 respondents who answered a range of questions. Most topical, given the uncertainty at present, were the questions pertaining to this year's club championships.
In total, 98 respondents (30.6%) indicated that they strongly agreed with the statement that "there should be a club championship this year while a further 134 (38.75%) said they "agreed".
However, 71 respondents (22.2%) disagreed and 27 (8.45%) said they "strongly disagreed", backing up anecdotal evidence that there is a small minority of footballers who would be uncomfortable returning to any sort of competitive club action in 2020.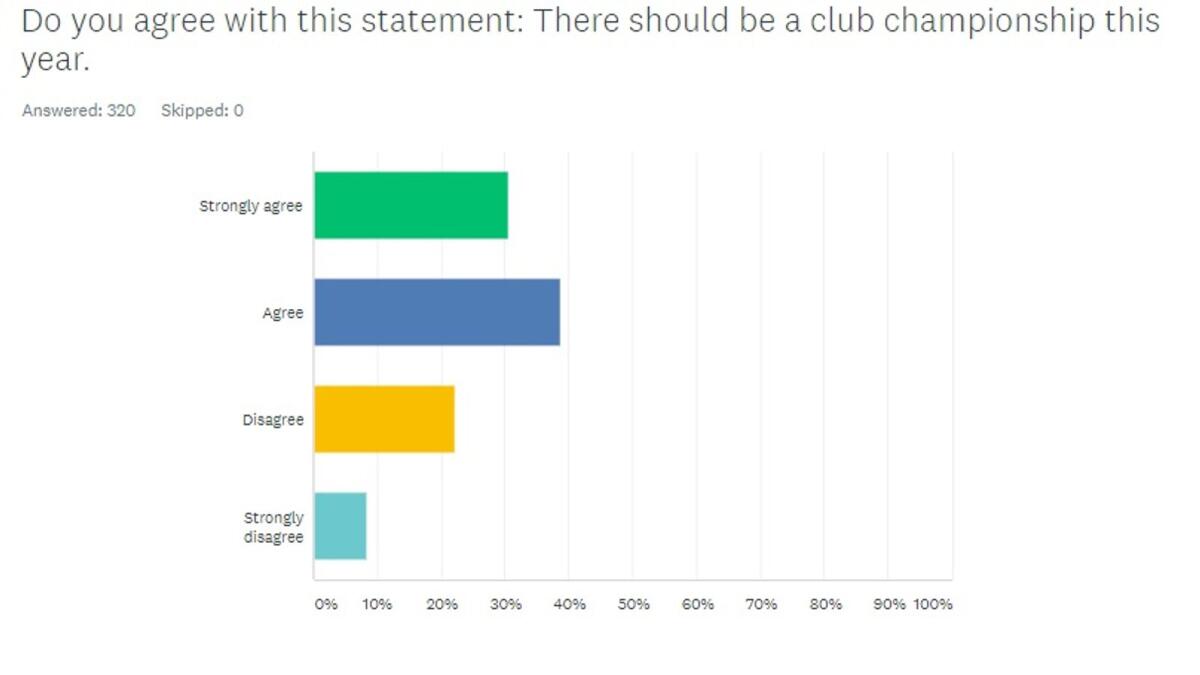 Meanwhile, respondents were given three options in terms of a preferred format if there is a club championship this year and voted overwhelmingly in favour of a straight knock-out competition (167 votes, 52.4%).
Of those who preferred another option, opinion was split, with 74 (23.2%) opting for the same format as last year and 78 (24.5%) indicating a preference for the old, back door format.
Elsewhere, the feelings of club players in Cavan seem to chime with those of the Gaelic Players Association (GPA) which represents inter-county players nationwide in that a large proportion feel a team should be allowed a minimum of four weeks' collective training before returning to competitive championship action.
Question five in our survey concerned the number of weeks' training teams should be permitted, something which may become a factor in a scenario where the pandemic situation changes rapidly and there is a faster-than-expected lifting of restrictions or if time frames for running competitions in a calendar year are squeezed.
Respondents were given four options, with 38 of the 320 (11.9%) indicating a preference for two weeks, 85 (26.6%) for three weeks, 133 (41.6%) choosing four weeks and a significant 64 (20%) stating that teams should be allowed more than four weeks' training before playing competitively.
Commitment levels too high
One of the most striking findings of the survey was in relation to the levels of commitment required to play club football at present. Almost two thirds of respondents either agreed or strongly agreed with the statement "commitment levels in club football are too high", with only eight of the 320 respondents (2.5%) strongly disagreeing.
The breakdown for that question was as follows: 86 (26.8%) strongly agreed that commitment levels were too high, 119 (37.2%) agreed, 107 (33.4%) disagreed and eight (2.5%) strongly disagreed.
Arguably the most surprising response came to the question of how players viewed the standard of club football in the county.
Given that Cavan clubs have failed to win even one match in the Ulster senior club competition for nine of the last 10 years and the county has won just one Ulster club title on the field of play in any grade (Ballinagh's IFC success in 2006) since 2002, it is a commonly held view that the standard of club football is low, although a reshuffling has seen an improvement in junior and intermediate.
This was accepted as fact in Peter Quinn's commission into Cavan football some years ago, with numerous remedies, including reducing the number of clubs and introducing amalgamations, proposed in that report.
However, based on the findings of this survey, club footballers in Cavan view the standard reasonably favourably.
A total of 191 respondents (59.7%) indicated that they felt the standard was 'average'. A further 79 (24.7%) viewed it as 'quite strong', with five (1.6%) ticking 'very strong', 38 (11.9%) voting for 'poor' and just seven (2.2%) saying the standard of club football was 'very poor'.
On the subject of amalgamations, the question which produced the most even split in opinion concerned whether or not they should be allowed enter the Senior Championship. Some years ago, a move was passed at county board level to allow amalgamations to enter the race for the Oliver Plunkett Cup; however, resistance among some club officials later grew and the idea fell by the wayside, with just a couple of combinations giving it a go with little success and no amalgamation applying to join the Senior Championship for the past 10 years.
There is, however, a history of amalgamations achieving success in the Senior Championship in Cavan, with Annagh (Redhills and Belturbet) and St Mary's (Castlerahan and Munterconnaught) winning it outright in the 1970s.
In all, 48.75% of respondents (156) were in favour of allowing amalgamations to enter the Senior Championships, with one third of those backing it (52, making up 16.25% of the overall total) stating they were "strongly in favour".
However, 96 of the 320 who took the survey (30%) were "strongly against" the idea, with 68 (21.25%) "moderately against".
Another striking finding from the survey was that exactly one third of all respondents are members of the Club Players' Association, which suggests that the national representative body, which has yet to achieve official recognition from Croke Park, has achieved a high level of penetration.
While the criteria was different, as was the scale, our headline finding of 30% of players disagreeing with the statement that there should be a club championship this year chimes findings from the CPA themselves who, in a questionnaire of 3,000 of its members, found that 22% were not willing to return to training this year.
In total, 48.75% of respondents to the Anglo-Celt survey play for senior clubs, with 28.1% from intermediate clubs and 23.1% from junior ranks.
Finally, 23.1% responded that they viewed their clubs' chances of success this year as "excellent"; 159 players (49.7%) felt their club had a "very good" chance, 22.8% viewed them as "average" and 4.8% stated "below average".