Broken records, traffic chaos and bad luck
PAUL FITZPATRICK looks back on Cavan U21s memorable run to the All-Ireland final in 1988.
It began with little or no fanfare, under the shadow of the British army barracks in south Armagh, and ended in frustration, the top scorer watching from the sidelines on crutches as chances went a-begging and fans were forced to walk miles just to make it in for the second half of an All-Ireland.
But along the way, the 1988 Cavan U21 football team made history, picking up the county's maiden Ulster title in the grade and playing some magnificent football in what is regarded as one of the most memorable championship runs by a Cavan side in recent decades.
The competition threw in on Saturday, March 19 with Cavan travelling to Crossmaglen to take on an Armagh team who had beaten them in the first round the year before.
In a scrappy game, seven points from Ronan Carolan (six frees) proved crucial as Cavan eked it out by 0-9 to 0-7.
"On a heavy pitch," noted The Anglo-Celt, "the football wasn't of a particularly high calibre and Cavan's victory was due once again to the accuracy of free-taker Ronan Carolan and the defensive qualities of Damien O'Reilly at full-back."
Cavan led by 0-5 to 0-2 at half-time with Brendan Sweeney, John Donnellan and Pat Sharkey also coming in for praise in the match report.
"There is still a weakness in score-getting and maybe the availability of Fintan Cahill (Cuchulainns) and Michael Fegan (Mullahoran) will greatly strengthen the forward sector in the semi-final clash with either Derry or Donegal in the weeks ahead.
"It's always hard to win in the championship, especially away from home, and the unreal surroundings where the Crossmaglen pitch is situated didn't help matters, especially for the Cavan team. They deserve great credit all-round for rising to the occasion in fine style."
The win was a surprise to many as Cavan's record in the competition was poor; they had lost in the first round on 10 occasions in the previous 15 years.
Goals from Vivian Dowd, Dessie Brady and Seamus Donohoe had helped Cavan retain their Hastings Cup title on a 3-12 to 0-8 scoreline against Sligo at Longford Slashers grounds the week before the championship but the win over Armagh, away from home, was still relatively unexpected.
Up next were Donegal, who had hammered Fermanagh by 16 points in the quarter-final and had 11 of the starting team and 13 of the panel from 1987 U21 side who had won the county's second All-Ireland title in that grade.
As such, they were red hot favourites.
Cavan and Donegal had met less than three years earlier in the Minor Championship, in July 1985, with nine of the 1988 Donegal team starting as Cavan were beaten by 2-11 to 1-3.
"That would suggest," opined the Donegal Democrat, "that the reigning All-Ireland champions should emerge relatively untroubled but it will undoubtedly be a much closer thing."
The Donegal paper was right. In the end, Cavan produced a seismic upset in Cootehill with a 0-10 to 0-7 victory over a side containing many future senior All-Ireland winners like John Joe Doherty, Barry McGowan and Manus and Tony Boyle.
On a heavy pitch with unusually long grass, Cavan adapted quickly and led by 0-7 to 0-2 at half-time after points from Seamus Donohoe, Ronan Carolan (two), Vivian Dowd, Vincent Kelly and Fintan Cahill, who was having a tremendous game in attack for the underdogs.
Carolan pointed again early in the second half but had to withstand heavy pressure, with Luke Gavigan, John Cunningham and Tommy Ryan to the fore for Donegal but two injury time points from Kelly saw the Breffni men over the line and into only their third Ulster U21 final and first in 10 years.
"Cavan's stars," reckoned the Celt, "were Damien O'Reilly at full-back along with Brendan Sweeney. Michael Fegan was prominent in midfield along with Ronan Carolan while in attack, Fintan Cahill was the architect of many of the scores and good support came from Dessie Brady and Vincent Kelly."
It was a particularly memorable weekend for the Brady clan from Gowna, with Dessie captaining the U21s – brother Laurence, also part of the U21 panel, was out injured on the day – while younger brother Ciaran captained the minors to a win over Derry in the Ulster Minor League.
Football success is cyclical and Cavan happened to be on the up at the time, with a buzz around the local football scene which would even see the minors later reach the provincial final. The week before the Ulster U21 final against Antrim, the Cavan senior team had beaten Derry in the final of the Dr McKenna Cup in Irvinestown to lift a first trophy in 20 years.
Team captain Jim Reilly was carried shoulder high from the pitch; while the McKenna Cup was not a leading competition, the win meant a lot to the success-starved players and supporters at the time. To pick up a first Ulster U21 title, however, would be even better.
"The U21 title is the only championship crown which has eluded the Breffnimen and they, along with with Armagh, are the only counties not to have won the Irish News Cup," said the Celt.
"This particular competition has been in operation since 1963, with Donegal the first winners. Unfortunately, while they came close on a couple of occasions, Cavan's record hasn't been good. Now the present team hope to make up for 25 years of frustration and capture the title for the first time."
Antrim were no slouches – they had beaten Monaghan and Down and would go on to win the Ulster title at this grade in 1989 – but Cavan were still confident of success.
"The defence is the strongest which could have been chosen with goalkeeper Jimmy Reilly sound," noted this newspaper, running through the team.
"At the present time, Damien O'Reilly is playing some of his best football. Chosen at full-back, he has shown his versatility by operating in defence, midfield and attack with equal skill.
"Flanked by Shay Smith and Brendan Sweeney, it is a strong last line of defence. It's equally accurate to say that the half-back sector picks itself with John Donnellan, David McDonnell and Patrick Sharkey a trio of exceptional ability.
"There were occasions when the defence lived dangerously against Donegal in Cootehill but got away with it and that type of experience should prove beneficial.
"Ronan Carolan and Michael Fegan team up again at midfield and another good performance from this duo will set Cavan on their way. The value of a place-kicker is inestimable as any accurate place-kicker can be a match-winner on his day.
"The forwards haven't been all that prolific from their scoring attempts with the notable exception of Vincent Kelly (Bailieborough). The attack, however, must be grateful to have an in-form Fintan Cahill at right three-quarters. This Cuchulainns player, who has starred at all levels for Cavan in a short space of time, played a valuable part in the Dr McKenna Cup win on Sunday last and now attempts to add to his medal collection.
"He operated on the 40 in the semi-final against Donegal but now reverts to the wing and Vincent Kelly switches from left corner to the 40 and Francis Mooney and Seamus Donohoe are now operating in the corner-forward positions.
"Mooney, with a fleetness of foot and with the conditions to his liking, has the opportunity to add to his stature as a gifted scorer while Dessie Brady and Seamus Donohoe are equally capable of setting up match-winning scores. The full-forward placing of Vivian Dowd could reap the rewards due to his physical strength and safe handling."
The Ulster final took place on Sunday, May 1 and in the end, it was easier than anyone expected.
"So pronounced was Cavan's overall supremacy that for all intents and purposes, the match was over as a contest by half-time thanks to two goals in a three-minute spell in the opening quarter from Vincent Kelly and Dessie Brady," reported this paper.
Kelly's brilliant goal came after a perfect pass from Seamus Donohoe while Brady's was a well-placed penalty following a foul on Fintan Cahill. The Bailieborough man shot 1-2 in five minutes to help Cavan into a 1-3 to 0-1 lead after 12 minutes.
A point from the corner flag from Michael Fegan was a sign of the confidence Cavan were showing; by half-time, they were 2-6 to 0-3 ahead, having kicked 10 wides.
In fact, Cavan's dominance was such that they could afford the luxury of registering 16 wides over the hour against just two from Antrim.
Anglo-Celt reporter Sean McMahon was on hand to capture the scene in a memorable colour piece.
"Damien O'Reilly sat in the corner of the dressing-room smiling shyly. The man from whom football eloquence had flowed wasn't as comfortable now. He had merely done what comes natural on the pitch – what was all the fuss about? But fuss there was aplenty and with good reason, too.
"Ronan Carolan allowed his mind to wander for a moment and then he turned to Michael Fegan and said 'it's great, isn't it?'. Michael then grabbed his hand and shook it as they both burst into laughter.
"Centre half-forward star Vincent Kelly took it all in his stride and seemed to be enjoying every moment of the historic victory as he revelled in the attention he was getting.
"This was a really splendid team performance overall. We got in front early on and we were never threatened thereafter," stated Cavan's exultant team manager Paddy Maguire, who thanked the chairman Peter Brady and secretary Tony Looney for their encouragement and the selectors and players for doing everything asked of them.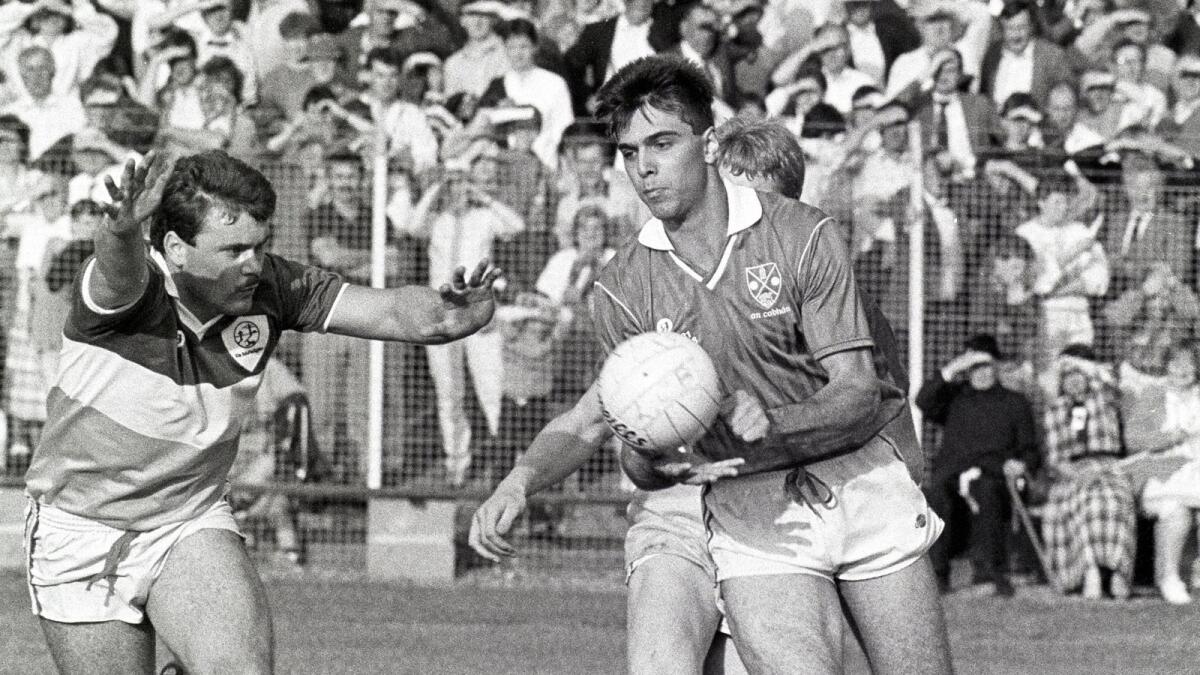 Seven days later, Cavan were back on the road. This time, it was Carrick-On-Shannon for the All-Ireland semi-final against a highly-rated Galway side.
With momentum on their side and backed by a large travelling support – 95pc of the 3,000 attendance were from Cavan, according to one report – Paddy Maguire's side again turned on the style, turning in what the Celt described as "a scintillating display of power-packed football" to win by 1-15 to 0-10.
The Tribesmen boasted 12 of the 1986 All-Ireland minor-winning team but had no answer for Cavan, who again, as they had done in all their matches, blitzed the opposition early on.
Again, Cavan's dominance was reflected not just on the scoreboard but in the wides tally, with the Ulster champions kicking a dozen to the westerners' three over the hour.
With the defence again watertight, Carolan and Fegan on top at midfield – where Kevin Walsh was on duty for Galway - and Dessie Brady and Seamus Donohoe starring up front, Cavan were 0-12 to 0-4 ahead at half-time and when a speculative Brady shot deceived the Galway goalkeeper ("the Salthill clubman was all at sea" was the neat turn of phrase in this paper's match report), Cavan's place in the final was secured.
Ronan Carolan top-scored with 0-6 (5f), with Brady, Fegan, Dowd, Donohoe and Kelly also on the scoresheet.
The headline in the Irish Press, in block capitals, summed up the prevailing mood of the supporters: 'CAVAN BACK IN THE BIG TIME AT LAST!'
"It is Cavan's first appearance in an All-Ireland final in any grade since 1959," reported Peadar O'Brien in that paper, "and richly they deserve the honour.
"On a dry but breezy day, they were much the better team. Their driving commitment and hunger for scores gave them dominance in many areas of the field and if they eased off a little in the second half, they did so in the knowledge that the game was won."
The hype about the final in the national papers was surprisingly minimal, with the European Soccer Championships and the senior championships in football and hurling hogging much of the column inches. The Sunday Independent devoted just a couple of lines on the morning of the decider to the game, tipping Cavan to win.
"Ronan Carolan and Fintan Cahill hold the key to this All-Ireland U21 final which deserves better treatment than an evening start – and a more fashionable venue, like Croke Park. A huge crowd is expected from both counties and I will not be surprised to see 10,000 in attendance," was the grand total of Tom O'Riordan's preview.
What the veteran journo did not know was that Carolan was out, having sustained a leg injury playing a club match with his college side, Erin's Hope, in Dublin. And with centre-back David McDonnell also sidelined after picking up a knock in a tournament match in Killinkere with Ramor United, Cavan would come up agonisingly short, 0-11 to 0-9.
Logistically, the fixture was a shambles. In sunny conditions at Pearse Park in Longford, there was traffic gridlock, with many fans not making it into the grounds until half-time.
By then, Cavan were 0-6 to 0-5 ahead and they stretched that lead with points from Brady and Fegan on the restart but Offaly, who were playing their 10th match of the campaign – having needed four games to get over Wexford – dug deep and managed to get their noses in front, with captain Garrett O'Brien receiving the cup from county colleague and GAA President John Dowling.
Dowling, incidentally, had refereed the 1962 Ulster final in which the Cavan senior team had dethroned Down but his presence did not have the same effect here. Numerous missed chances would haunt Cavan, although the Faithful also did squander a penalty, saved by Jimmy Reilly.
There was very little between the teams," was Maguire's analysis.
"We had chances and no doubt if Ronan Carolan and David McDonnell had been playing we would have probably have won the game. Carolan would it have won it from frees alone – but good luck to Offaly, they had a hard year and I suppose in the long run it is due to them."
Said Damien O'Reilly: "It was a tough game to play in… We came into the game in the last 10 minutes of the first half but their midfield came into it very well in the second half.
"Their defence was very tough – if you went through with a ball you were going to get hit fairly hard, it was a very physical game at times. On the day, the luck ran better for Offaly, but when they missed the penalty I thought we had a great chance.
"But on the day, they deserved to win. When we missed a score, they came up and got one and they fought to the end so I would say that makes them worthy champions."
The hope was, with quite a few players underage again the following year, that Cavan might kick on. In the end, they failed to win a single match in the grade until 1995 but by 1996, they were suddenly back in the All-Ireland final. Peaks and troughs – the Breffni way.