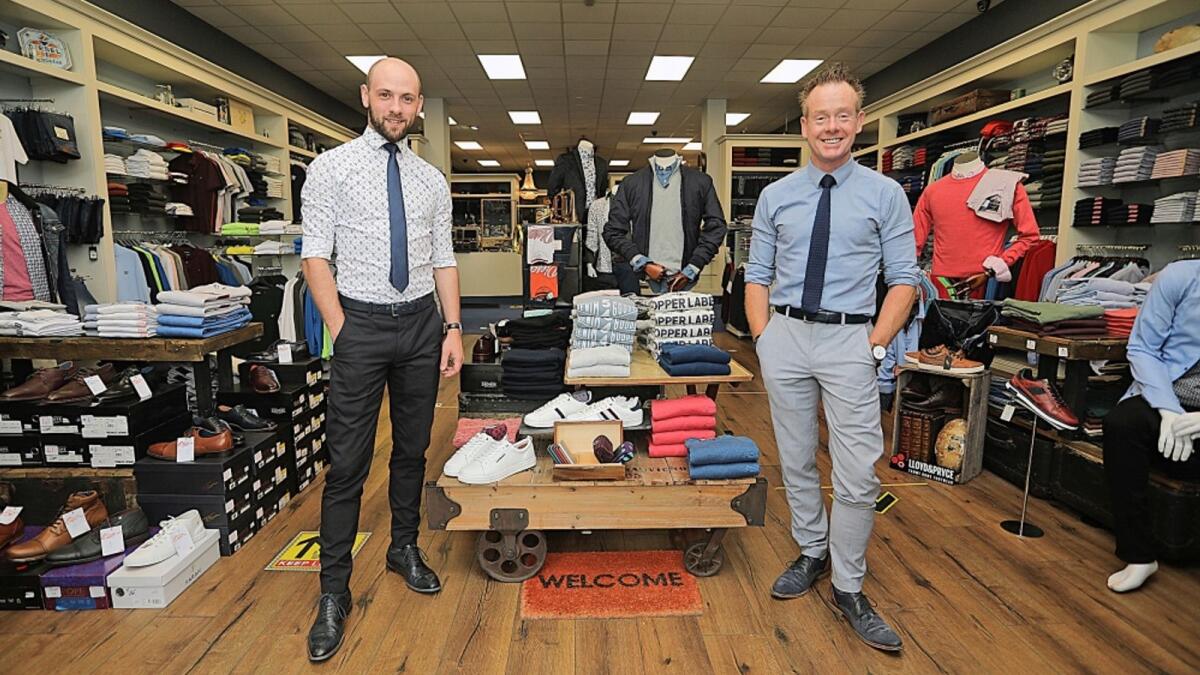 Retail outlets adapting to the new normal as consumers urged to shop local!
Previous
Next
As Ireland begins to emerge from lockdown shoppers are tentatively dipping their collective toes back into the retail pool. The last three months turned society on its head and one way of reassuring that things are returning to "normality" is to indulge in the truly pan-cultural hobby of shopping.
The retail experience is the very touchstone of normalcy. Three of Cavan's businesses spoke toThe Anglo-Celtabout the experience of the first week of trading as they welcome their customers back to the shop floor.
"Things are quite good, it's nice and steady," David Molloy of DT1 says of the business trend of the last week. "Some people are slightly afraid of coming into town in case there are big crowds around. Certainly the older generations are cautious, but there are a lot of people walking around having a look in the shops. There has been a nice, steady flow since we opened back."
In the last seven days, the town centre menswear specialists saw a stream of patrons availing of their service: "Obviously our customers are buying more casual wear. We have lost a lot of sales that would normally take place for debs, for weddings and other formal occasions. People have been wearing casual clothes for the last three months and they are looking for a change now.
"The more the weeks go on, the more confident people will be about coming into town. I would estimate that about 70% of shoppers have yet to return to town. If the good weather holds, people will be in good form and looking to buy clothes. If the next couple of weeks are like the first week we had, I will be very happy. We are doing deals on a lot of ranges. Anyone who comes in will be going out with a bargain," David assured.
With Fathers' Day this Sunday, the team at DT1 are ready to help customers choose that special gift or even a gift voucher for their dad.
Private appointments
The experience of welcoming customers was one that Ruth Leddy of Sally West cherished: "It was great to see familiar faces coming in the door. It was not a mad onslaught, some people were just coming in to wish us well or buy a voucher, but it so good to be back."
"We are all feeling a little tender," Ruth says. "We have all had a bit of a jolt by what happened. We are taking baby steps, there's a great vibe from our customers about committing to shop local to keep local business alive. It's going to be an uphill struggle, but there is a huge sense of goodwill about.
"Some of my customers are nervous still. This morning I posted on our social media that we do private appointments. We are going to have to adjust the way we do business to acclimatise to what is an unprecedented situation."
The change in shopping patterns means retailers have had to adjust their business models: "A lot of occasions have been cancelled. We have been able to accommodate customers who have had events put back a bit, it's good to be able to do that. It's about shopping in a safe manner. We are lucky in that regard. We have a really spacious shop. It's been lovely and calm in here, nothing frenetic. People are glad to see our doors open and I am glad to be back behind the counter," said Ruth.
Changes have been imposed on the ladies fashion emporium: "We are offering a personal service, but also ensuring that social distance regulations are observed. We are allowing people to try on clothes. There was a misconception that you could not try on clothes, but that is not the case. We sanitise the dressing rooms after every client has used them. We treat and isolate any garments not purchased for 36 hours before it is returned to the shop floor."
Gardening bug
The last few months saw an explosion in the interest in gardening. The suspension of the regular run of things got many people into horticultural pursuits as well as home maintenance. The hardware manager in Tractamotors in Cavan, Keith Rutherford, saw this interest first hand.
"We weren't open to the public, but we did provide a phone-in order and delivery service. Since we re-opened, business has been very good. We have to thank everyone who has supported the business. We did about 150 deliveries per week, all free, to accommodate our customers," Keith told theCelt.
Tractamotors has had a heavy influx of patrons since they reopened: "It's been excellent. We did a bit of advertising last week on one of our billboards outside and got a good reaction. People want to support local businesses. A lot of people realise the importance of shopping local and how dependant local businesses who have been closed for seven or eight weeks are on their customers."
All Cavan retailers have made preparations for the safety of their staff and customers. Tractamotors put in place many measures for this reason. "We have staff masks, gloves, screens, hand gel, additional cleaners and floor markings. It is a very important investment," Keith explained.
David Molly of DT1 also gave an example of these measures: "We have the whole store lined out, we have the screens up and we have hand sanitisers. We have taken every precaution possible to protect our customers. We are also accommodating people who need to avoid contact with other people. We arrange appointments for private shopping."
As the country adapts to the 'new normal', Cavan retailers are excited about getting back to business.