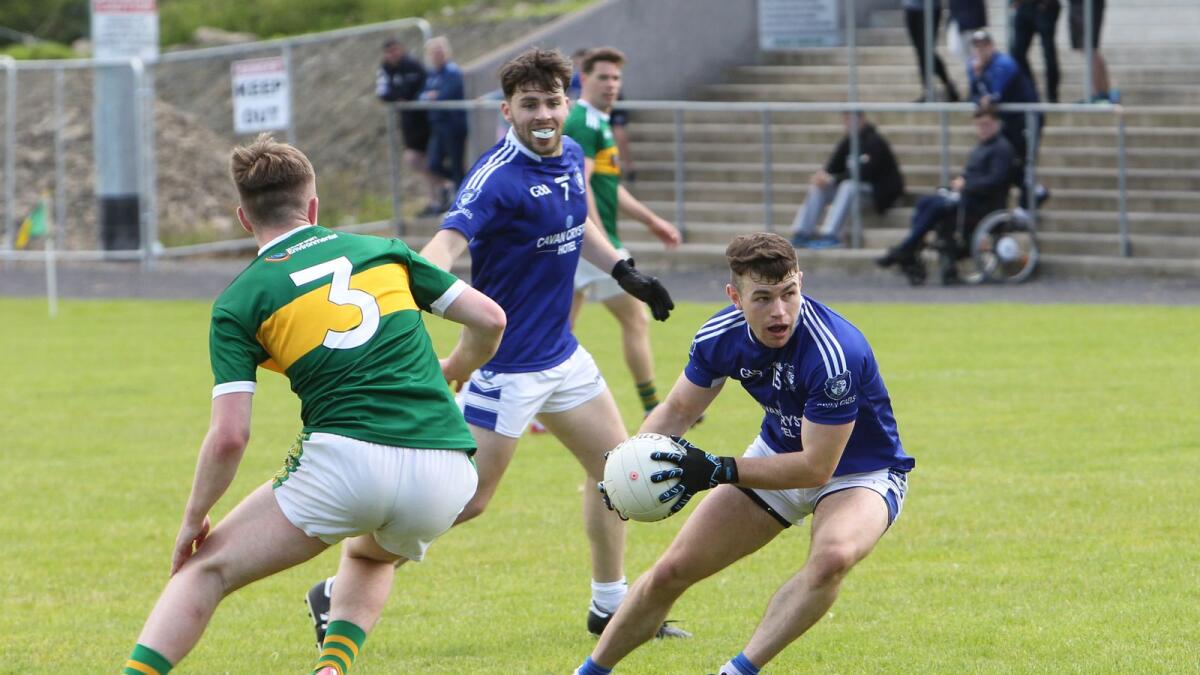 ACFL Division 1: Gaels see off Ballyhaise
Strong second half seals it for town side
Cavan Gaels 1-12
Ballyhaise 1-7
Annalee Park was the venue for this opening Division 1 League game between Ballyhaise and Cavan Gaels. This was the first competitive game of 2020 and was a welcome relief for both sets of fans in this surreal year of the Corona Virus. Social distancing and hand sanitisers were very much in evidence and great credit has to go to the home club for their stewarding and co-ordination of this match.
Both sides will have relished this opportunity to prepare for their forthcoming championships. A feature of this game was the competitive debut of Cavan star, Gearoid McKiernan who lined out at midfield for the Gaels. Gearoid scored three points and will give his side a major boost.
For the home side there was also debuts for two of their minor stars of last year in the form of Ross O'Gorman and Brían O'Rourke. Both players will be well pleased with their performances with Ross excellent in the full back line and Brían showing some class fielding despite being in direct opposition to McKiernan.
It was the ever-reliable Stephen Smith who opened the scoring when he fisted over the bar but Martin Dunne and Levi Murphy quickly put the visitors ahead.
David Brady, who had an outstanding game, equalised with a superb point from over 40 metres. Stephen Smith had the next two scores with replies from McKiernan and Niall Murray.
Then Gary O'Rourke pulled off a marvellous save from Luke Fortune. Niall Smith increased the Gaels' lead but then the score of the game came with Michael Brady feeding Shane McKiernan who released a perfect pass to David Brady who sent a rocket to the top left corner to give Ciaran Flynn no chance in goal to leave the home side 1-4 to 0-5 ahead at the break.
Kevin Tierney was first off the mark in the second half with a right footed point but Niall Murray raced through the heart of the home defence only to be pulled down for a penalty.
Martin Dunne made no mistake from the spot and followed up with another point to restore the Gaels' lead. Gary O'Rourke was soon called into action again denying McKiernan with another brilliant save before his counterpart Flynn then kicked his first of two 45s, followed by another point from Keenan Donohoe.
Stephen Smith and Niall Murray exchanged frees before Gary O'Rourke again saved at the foot of his right-hand post. This left the score at 1-12 to 1-7 at the final whistle with the Gaels deserving winners.
Ballyhaise will nonetheless be well pleased with their performance. Eoin Clarke and Darren Reilly excelled in defence with great support from Francis Moore and Shane Briody. Aodhagan Watters worked hard in midfield while Shane McKiernan, Conor Smith and Micheal Brady supported their fellow attackers in the forward line.
Gary O'Rourke was Man of the Match with three outstanding saves and Cluxton-like kickouts pinpointing his team-mates. Also, young players such as O'Gorman, O'Rourke, Colin McKiernan and Jamie Smith will give great hope for the future.
Cavan Gaels were well served by Ciaran Flynn in goals, the three Fortunes in the full-back line, Kevin Meehan at centre-back and Gearoid McKiernan and Luke Molloy in midfield.
Paul O'Connor was the star of their attack with good support from Niall Murray, Keenan Donohoe, Martin Dunne and Niall Smith.
The greatest result however was the return of Gaelic football after the stagnation of lockdown and anxiety over the worrying Covid-19 virus. Well done to players, officials and supporters.
Ballyhaise: Gary O'Rourke, Ross O'Gorman, Eoin Clarke, Darren Reilly, Ronan McKiernan, Francis Moore, Shane Briody, Brian O'Rourke, Aodhagan Watters, Shane McKiernan, David Brady (1-1), Conor Smith, Micheal Brady, Kevin Tierney (0-1), Stephen Smith (0-5, 4f)
Subs: Jarlath Brady, Colin McKiernan, Jamie Smith, Desmond Reilly, Martin Conaty, Padraig Moore
Cavan Gaels: Ciaran Flynn (0-2, 45s) John Fortune, Evaan Fortune, Luke Fortune, Levi Murphy (0-1 ), Kevin Meehan, Dara Sexton, Gearoid McKiernan (0-3, 1f), Luke Molloy, Andy Graham, Paul O'Connor, Niall Smith (0-1), Niall Murray (0-2, 1f), Martin Dunne (1-2), Keenan Donohoe (0-1)
Subs: Paul Graham, Shane Fortune, Declan Meehan
Ref: Conor Dourneen