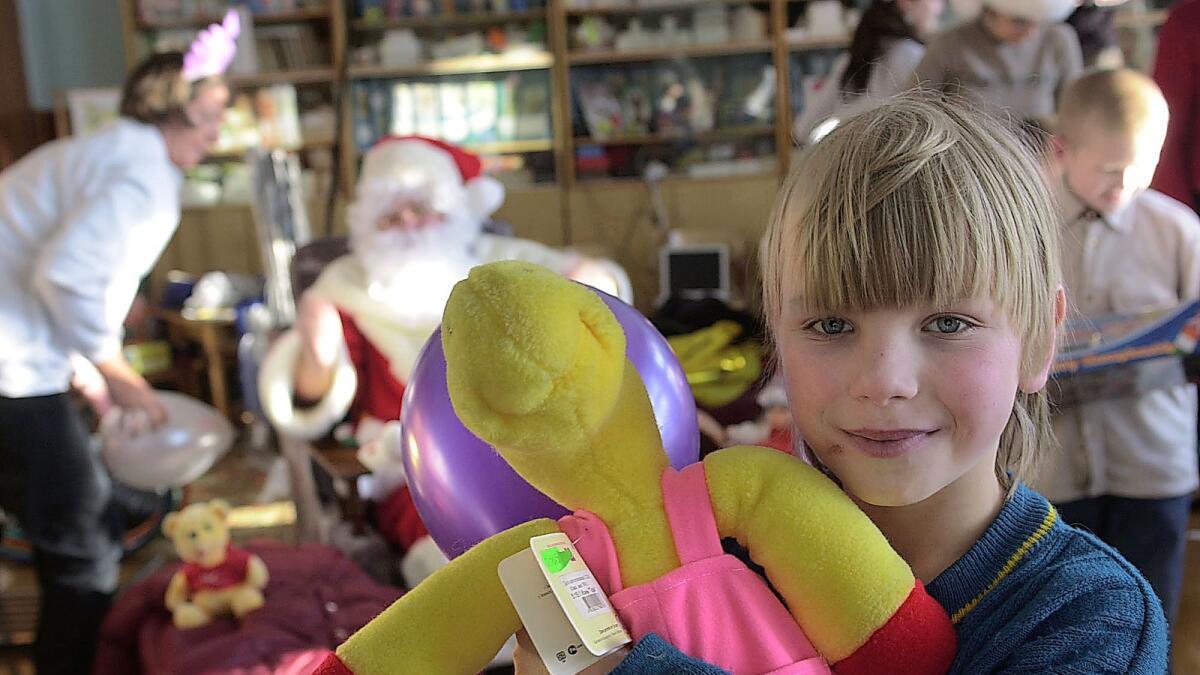 Cavan man's Santa SOS
PRESENTS Trip to bring presents to Belarus orphans set to go ahead
A Cavan man is determined to overcome Covid restrictions and political unrest to ensure 700 Belarusian orphans, all with special needs, receive the joy of a gift from Santa this coming Christmas.
There are few certainties in life for these children, explains Shercock-native Tom McEnaney, founder of the International Orphanage Development Programme. Santa arriving with presents is one of them.
"We just don't turn up with presents. We ask the children, round about now actually, to write their letters to Santa Claus. It's really important we do this, because for a great many, this is the only time of the year they get what they ask for," says Tom, a former Irish Independent Business Editor, who has made the trip to Eastern Europe for the past 23 years.
The hardship of reality for these children is reflected in the relative simplicity of what they request.
Younger kids ask for footballs, or something to play with, while older children, especially those nearing the age of leaving the orphanages, ask for practical items such as kettles, a blanket, or even a hair-dryer. All can be hard come by, and harder even to afford by vulnerable young people from a country still living in the wake of the Chernobyl nuclear disaster of 1986.
In Belarus, Santa is replaced by Dzied Maroz, a Soviet interpretation that translates as 'Grandfather Frost', while Christmas Day takes place January 7, as per the Julian calendar.
Fundraising
Tom's hopes of fulfilling his annual festive commitment have been further challenged by the fact that Covid has severely curtailed IODP's annual fundraising efforts.
Traditional methods of fundraising have been replaced by Tom asking the public to engage in either a sponsored 10km run from their own home, or 5km dog walk.
The result is that to date, Tom's 'Santa for disabled orphans' GoFundMe page has raised €1,690 raised of its €5,000 goal.
"It's really important for all children, Belarus or Ireland, to experience kindness," says Tom, who this year intends to travel alone, navigating both global pandemic and political upheaval, and without the usual coterie of 10 to 12 volunteers also.
"I think that experience, quite apart from having a party, or a new toy, is terribly important. All of the children we deal with all have special needs, and to see a seven or eight year old have their name called out, to hear their name called out and to walk up on stage with the letter she wrote, and to receive a gift... it's just... it's really special."
Risk
While Tom won't visit the children directly this time out, he will oversee the gifts being distributed among the orphanages.
"With Covid there would be a risk, and putting the children at risk is not what we're about. If I can I will go over on my own. Santa Claus has to happen. I won't be visiting orphanages but I have to make sure all of these children will see their wish fulfilled. It's so much harder this year, with fundraising and everything else, but what we can do we will and we will continue to do in as safe a way as possible."
A 'no-cost charity', aside from some minor expenses such as hiring interpreters, all monies collected "goes to support the children we help," adds Tom of IODP, which also purchases, where possible, new beds, clothing, kitchen equipment, craft room equipment, beds, medical equipment and medicines for the orphanages.
IODP is an Irish-registered charity (CHY: 15640) that has been working with children in Belarus with special needs since 1998. Along with their Santa appeal, the IODP has been involved in helping establish farms at orphanages across Belarus, as well as installing play facilities, both for children and adults living with special needs.
For more details visit: www.gofundme.com/f/santa-for-disabled-orphans