'Over night they've just gone right back to 2009'
Image 1 of 5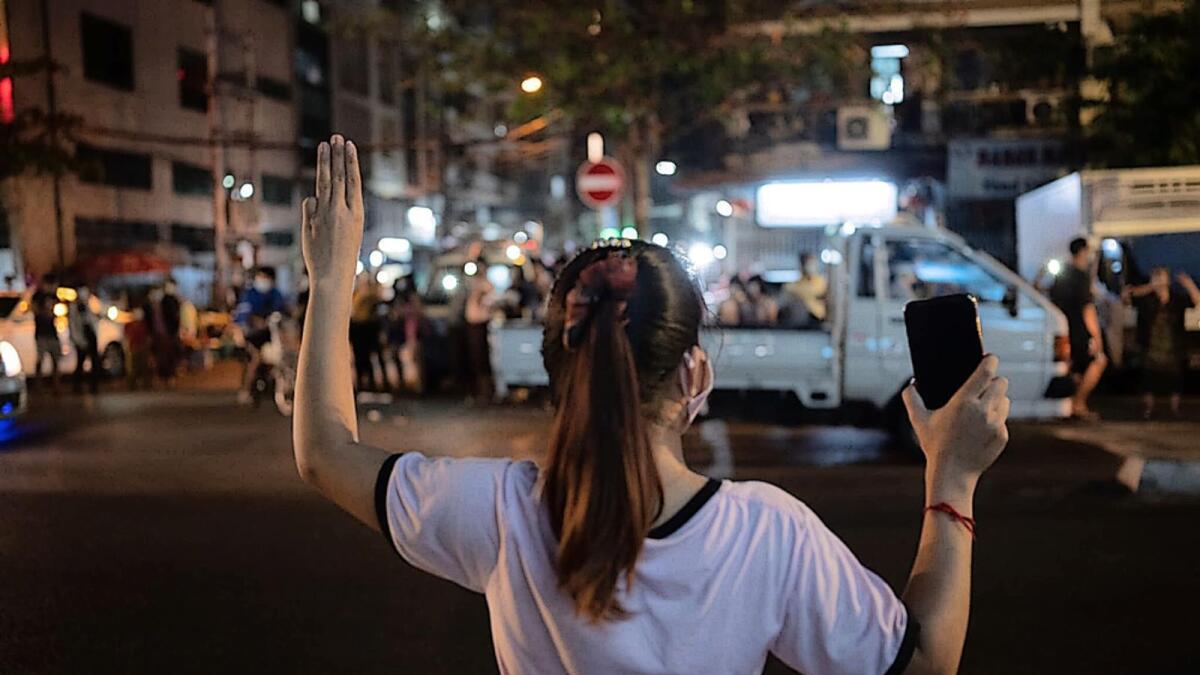 Image 2 of 5
Image 3 of 5
Image 4 of 5
Image 5 of 5
Previous
Next
Myanmar hit the headlines worldwide on February 1 with the military coup which saw a junta, or Tatmadaw as the Burmese military are known, take charge, and smash its nascent democracy. Daniel McAtackney brands the power grab as "horrific" but not necessarily surprising.
From 2008-2010 Daniel worked with the National Council for the Union of Burma (NCUB), helping people of various ethnic minorities flee military oppression in their homeland and adjust to an uncertain life in a refugee camp across the Thai border. Statistics compiled by the NGO Altsean-Burma chart a grim upward trend of armed attacks by the military on civilian populations over the last decade. The least number of attacks on the graph was in 2011 when there were still 166 attacks; it has lurched upwards in recent years with 440 attacks in 2019 and 617 last year.
"What is unusual is the blatant turnaround," suggests Daniel. "Elections were held in Myanmar in 2015 and the National League for Democracy (NLD) won 255 seats [out of 440 in the House of Representatives]; now in 2020 they won 258 seats, only three extra seats, but the military turns around and effectively dissolves Parliament, puts tanks and boots on the streets and in effect declares martial law.
"They have called fraud on the elections but, unless there is an independent international probe into those elections, there's no way that fraud could be verified. Besides if the NLD did want to commit fraud, they would have won more than just three extra seats - that's ridiculous!"
Despite a decade having passed since his spell in Myanmar, Daniel keeps in touch with some of his ex-students, now based in Yangon.
"They have said it's eerie," he reports of the last week. "Everything is closed down. One of them works for the press and she's afraid because a lot of the free press is being watched, followed, monitored, so it is a scary situation. "Another one, she's recently become a mother and, as soon as the lockdown finishes, she is heading out to the countryside, she's leaving the city, so it is an intimidating situation for sure."
A few days before theCeltspoke to Daniel, the controversial, yet democratically elected leader Aung San Suu Kyi, had been arrested, along with the president Win Myint, sparking protests on the streets.
Suu Kyi's detention may not generate quite the same level of sympathy from a western audience as her protracted periods of house arrest did in earlier decades.
She had been viewed as the modern torch bearer for Gandhi's brand of non-violent political activism, fêted internationally for her unyielding quest for democracy, and awarded the Nobel Peace Prize in 1991.
Suu Kyi had been the daughter of the national hero, General Aung San who had fought for independence from Britain colonial rule. In 1946, when his daughter was just two years old he was assassinated in murky circumstances, with a whiff - though little proof - of British collusion. The country secured its independence two years later.
"Her father was very much [determined] to have a Burma, which essentially is a Bamar, majority state," Daniel says.
"Even before the genocide in Myanmar, Aung San Suu Kyi always pushed the Bamar – that's the majority ethnic population – agenda a lot more than the other ethnicities," he says noting the intricate embroidery of ethnicities across the country, with the Bamar having by far the majority.
During Daniel's time with the NCUB, the group sought to get the various ethnic groups around the table to establish a consensus.
"That was one of the real stumbling blocks to get them to work together – the lack of trust between the Bamar and the other ethnicities."
Some estimate that 24,000 Rohingya people were killed by the State forces along with local civilians, since 2016. As a result the International Criminal Court is investigating Myanmar for crimes against humanity, while International Court of Justice has instigated charges of genocide. Suu Kyi's defence of the State's appalling actions has disillusioned many erstwhile supporters abroad.
"Her decisions were, I suppose a shock. You couldn't have predicted it, but at the same time, it kind of confirmed some of the mistrust that had been there previously as well. Quite a lot of ethnic leaders that I had worked with said, 'Well look, that just confirms it'. So it is very disappointing."
He stresses: "But again, she would be the best beacon of hope for democracy in Burma to try to get that working – but a very flawed democracy it is."
Daniel had the opportunity to speak to then members of the Tatmadaw when he was in the region, and heard their views of Aung San Suu Kyi. They noted that keeping her alive was in their favour for two reasons.
"Every time she spoke out, she called out a lot of the activists and gave them [the junta] an opportunity to identify who on the ground were active.
"And secondly, they were terrified she might be a martyr and create a groundswell of resistance if they ever did that [assassinated her]. So it was much better to keep her in prison until – they had hoped - she reached the point where she was broken, and co-operated with them.
"And with the Rohingya situation possibly that did happen in some fashion – she definitely co-operated in something that was horrifically unjust. It's not the Aung San Suu Kyi who won the Nobel prize, that's for sure."
Daniel volunteers that he has no experience of Rakhine state, the northwestern part of Myanmar, and has no insight into the mood among the remaining Rohingya population. However his friends on the Thai border are concerned.
"All I've heard so far is there is a huge fear, now that the NLD is out of power, and there has been a coup that the Tatmadaw may even just roll them [Rohingya] out and say, look you're not citizens and exile them out, and violently remove them in many cases. The Tatmadaw has done that in many cases in the past with ethnic groups - their scorched earth policy had been horrific and I had seen the results of that policy first hand – villages and people burnt. It is a policy which will continue, I would say if they can manufacture rationale and reasons behind redeploying that kind of strategy on the ground, and I think the Rohingya will face that."
For us, at this safe remove, the prospect of violence in Burma may assume a blurry, ambiguous vision. Daniel envisions it with sharper clarity. He attended scenes of attacks as an independent witness to collect photographic evidence and take statements in support of those fleeing to claim refugee status.
"One village I went to – people were dead on the ground, there were bodies half burnt, so they were leaving to save their lives.Some of the stuff, these people were subjected to, the ones who survived even, was just horrific," he says.
The photos from these visits have been seen by theCeltand many are too upsetting to print. They speak of despicable acts of inhumanity.
Successive Thai governments have shown commendable generosity over the decades, by facilitating and funding the Burmese refugee camps, but life in these camps is still far from satisfactory.
"They have been as close as you can get to a home for these people. They would prefer to be in these broken, ramshackle huts safely, than in houses that are in danger of being burned out and destroyed – that's the choice they are left with."
The coronavirus provides a sickly backdrop to every global event these days; Myanmar is no different. Daniel suspects the junta will try to exploit the pandemic by concealing a military clampdown behind the mask of a healthcare lockdown.
"I'd say they will just try to keep a lockdown and keep a handle on it for the next year or two and manufacture a convenient election, maybe next year."
He also notes the Reuters reports that days before the coup, the IMF had sent $350m to Burma in emergency aid that seemingly cannot be clawed back.
"There is a curiosity over what the money will be spent on," he says.
Longer term he says the Tatmadaw look to their powerful neighbour on their northeastern border.
"They very much want to replicate the Chinese model where the party – whoever the party may be – has control, and candidates are selected very carefully by those who are already in power.
"They are very much Chinese aligned. China has stated in the last few days this is an internal matter, and they need to sort out the situation themselves – not really an international call for action!"
At one point in the interview Daniel laments, "When I left they were just entering into the process of democracy and over night they've just gone right back to 2009 effectively."
That appears to be the Junta's aim, but Daniel says that the embrace of democracy by the people of Myanmar cannot be undone. Thus he can only see one outcome:
"I think violence will return," says Daniel in a dispirited tone. "I don't mean to sound pessimistic.
"People have had a taste of the freedom they were after for 50 years. Now that they have had 10 years of a taste, I don't think the people, and the government if they re-exile, will let it go that easily. So if the Tatmadaw are going to continue to hold onto power, the violence will definitely resume."