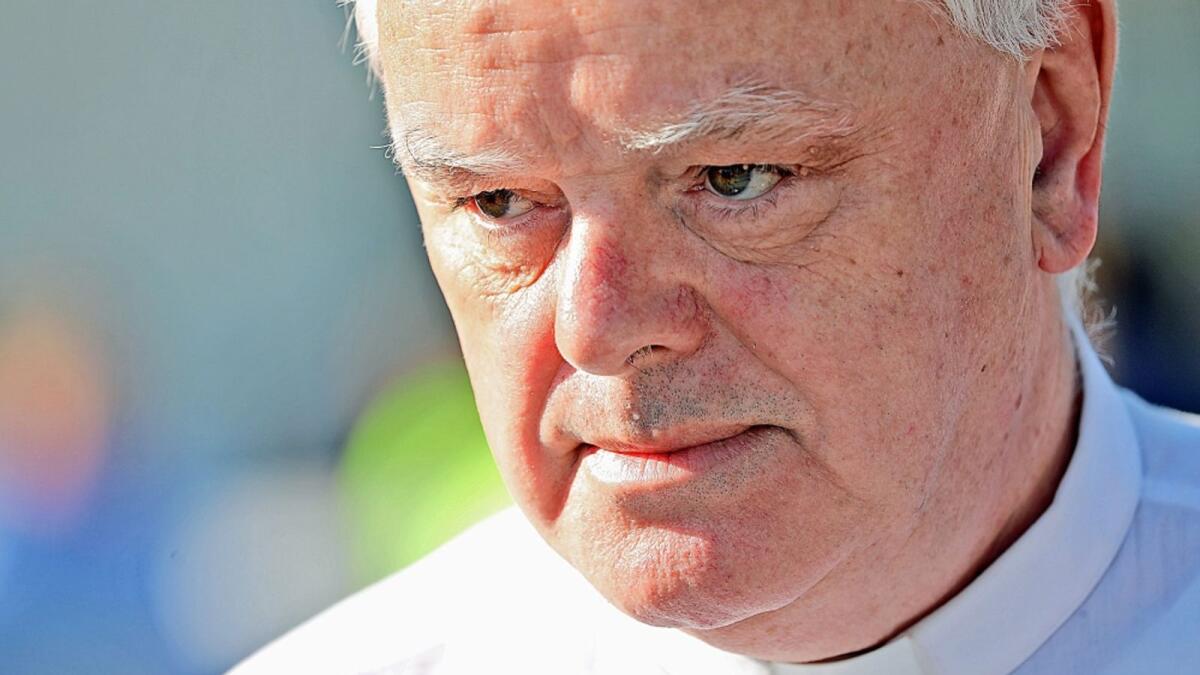 'Our churches are safe places' - Drumlane priest
"There is a hunger and indeed a cry for public worship. I think that our churches are safe places and that very restricted gatherings should be allowed to take place in Lent, at Easter and in the months following."
This was the view expressed by Drumlane Parish Priest Fr Gerry Comiskey (right) when contacted by The Anglo-Celt this week. He's calling for priests to be permitted to celebrate some ceremonies and masses for the public in Churches over Easter.
His comments run contrary to a statement released by the Association of Catholic Priests (ACP) this week, who have expressed concern about a possible Easter return to community worship.
"I hear what the Archbishops and the leadership of the Association of Catholic Priests are saying. It will be important for us all to search together and with respect for each other in order to find the best solutions to the many issues that are now raised," said Fr Comiskey.
'Significant misgivings'
The Association of Catholic Priests (ACP) has expressed concern for the safety of many elderly priests. "ACP members have significant misgivings about re-opening churches for Easter ceremonies, believing it to be a premature and potentially detrimental move," the statement read.
"The ACP supports priests and pastoral councils in ministering to people while adhering to public health guidelines during this pandemic. We commend our archbishops in seeking to engage political leadership about public worship.
"Numerous priests - many elderly and not yet vaccinated - are Covid-19 frontline workers as they journey with families during sadness and bereavement," read the release.
Referring to the high number of cases, the ACP say: "The post-Christmas surge in new Covid-19 cases and the threat from Covid-19 variants represent a persuasive evidence-based platform to strongly argue against an early return to Congregational worship. "Our hearts are lifted with the rollout of the vaccination programme.
"Faith, science, solidarity and empathy will serve us all well in our attempts to overcome this pandemic. Meanwhile, we continue to worship 'in spirit and in truth'."
Fr Comiskey agrees that "the continuing pandemic is very frightening and causing very dramatic and challenging changes in community living. The very fabric of society is affected. Without a doubt, it poses enormous questions for the Christian communities."
COVID-19 is one of many challenges facing the Church: "The way we as priests minister to parishioners in the future will need very serious reflection. Most especially the rituals of First Holy Communion and Confirmation needs to be reassessed and membership of the Church community needs very serious study," said Fr Comiskey.
In particular, he feels strongly that more people should be permitted at funerals here.
"I am aware of different responses in various countries. My own first cousin's funeral mass took place in a little village near Southport in England on Monday. Thirty family members and friends were allowed to attend. This was an enormous comfort to his parents and his sister and her family. It is three times the number permitted at a funeral in Ireland," revealed Fr Comiskey. By contrast, he referred to the funeral on Tuesday of Fr Jimmie Dowd from in Kiloughter, who had ministered in Oregon since 1956. "No public mass or wake was permitted for him in the State he had served in for more than 60 years. Elsewhere in the USA there are very different rules and regulations."
Fr Comiskey believes all necessary measures are in place to protect people from contracting COVID-19 in churches as was the case during Level Three restrictions.
"Our Pastoral Councils and our ushers stand ready to help us to manage the new way of gathering during the continuing crisis that has enveloped the world," the popular priest told the Celt this week.
"Most especially I think we need to find a way to accommodate grieving families on the days of funerals," he said.