Dylan whistles to victory
Cavan claim to 150-1 shot Grand National winnner
Image 1 of 2
Image 2 of 2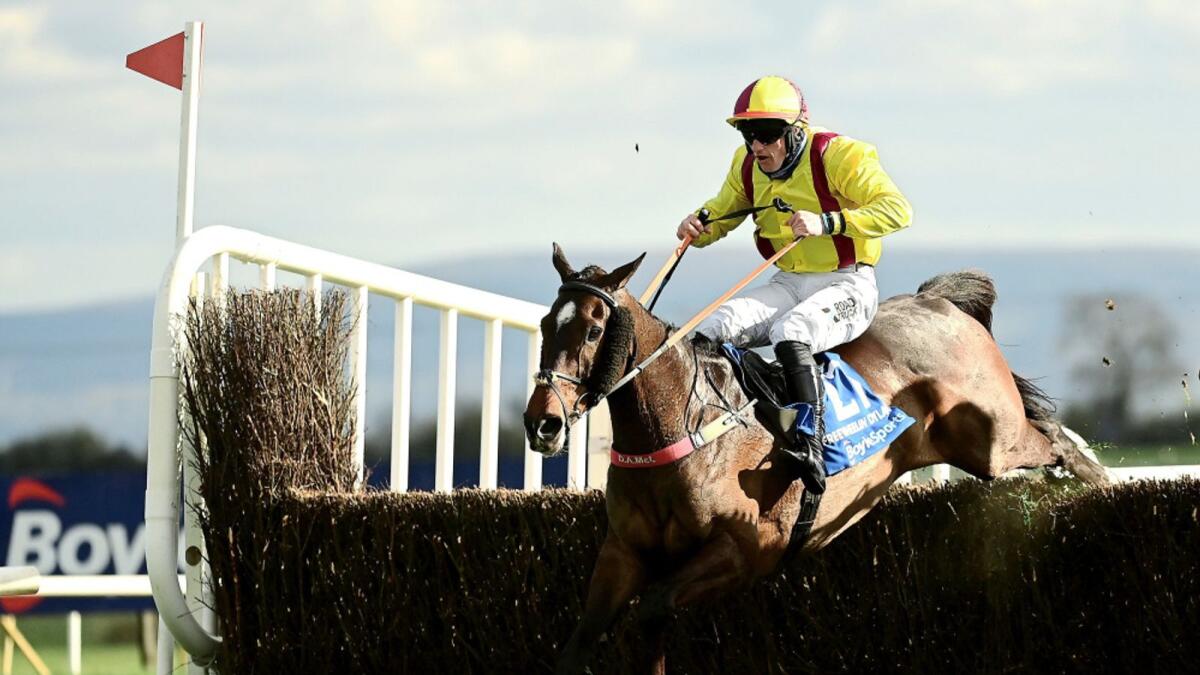 Previous
Next
The 150-1 history making winner of last Monday's Boylesports Irish Grand National began its racing career under local horse trainer Shane Donohoe at the foothills of Shantemon.
What few know, as the rank outsider crossed the finish line becoming the longest-priced winner ever of the famous Fairyhouse race, is just how incredible the Freewheelin Dylan story is.
Aside from bringing up the rear at Punchestown in October when last out, there were questions if Freewheelin Dylan might ever even race competitively starting out.
The horse came to Shane's yard in June 2015, after the canny Cavan trainer snapped up the then sprightly three-year-old at the Goffs Sale at Ballincurrig House Stud. He paid a cut price €13,000, far below the €30,000 shelled-out for the same animal by Tipperary-based bloodstock agent and breeder Tim Hyde less than three years earlier.
"He was a nice horse," recalls Shane, "lovely and athletic. But he had a problem where he was making a whistle, which in veterinary terms, they'd say he has little problem with his wind. Sometimes it might never affect performance."
Before committing, Shane had Freewheelin Dylan, sired by Henry Cecil's Curtain Time, checked over thoroughly. Ultimately, he felt comfortable enough and "took the chance".
"He would've been a lot more expensive if he hadn't the whistle. He'd probably have made at least €30,000, maybe more."
Freewheelin Dylan trained at Shane's Castletara yard, running various Point-to-Points and winning or being placed at several meets.
He changed hands to Dermot McLoughlin at the start of summer 2017. But even that wasn't straight-forward.
Despite the clear pedigree, Shane initially intended to sell Freewheelin Dylan after a Point-to-Point race at Broughshane up on the Antrim coast.
"Dermot [McLoughlin] rang me saying he'd a client and asking if I'd any nice horses for sale. So I sent [Freewheelin Dylan] up to his yard for this person's doctor to have a look."
The client's vet, as Shane recalled, voiced the same concerns regarding Freewheelin Dylan's "whistle". In the mistaken belief the horse 'wasn't fit for racing', the client pulled out of the deal.
"Wait 'til you hear this for a good one," laughs Shane. "The woman standing at the horse's head, nothing more than holding him for the vet, turned to me and said 'How much do you want?' and she bought the horse off me there and then."
The head groom at McLoughlin's yard four miles from Fairyhouse, Sheila Mangan, shook Shane's hand, and a few days later paid him the agreed €20,000.
Having won the Kilbeggan Axa Midlands National by a nose in July 2020, also ridden by Ricky Doyle, despite challengers looming, Freewheelin Dylan never looked like buckling during the three mile and five furlongs of Ireland's the most valuable jumps race last Monday.
Shane watched from his home, sharing in the delight expressed by McLoughlin, whose father Liam won the National on Kerforo in 1962 and was also the first jockey to win on the legendary Arkle.
"You love to see it," says Shane. "That's what I do. I bring on young horses and sell them. You go to these sales and try to spot the early potential. It was lovely to have had my hands on him. You've no idea how hard it is to have anything to do with these top top horses, so it's lovely to say now how I picked him out of the sales as a three year old myself and broke him at my yard.
"I have a lot of horses, and I go through a lot of horses, but seeing him win that race today, with his jumping, a brilliant performance by horse and jockey, it gave me great pleasure."
Shane believes too the bookies "got it wrong" when it came to the generous odds.
"I get it, on paper, the jockey on his first ride [at Fairyhouse], but there are things that escape form alone. If you watch it again, you'll see a pair come out looking so confident they could've been even-money favourites. It's an unbelievable story really."
The local trainer adds the woman he sold Freewheelin Dylan to refused "big money" for the horse subsequently after he began showing progress.
"She turned down half a million for him I'm told. He sold lucky and he was bought lucky is my take on it. I mean, [Michael] O'Leary had horses [in the National], JP [McManus] had horses in it, the whole lot, but a little horse broken in the foothills of Shantemon was as good as any."