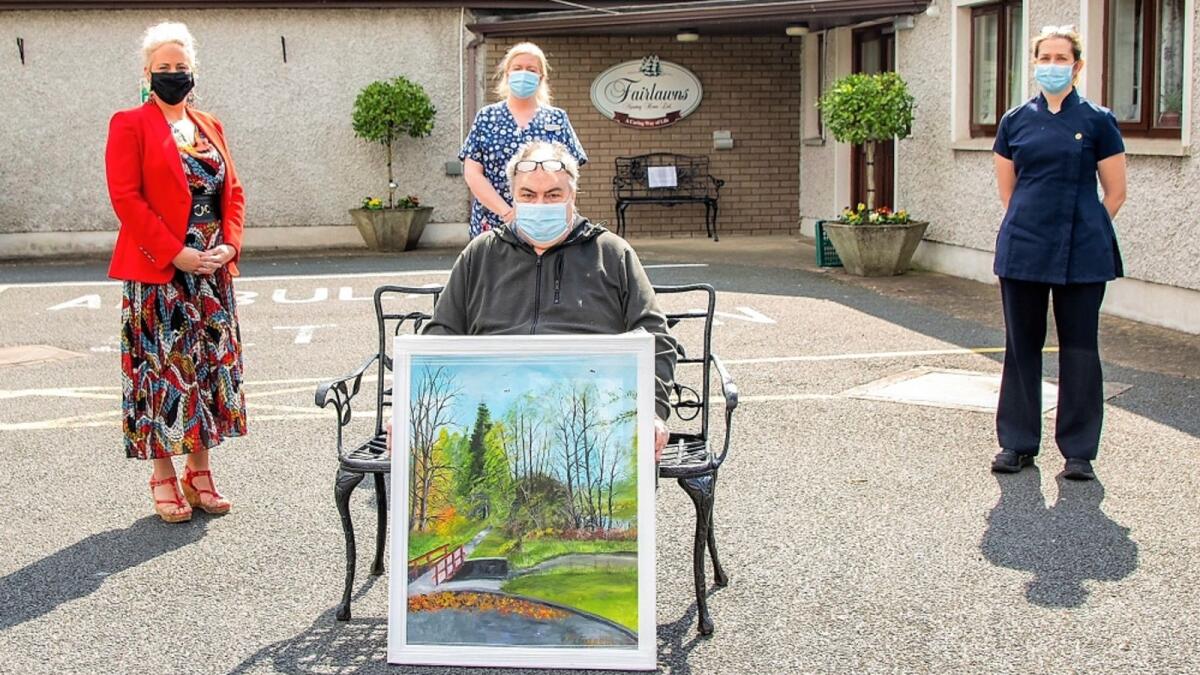 Cllr purchases painting for nursing home residents
A Bailieborough county councillor is supporting the arts and her local nursing home by purchasing a specially commissioned painting of the Town Lake for the enjoyment of residents.
Painted by local artist Mathew Farrelly, Aontú's Sarah O'Reilly said she wanted to "do something positive" for the staff and the residents of Fairlawns Nursing Home in Bailieborough.
"The painting is a scene of the little bridge at the lake beside the nursing home. It's a beautiful little place and I thought the painting could be a cheerful reminder to the residents that the little heaven beside them is still there waiting for them to visit!"
The painting was presented by Cllr O'Reilly and the artist last week to Heather Clarke, manager of Fairlawns Nursing Home, and Alison Nahusenay, health care worker.
She added that management and staff at Fairlawns have been under huge pressure working to keep the most vulnerable people in our society safe throughout the COVID-19 pandemic. "I wanted to knowledge their hard work in extremely difficult circumstances and show my gratitude to them by gifting them the painting as a huge thank you from the community," added Cllr O'Reilly.
Mathew, a former worker at Navan's Tara Mines, now retired, said he was "delighted" one of his paintings would be placed in such a prominent position for people to enjoy. Mathew volunteers with various local agencies but has seen that social avenue closed off due to Covid. He told the Celt that his focus on painting helped manage his own mental health.
"I enjoy painting. It's more a hobby. I wouldn't be making a living off it, but I like to see people enjoy my work," he said.