Three quick goals see ladies win drumlin derby
New Cavan ladies manager Gerry Moane wasted no time in putting his stamp on the Breffni women's style of play as the girls in blue got over the challenge of Monaghan in St Tiernach's Park, Clones on Sunday afternoon. It took Cavan some time to settle into the game but once they found their rhythm Cavan were full value for their win and excellent to watch.
Cavan wins over their neighbours have been very rare in recent seasons and this was a real statement of intent by Moane's charges. Cavan's counter-attacking game was really good to watch and something they have obviously been working on – and it paid off as they swarmed the Farney attackers and displayed an impressive work-rate throughout.
Cavan were well organised at the back, with Muireann Smith very solid at full-back and captain Laura Fitzpatrick the same at centre-back.
Cavan in round the goal any time Monaghan got into the scoring zone; they congested that area, stripped possession time and again and broke out a speed. Cavan's pace on the counter was exceptional; Catherine Dolan was full of running from the defensive end of the field and setting up transitions.
Ciara Finnegan dropped deep and broke forward at every opportunity and Geraldine Sheridan was outstanding on the inside line, with Lauren McVeety sharp as well.
McVeety's Crosserlough teammate Neasa Byrd was always a strong option on kick-outs while Sinead Greene, in her first game back after a break, was back to her best, bombing up the field at speed and showing her usual tenacity in general play.
With six minutes remaining Cavan put seven points between the sides with a move of sheer beauty ending up in the back of the net. Elaine Walsh, solid under the high ball in goal for Cavan, passed from the goal mouth to Ciara Finnegan who found Rachel Doonan. A kick pass by Doonan and another by Aishling Sheridan saw the ball gathered on the far '45 by Roisin O'Keeffe.
O'Keeffe sent the ball inside to Geraldine Sheridan whose quick hands laid off to Catherine Dolan bolting through the middle. A stop, turn and hand pass by the Lurgan player allowed the lightning fast Sinéad Green to pierce through a small gap before finishing to the net. It only took 25 seconds for the ball to go from Walsh's hands to the back of the Monaghan net with eight Cavan players involved in the move.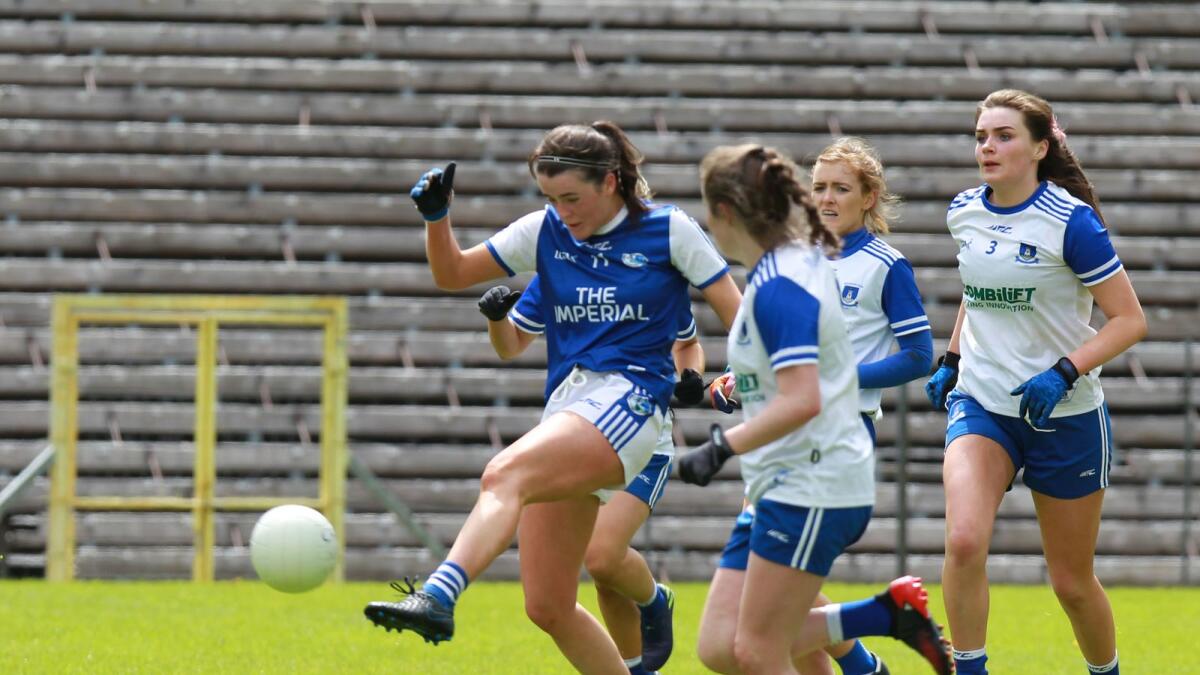 After Monaghan took an early three-point lead, Cavan were reduced to 14 players when Aiobhin Kiernan received a yellow card (sin bin) for a foot block. In the following 10 minutes, Cavan showed their character as they ran in four unanswered points from McVeety (two) and Aisling Gilsenan (two).
By the sounding of the short whistle Cavan had taken worked themselves into a single point lead after Ellen McCarron levelled the sides and Gilsenan again had the final say of the half.
With 15 minutes remaining, Cavan began to open up the Monaghan defence. Leading by three, Cavan's Lauren McVeety broke through on goal but decided to send the ball over the ball.
Cavan, displaying their fitness and now seeing goalscoring opportunities after the water break, hit their first major when a defence splitting pass from McVeety found the outstanding Geraldine Sheridan who clinically finished to the net.
After Cavan's second goal, Ellen McCarron replied with a soccer style finish for Monaghan but with four minutes remaining Catherine Dolan sent a guided missile to Geraldine Sheridan whose movement left her in front of goal to grab her second major of the day.
Sinead Greene finished the scoring for Cavan with a fisted point in the 57th minute and despite Monaghan finishing the game with a goal from Ciara McAnespie after a sublime pass by Jane Drury, the result was never in doubt at that stage.
Next up for Cavan is a visit to Tyrone next Sunday as Gerry Moane and Barry Grimes bring their new side to the team they won the intermediate All-Ireland with in 2018. Tyrone are in need of a win after losing out to Armagh by a single point at the weekend.
There's a long way to go, of course, but this was a very promising start and sets Cavan up nicely for a long-awaited tilt at promotion to the top flight.
Monaghan: Edel Corrigan, Maeve Monaghan, Sarah Boyd, Aoife McAnespie, Nicola Fahy, Abbie McCarey, Amy Garland, Amanda Finnegan, Jodie McQuillan(0-1f), Laura McEnaney(0-1), Ellen McCarron(1-6,3f), Shauna Coyle, Casey Treanor(0-1), Muireann Atkinson, Cora Courtney
Subs: Ciara McAnespie (1-1) for Amanda Casey, Emer Treanor for Laura McEnaney, Niamh Brennan for  Shauna Coyle, Holly McQuaid for Sarah Boyd, Anita Newell for Muireann Atkinson.
Cavan: Elaine Walsh, Racheal Doonan, Muireann Smith, Shauna Lynch, Sinéad Green(1-1), Laura Fitzpatrick, Mona Sheridan, Catherine Dolan, Neasa Byrd, Ciara Finnegan, Lauren McVeety(0-4,1f), Aoibhin Kiernan, Geraldine Sheridan(2-0), Aishling Sheridan(0-1), Aisling Gilsenan(0-4,1f)
Subs: Roisin O'Keeffe (0-1) for Aiobhin Kiernan, Niamh Keenaghan for Ciara Finnegan, Zara Fay for Mona Sheridan.