Cavan gems on display virtually
The recently redeveloped British Museum website gives open access to incredible high definition photos of many of the museum's 4.5 million artefacts – including dozens of fascinating items from County Cavan. Searching 'Cavan' will bring up 45 hits; some with only a tenuous connection, others are genuinely rooted in the county and are truly breath-taking.
Amongst the stand-out ancient Breffni pieces are impressively crafted items of jewellery and coins.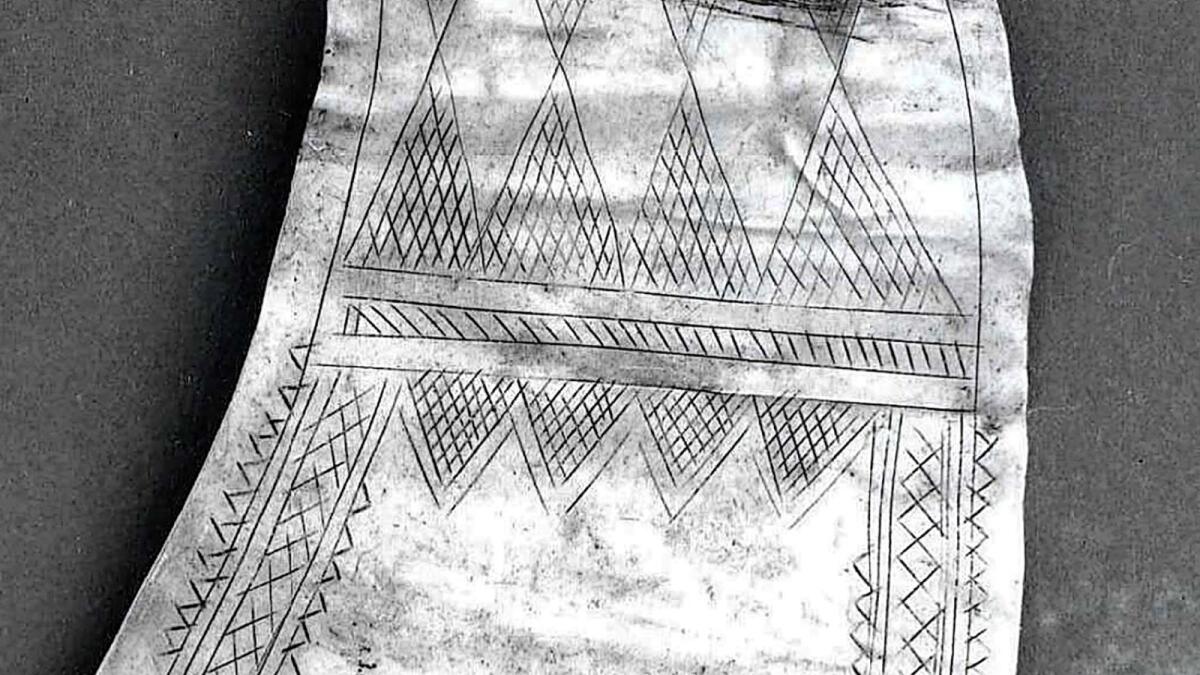 The oldest item from the Cavan collection is a lunula - a golden, wafer thin crescent to be worn around the neck – and dating from 2400BC-2000BC. According to the records it was discovered in 'Bailyborough'.
Lunulae were perfected in Ireland, and every one deemed 'classical' originated here; those created in other countries termed 'provincial'.
"More than 100 are known from western Europe, of which more than 80 have been found in Ireland," state the Irish Museum. It is thought the gold was sourced from stream pebbles.
The late neolithic/early bronze age ornament is damaged, missing the terminals – where it would have been fastened at the ends – and weighs just a fraction over 48g.
The British Museum accompanying notes describe it as "highly crinkled" rather than the usual smooth surface and suggests this indicates, "it has been folded or rolled in the past".
They admiringly observe: "It is decorated with a complex finely-incised geometric pattern", including rows of triangles, parallel lines and diamond-shaped motifs.
While the magnificence of the gold is best captured as a coloured photo, the intricate decorative carvings are most easily appreciated in black and white.
Sadly the lunula is not on display in the museum.
The British Museum acquired it from a 'Sir Thomas Tobin' in 1871. Much of the Tobin family wealth was initially generated by Thomas's grandfather who was a big shot in the slave trade. Thomas moved from Liverpool to take over a mill in Co Cork manufacturing gun powder.
Another item from this same period, which sounds intriguing is a bronze age axe, which is described as 'copper alloy short-flanged axe; cast.'
Sadly there is no image of this artefact online, nor is it on public display in the museum.
A 10th Century golden 'arm-ring' is an intricately wrought artefact that can only inspire awe at the craftsmanship involved.
It has a diameter of 7.3cm and weighs almost 55g. From the Viking era, it's described as: 'Circular gold armring made of thin plaited rods forming an open-work frame around a single broader rod at its centre. The ends are encased in gold sheet, forming a lozenge-shaped plate with an incised contour line, which has a punched dot in each corner and a cross of five dots at the centre.'
Writing in 1980, curator James Graham-Campbell said of the piece: "The technique of manufacture of this arm-ring is unusually elaborate, but it is paralleled, for instance, in silver in the Douglas, Isle of Man, hoard of c.975."
It was acquired from William Anthony (c.1803/8-1870), an artist and painting restorer, who sold a cache of Irish antiquities to the British Museum in 1849. The collection had been collected by his father, Redmond Anthony (1768-1848), an Irish innkeeper and antiquities collector.
Fortunately, this item is actually on display at the museum. It was previously included in exhibitions in Liverpool (1990) and in New York's, Metropolitan Museum of Art (1980).
This brooch dates from the seventh century, and there is no detail on where in County Cavan it was discovered. The word penannular describes its incomplete circle.
This artefact is also on display in the British Museum, where it is described as follows: "Bronze penannular brooch with grooved hoop, terminals with red enamel, each with three millefiori glass roundels set within copper alloy cells. Pin-head with bossed decoration. Reverse of brooch with lightly incised decoration."
It will bring to mind the famous Virginia Brooch, which made a brief return to the county to mark Virginia's 400th anniversary in 2012. Sadly the loan from the Irish National Museum lasted just three weeks, where upon it returned to Dublin, where, we believe, it is not on display.
The brooch in the British museum dates from the
Celtic period, a few centuries before the more intricately designed Virginia brooch was created, in the 9th/10th Century.
The Cavan brooch was 'acquired' from 'M Burrowes' whose unhelpfully described online only as "Sold Celtic jewellery from County Cavan to the Museum in 1856".
It has also been loaned for a number of English exhibitions, and also notably exhibitions in the Tokyo Metropolitan Museum of Art (1998) and Venice's Palazzo Grassi (1991).
There is also a second brooch from County Cavan in the British Museum collection, however it is not on display, nor is there an online image provided. This 8th-9th Century brooch is described as "Copper alloy ringed pin with openwork ring around three-pointed motif, interlace panels flanking lower point; semi-circular mouldings flank pin-head."
As to how it came into the British Museum's possession, they note that G D Beresford "sold a Celtic ringed pin brooch from the palace at Kilmore, County Cavan to the Museum in 1935".
A final artefact worth noting is a "token" produced in 1667. Weighing less than two grammes it is in remarkably good condition. The image of a swan is easily identifiable, and the writing clearly visible reading: 'IOHN BALLARD'.
It seems there was a problem in accessing small change produced by the state in the 17th Century in Ireland and Britain, so merchants and corporations minted their own coins or tokens.
An illuminating article on the subject penned by Robert Heslip (see www.lisburn.com) explains: "In Ireland, tokens appear in 1653 and continue until 1679, being replaced by regal halfpennies in 1680. Over 800 different issues, from 179 localities, are known from Ireland at present. Most Irish tokens, unlike the English, give their denomination as a penny."
This Ballard coin doesn't have that penny denomination on it.
An article dating from 1922 in the Breifny Antiquarian Society Journal refers to a similar coin, possibly this exact coin as being in the Belfast Museum and notes the common practice of including a wife's initial in the token.
"Hence it may be conjectured that the final three letters, I.M.B., stand for 'John and Mary (?) Ballard'. As to the device, a swan was the sign of a very old house, No. 63 Main Street, which was burned down over 40 years ago. The token shows that the same sign existed, not improbably over the same house, or over a previous house on the same site, 200 years before that," wrote Rev JB Meehan in the journal.
It could be said that these artefacts have been hiding in clear view in the world famous collection of the British Museum, as many Cavan people will not have known of their existence.
No doubt many people would welcome the prospect of having such gems back home in Cavan, whether any prospective request made by our fully accredited County Cavan Museum in Ballyjamesduff would be received favourably remains to be seen.