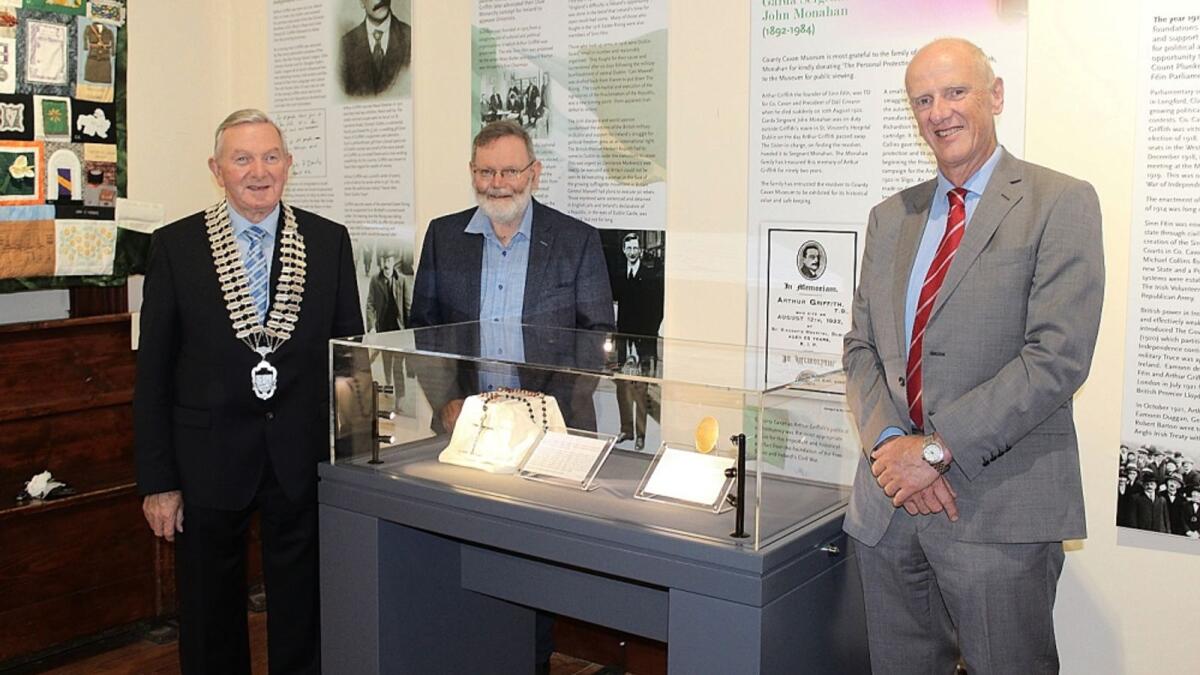 Antique beads and belt shield donated to museum
Two pre-Famine artefacts from either side of the historic community divide have been donated to Cavan County Museum. A set of rosary beads, dating from before the Famine belonging to a Ballintemple woman, and a shoulder belt plate from a Cootehill loyalist militia dating from 1796 may at first glance make curious bedfellows in their illuminated, temperature controlled glass display box.
On reflection, they reflect the opposing, yet interwoven perspectives from our turbulent past. It's the type of thoughtful, respectful approach to local history that has been a hallmark of Savina Donohoe's tenure as curator of the museum.
While the gripping World War I trench experience commemorating the many Cavan men who fought and died in squalor, and the innovative 1916 Rising exhibition will rightly stand out as headline attractions created during Savina's time, it's artefacts like the beads and belt plate that bring a solidity and authenticity to the museum's collection.
The formal unveiling of the artefacts last Wednesday afternoon was among Savina's final acts in the post before her retirement two days later.
The donors, along with the chief executive Tommy Ryan and Cathoirleach Clifford Kelly visited Ballyjamesduff to mark the occasion.
"It's an interesting contrast," remarked Thomas Graham, after the Cathaoirleach had whipped off the cloth covering the beautifully presented display.
Savina agreed, saying she hoped it would start discussions addressing our shared past. "It's not about saying who is right or who is wrong, but it is to start a dialogue between people."
"Bringing it back to Cavan Museum, for me, I'm bringing it back home. Because it is home."- Thomas Graham on donating a shoulder belt buckle to the museum
Thomas had donated the shoulder belt plate, a smooth oval made of brass that would fill the palm of your hand. It belonged to the Ashfield Cavalry, which was raised in Cootehill 1796 under the command of Henry Joy Clemence, of Ashfield Lodge, just two years before the United Irishmen's insurrection, which in turn led to the Act of Union in 1800. Just over a decade after their formation, the cavalry were disbanded.
The accompanying note explains: 'Against a background of tension at the growth of radical republicanism, Dublin Castle announced the setting up of a yeomanry force of infantry and cavalry. Under the command of local gentry this loyal force was to be used for domestic peace keeping and serve as their local garrison if regular troops had to be redeployed.'
Ballynahinch man Thomas Graham is the latest of a long line to share that family name, and it was on visits to his grandfather Thomas's 'Rock Cottage' home in Ashfield that he first heard stories of the local militia.
"The Ashfield Cavalry would have trained in the meadow at the front of the house where he would have grown up," recalls Thomas.
"This would have been a gentleman's regiment, very much. I remember my grandfather saying all the men in that regiment would have had to provide their own horse."
Savina was thrilled by the donation, recalling that in recent years they had a similar belt plate on loan from the Ulster Museum before.
"But now we have our own – it's not a loan."
Thomas appreciates the significance of having a tangible link to our local history.
"Bringing it back to Cavan Museum, for me, I'm bringing it back home. Because it is home."
With their beads made of ceramic, amber, horn, metal and wood, the rosary beads are more immediately eye-catching, but their history is a little more patchy.
The explanatory note outlines that they belonged to Annie Fitzsimons (née Masterson) Ballintemple. They had been kept in a box, and a note said they were in Annie's possession when she married Thomas Fitzsimons on June 12, 1843. A beautiful crucifix closes the beads, and has the inscription MD, which stands for Mater Dei, mother of God.
They were donated to the museum by Kells auctioneer Oliver Usher on behalf of the Lappin family.
There had been a doctor in the Lappin family, and it's surmised Annie may have been a patient and presented the beads as an act of gratitude.
"I said the only place it could go would be to Savina at the museum – and there it is. I can't believe they cleaned up so well," said Oliver, who observed how the donation chimed with the museum's former life as a convent.
"What was interesting to us was the number of times it had been repaired," said Savina, noting it's indicative of how cherished and well used they had been. She marvels at their age: "They're really significant."
While Savina didn't refer to her imminent retirement, it was obvious she was happy to have such a high note to punctuate her curatorial tenure.
"In all the time I have been working here I don't think in such a short period of time we got such unique donations – I genuinely say that, they really are special. And without your kindness, it wouldn't be possible," said Savina as the melancholic sound of a horn reciting The Last Post, drifted in from the Trench exhibition.
"I often think that museums are very much like people: they need friends.
"We are also very grateful to the people of the past who have made donations to the museum and without them we wouldn't have what we have today – we have one of the finest collections of artefacts a county museum could have, both on display and in the archive."