Circle of Friends Childcare Services
20 children currently booked into the school for this year at new Killeshandra childcare facility
Previous
Next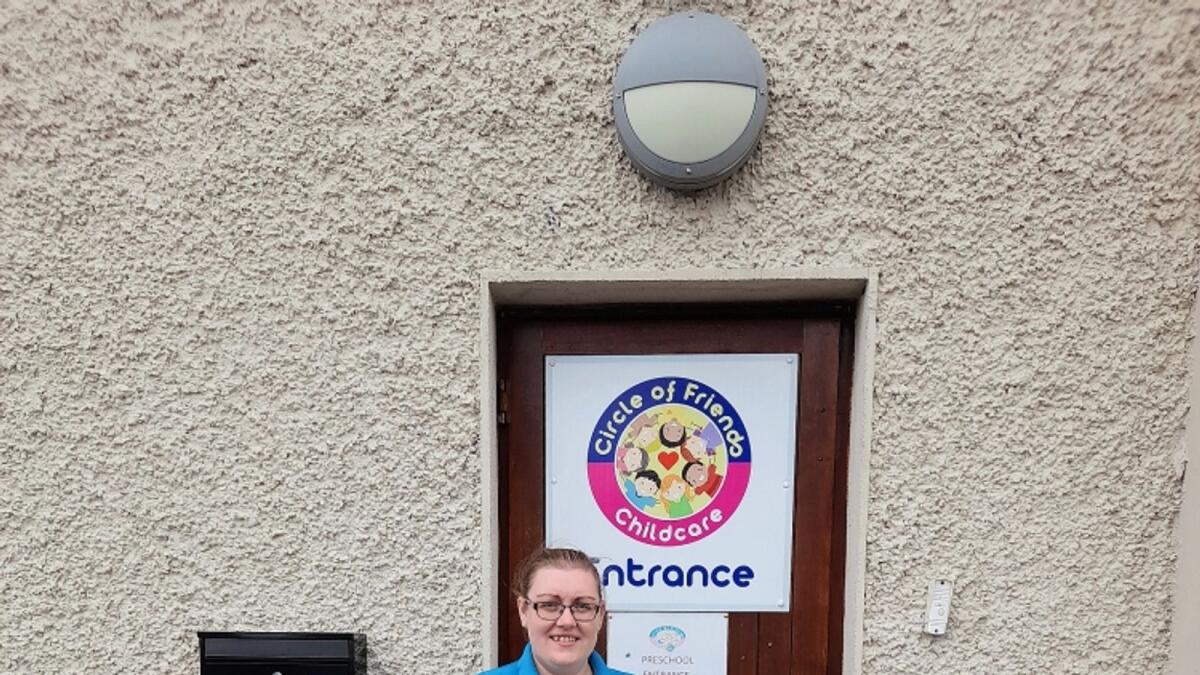 "I love it," gushes Nicola of her vocation, explaining she has been in childcare since 2007.
"I've worked myself up, I started off doing my level five and I now have my degree."
She said it has been "busy going" working part time in other services, while plotting her own business on the side.
The childcare service began as an afterschool, serving schools and families in the local area.
Using this to test the water, Nicola saw a need for more child minding facilities in Killeshandra. She decided to broaden the horizons, opening a pre-school, breakfast club and seasonal camps, as well as the afterschool.
"It's definitely building up," Nicola reported, expressing the importance of getting the service "out there".
"A lot of people don't know that we're doing pre-school and that we're doing all the different things."
They began the pre-school service last year with only five children and are delighted that numbers are on the rise.
"This year, we have had to open a second pre-school room," she said.
There are 20 children currently booked into the school for this year, with Nicola revealing that there are 25 children already on the books for next year.
"It's fantastic," she enthused.
"Between breakfast club and everything, you're talking between 40-50 children this coming September."
The service passed its first Tusla inspection in June with flying colours. It is open from 8am to 6pm daily. The childcare day is a hectic one, as Nicola outlines, mentioning that she often has to bring work home with her.
"There really is so much work behind the scenes that people don't realise. There's just not enough hours in the day," she said.
Children in the breakfast club come to the service at Killeshandra community Hall at 8am, where they are given their breakfast and prepared for their day.
"If they are school-going children, we bring them to school," Nicola said, explaining they use a local transport company, operated by Tom Reilly - or as the kids call it, 'The Big Red Bus'.
The pre-school service operates during the school term for children aged two years and eight months up to school-going age. This service runs from 9.30am to 12.30pm.
Activities
Nicola and the team provide a range of activities to preschoolers to make their day as interesting, enjoyable and engaging as possible. The service is play based with a Montessori curriculum.
"We follow the emerging interests of the children, that's what our curriculum is based around.
"If the children are really interested in dinosaurs for example, we'll plan a theme around dinosaurs for the following week to link in with that child's interests.
"That's how we approach our learning for the children."
The children meet new friends, while learning essential skills for the future.
"They come in in the morning and we do free play so they can settle in and get to play with their friends."
The children have "a more structured afternoon" with table top activities, arts and crafts, sensory play with water, sand and lentils, gardening and much more.
"We have been planting and growing our own sunflowers and vegetables this year," Nicola reveals.
Staff try to get children outside for fresh air every day weather permitting.
The school encourages physical activity among students with all staff trained in the Buntús and Fun Moves packs. They encourage exercise using things like hula hoops and bean bags.
Respect
They also run the Respecting Difference Programme, which has an emphasis on respect for others and inclusion.
The programme features puppets from different nationalities and communities with varying facial expressions.
"They link in with children with disabilities, they link in children from different nationalities, different races, one is a traveller, one has really dark skin, one has glasses with a patch," Nicola detailed.
The staff create scenarios and "make up little profiles" to put on a puppet show, based on the group of children each year "so they can connect with them".
"We are a very inclusive service," Nicola said, explaining the environment is fully accessible for all.
Focus on health
This coming September, the playschool will engage in a Health Promotion Programme with a focus on healthy eating, dental hygiene, mental health and wellbeing, as well as physical exercise.
Every child has their own scrapbook, in which they feature their work as the year goes on. The facility hosts a graduation ceremony at the end of the year.
"The children are presented with the scrapbook to bring home to show their parents what they have been doing," Nicola explained.
Full-time care
"We have an all-day care then," she said, explaining this caters for the "mammies and daddies who are working" and cannot collect their child after pre-school hours.
After school children come to the facility from 2 o'clock onwards. They facilitate both schools in Killeshandra.
Children who have just finished school receive a home-cooked meal. Cavan company Nulty Family Foods prepare fresh dinners for the service every week.
"It's proper beef stew, cottage pie and all that sort of thing," Nicola detailed of some of the wholesome dishes on the menu.
They then settle down to do their homework, receiving help where necessary.
When school work is finished for the evening, fun activities take place.
"We have two outdoor play areas," Nicola said, explaining they have an area for after-schoolers and pre-schoolers, which accommodates for the age gap among the children and COVID-19 restrictions.
"I know they have had a busy day in school but they still want to do activities," Nicola said, explaining similar to the pre-school programme, activities are based on the children's interests.
"The service is all run the same, we're all following the emerging interests of the children.
"Everything is very easy going and at the children's level," she said.
Summer, Easter and Halloween camps are run throughout the year, which have been a huge success to date.
"A lot of children want to do them," she said, explaining parents availing of the service get first preference on camp spaces, which are then advertised to the public.
Due to COVID-19 restrictions, parents are not allowed into the facility, which Nicola finds disappointing.
"Obviously parents aren't allowed to come in to see our work and see what we are doing with the children," she said, explaining they create a monthly newsletter to send home to parents.
She added "there's been a lot of money spent" making the town hall a warm and inviting environment for the children.
Nicola remembered the space was "literally a shell" when she first entered the building.
"It was just greys, it was cold, boring," she remarked.
She said Killeshandra Community Council and Killeshandra Community Hall have been most helpful in allowing her to open and run her service and thanked them for their support.
Nicola urged people to keep an eye on the Circle of Friends Childcare Services Killeshandra Facebook page for regular posts and updates on the service.
Contact us
For further enquiries, parents can WhatsApp Circle of Friends through their Facebook page. Alternatively they can email circleoffriendskilleshandra@gmail.com or contact Nicola on 087-3889004.
Posters with enrolment details are put up in the local area in the surrounding schools