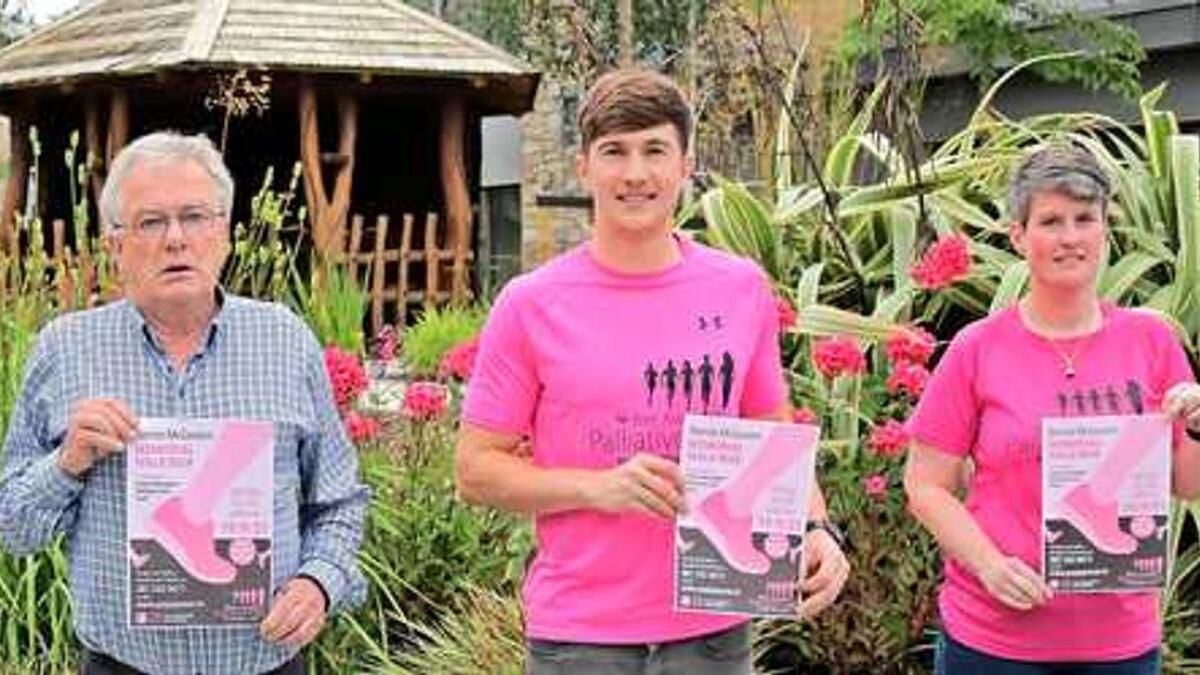 All systems go for Bernie McGovern Memorial Run/Walk
All proceeds to Cavan Monaghan Palliative Care Fund
By Sean McMahon
A run in aid of Cavan Monaghan Palliative Care Fund has raised over €22,600 to date for the very worthy cause.
The Bernie McGovern Memorial Run/walk takes place on Sunday, September 19 this year and will be staged virtually due to Covid restrictions. Participants can walk or run 5k/10k or take on the September 100km challenge.
Now in its fourth year all the money raised goes to Cavan Monaghan Palliative Care. By taking part virtually participants can run or walk in their own time and at their own location. The organising members are based in West Cavan and around the Templeport and Kildallan areas.
"The 'Bee Aware of Palliative Care' run/walk was set-up in memory of my partner Bernie McGovern, who had brain cancer. Palliative Care came into our home and she got her wish to remain at home. The Palliative Care Team took over and cared for her at home. We just like to give back and keep Bernie's memory alive as well," Christina Williams told the Celt.
"The Palliative Care Team does a fantastic job – we could not thank them enough for what they did in our house," she said.
Cavan footballer Oisin Kiernan is the race ambassador. Oisin is delighted to be on board for the event: "There was great support last year and look forward to the challenge again this year. The generosity of people is great and they readily get on board – it is brilliant."
Oisin got the all clear from Testicular Cancer in 2019 and all is good since. He urges men to check their own body and if they find anything, get it checked out straight away.
This year Oisin undertakes the gruelling 100km challenge during September and expects to tackle the 10k on Sunday, September 19.
Committee member, Anna Conroy spoke of the support the Palliative Care team gave her family this year, as her mother passed away in March: "They did excellent work – they are an amazing team."
Speaking on behalf of the Cavan Monaghan Palliative Care team Jimmy O'Donnell explained the importance of The Bernie McGovern Memorial Run: "Families are still struggling when a cancer diagnosis come along and the team are able to do a huge amount, but we require the finances to make it happen.
"The team give a family a break – tonight there could be seven or eight families in Cavan and Monaghan that have nursing support to give the family a break, so that they can have a nights' sleep," Jimmy outlines.
He pointed out that all money donated to the fund stays in Cavan and Monaghan: "It's all used on the patients and is all adjudicated by the team themselves, who are the experts," Jimmy concluded.
To support sign up online @popupraces or simply call Christina Williams on 0872420472. It is €18 to sign up for the race and a medal is sent out to the participant in the post. You can also order a T Shirt for an additional €10.