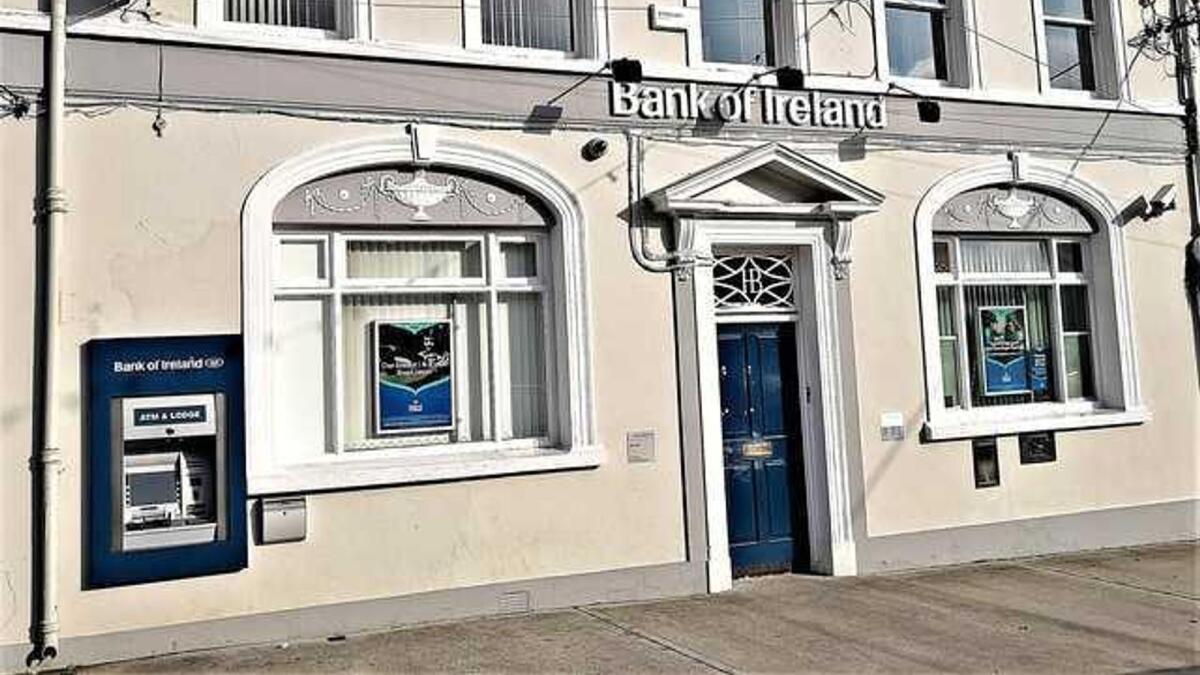 Action demanded on bank closures
PETITION Locals seek retention of ATM
As Kingscourt residents mounted an online campaign to retain an ATM service in the town, the Cathaoirleach of Cavan County Council, Cllr Clifford Kelly (FF), told members of the local authority the county was "denuded of banking facilities".
Cathaoirleach Kelly said his home town of Kingscourt, one of three earmarked for Bank of Ireland closures at the start of next month, will suffer as a result of the closures: "We have so much industry, yet there's no bank or even an ATM, in the town."
His motion calling on the local authority to write to the Minister for Finance, Pascal Donohoe, and Minister for Public Expenditure and Reform, Michael McGrath, to ask them not to leave Cavan and Kingscourt without services received widespread support.
The Cathaoirleach said bank users in Kingscourt will have to drive to Bailieborough or Carrickmacross to undertake business: "I have received a couple of hundred calls on this issue, it is one that is of very real concern to the people of Kingscourt and the surrounding areas."
Describing the closure as a "massive blow to Kingscourt" the council chairman said government need to do something for the people of Cavan. Cllr Aidan Fitzpatrick (FF) added his voice to the discussion. Cllr Fitzpatrick said Kingscourt Bank of Ireland is one of three branches, along with Arva and Cootehill, that will close on October 8.
Kingscourt residents have set up an online petition to retain ATM services in the town once the BOI branch closes next month. It has already hit 400 signatures. The only other cash point in the town is in the town's SuperValu supermarket. The local post office offers lodgement and cash services, however there's a maximum of four allowed in the Church Street premises at any one time.
Bank of Ireland will shut 88 branches in the Republic, largely mirroring locations closed temporarily in Spring 2020 at the height of the Covid-19 crisis.
In a 10-year period Cootehill has gone from having all three of the Irish banks - BOI, AIB, and Ulster Bank - to none. The nearest BOI branch to Cootehill is now 16 kilometres away in Co Monaghan.
In Monaghan, branches in Castleblayney and Clones are to close, and elsewhere in the region, branches in Granard (Longford), Castlepollard (Westmeath), Manorhamilton (Leitrim), and Athboy (Meath) will also serve their last day on October 8.
The Bank of Ireland branch network in the Republic of Ireland will be reduced by 88 to 169. The bank will provide services through the local post office network: "We will continue to operate an extensive branch network with a strong nationwide presence of 169 locations. This will be complemented by a new partnership with An Post, which will offer Bank of Ireland customers banking services at more than 900 locations across Ireland.
"This will include over the counter cash and cheque lodgements and cash withdrawals, with longer weekday opening hours than traditional bank branches as well as Saturday opening. The closing Bank of Ireland branches have a post office within, on average, less than 500 metres," a statement said.
The petition is available here.