Frazers celebrate 100 years
Previous
Next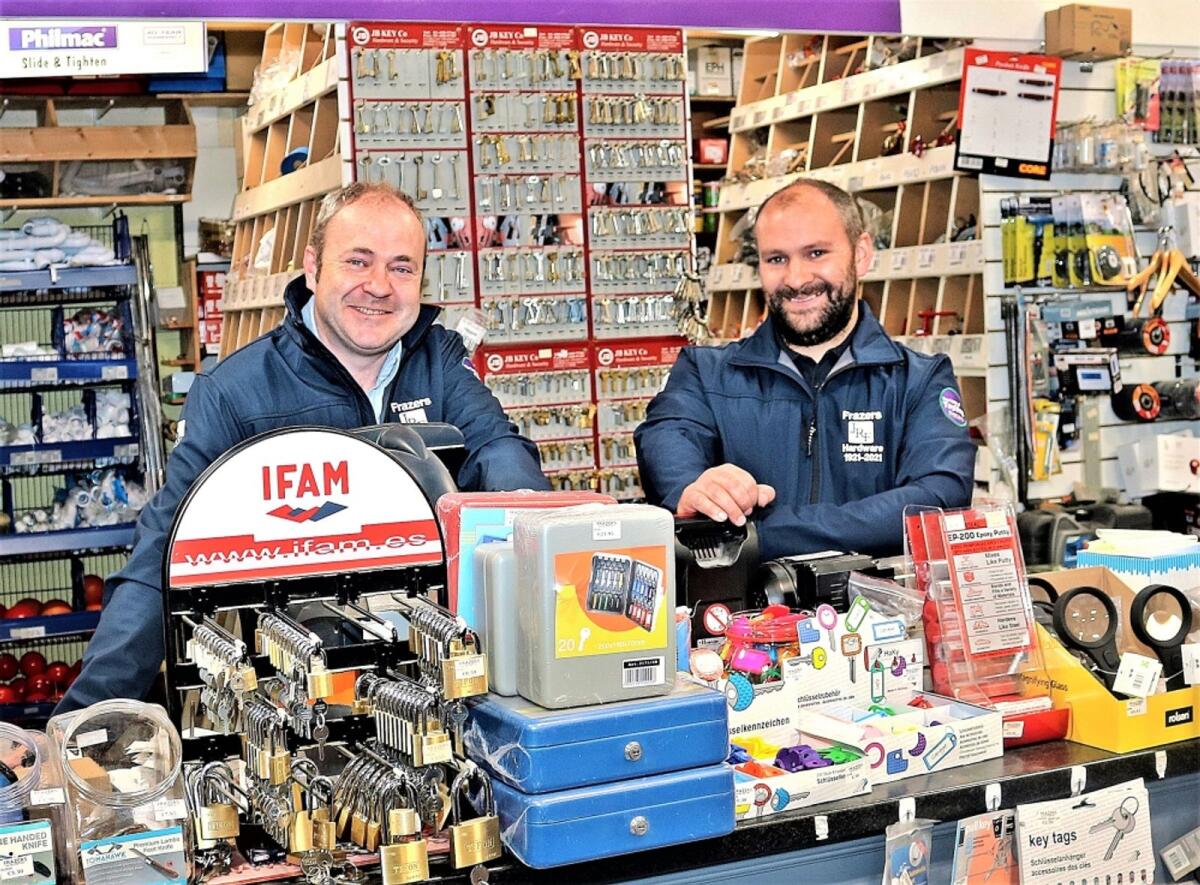 The name Frazer has long since become synonymous with the hardware sector in the town of Kingscourt and indeed all over the North East region.
2021 is a special year in the lifetime of this popular family business, as it celebrates 100 years of successful trading.
The premises is located on the perimeter of the town, adjacent to the Drumconrath Road, an area served by major construction related business. all complimentary to a modern hardware business complex spread over five acres.
The shop floor area spans over 12,000 square feet and is further complimented by the covered store areas in the yard.
Family business
The current proprietor of Topline Frazers is George Frazer. Married to Irene, the couple have two sons - Andrew and Jonathan.
The business prides itself on being a one-stop-shop for building materials, household products, DIY supplies and farming needs. Why not contact them today and receive the keenest quotes and excellent service.
Frazers is a family-run business, now in its third generation. It dates back to 1921 when George's grandfather, also George, opened up his shop on the Market Square.
Good business town
and region
George Frazer says Kingscourt is a great town in which to be located AS IT HAS LOTS OF INDUSTRIES CREATING GOOD EMPLOYMENT. It borders counties Louth, Meath and Monaghan and is in close proximity to Dublin thus creating a wide customer base.
In 1919, George's grandfather came to work in Nicholl's grocery in Kingscourt having served his shop keeping apprenticeship in Armagh.
He worked there for two years and then proceeded to rent a premises known as Nelson's on the Main Street and established a grocery shop.
Some years later, he purchased a corner shop on the main street, which soon became known as Frazers' Corner and he started selling groceries and light hardware and was assisted by his sister's, Mabel and Sarah.
He married a local girl, Emily Rowntree, and purchased a farm on the Kells Road. They had a family of five - two sons and three daughters. His sons, Jim and George worked with him on the farm and milked the cows and they sold the milk locally in churns and, in time, bottled it and delivered it across the wider Kingscourt area. Two of his daughters Lillian and Hazel worked in the shop.
Previous
Next
Expansion
Some years later, his son Jim came to work in the shop and proceeded to expand the hardware end of the business.
Soon he was selling land drainage pipes, fertilizers and general farm-type hardware supplies and also stocked cement.
Then, in 1981, the present proprietor, George Frazer, son of Jim, joined the family business.
The building supplies end of the business was further expanded, yet again, with the opening of a new builders' providers' yard in the farmyard at Drumgill.
They continued to sell the light hardware and grocery and cattle feeds from the shop at Main Street, Kingscourt.
In 1990, Frazers joined Amalgamated Hardware, which evolved into what is known today as Topline.
"This afforded us access to the benefits of bulk buying and also gave us a greater range of products to sell" recalled George.
Frazers made a giant leap forward by purchasing the Old Brickyard site. "We set about developing the expansive modern premises that exists today along the Drumconrath Road on the outskirts of the town."
In 2006, the light hardware business, which was operating from the Main Street premises, was transferred to the new facility and Frazers ceased trading at the town centre location.
Frazers became a fully branded Topline store in 2012. "We have 21 people employed and supply products to Cavan, Meath and Monaghan and well beyond," declared George proudly.
The store stocks every product required to construct a house from the very start to completion.
The expansive yard area affords easy access for builders and the many diverse customers who frequent it on a daily basis from near and far.
Frazers has the capacity to carry a wide range of stock and the well laid out complex of large storage buildings allow customers to view their prospective purchases with ease of access.
These items include blocks, sand, roof windows, insulation, plywood's, timber, slates, roof tiles all plumbing supplies and a range of flooring product.
They can all be loaded immediately for customers, eliminating any delays to their construction or building work.
Frazers will also deliver at no extra cost materials or products to the site or to your home.
The store also sells an extensive range of solid fuels and animal feeds, of course, Frazers was deemed an essential retailer during the recent lockdowns.
The floors and doors segment of the business is located upstairs with a panoramic view of the shop floor.
Those wishing to put down new floors and fit new doors in their home should get along to Frazers and see the well-lit display and wide range of samples.
When it comes to neatly finishing off the rooms in your new home, it is worth exploring the different types of skirting and architrave available in store. Frazers carry a huge range. Have a look today.
When it comes to fitting out and equipping your new home, Frazers are stockists of all leading brands of washing machines, electric cookers, fridges, dishwashers and all types of white goods all at competitive prices.
The store also has a new range of Delongi kettles and toasters in a variety of different colours now in stock.
As the winter months creep in, Frazers stock a wide selection of Waterford Stanley & Bilberry stoves. Classic central heating stoves include Reginald, Lismore and Erin. Classic room heating stoves feature Lismore and Ardmore, Tara and Oisin stoves are all on display.
And of course, for those looking to spruce up their home ahead of the festive season, Frazers are stockists of Fleetwood and Dulux paint. Why not give our paint department a call where you will get expert advice and friendly service from our paint specialists.
If you are renovating or doing a new build, why not visit Frazers' bathroom showroom where you will see over 20 suites on display from leading brands. Give us a call for a free consultation with our in house design team who will be there to offer you excellent advice and price on the layout of your new bathroom.
George and Irene would like to take this opportunity to thank our staff for their dedication and help over the years.
Also to thank all our suppliers and loyal customers for their support over the years, especially at this time as we celebrate our 100 year anniversary.