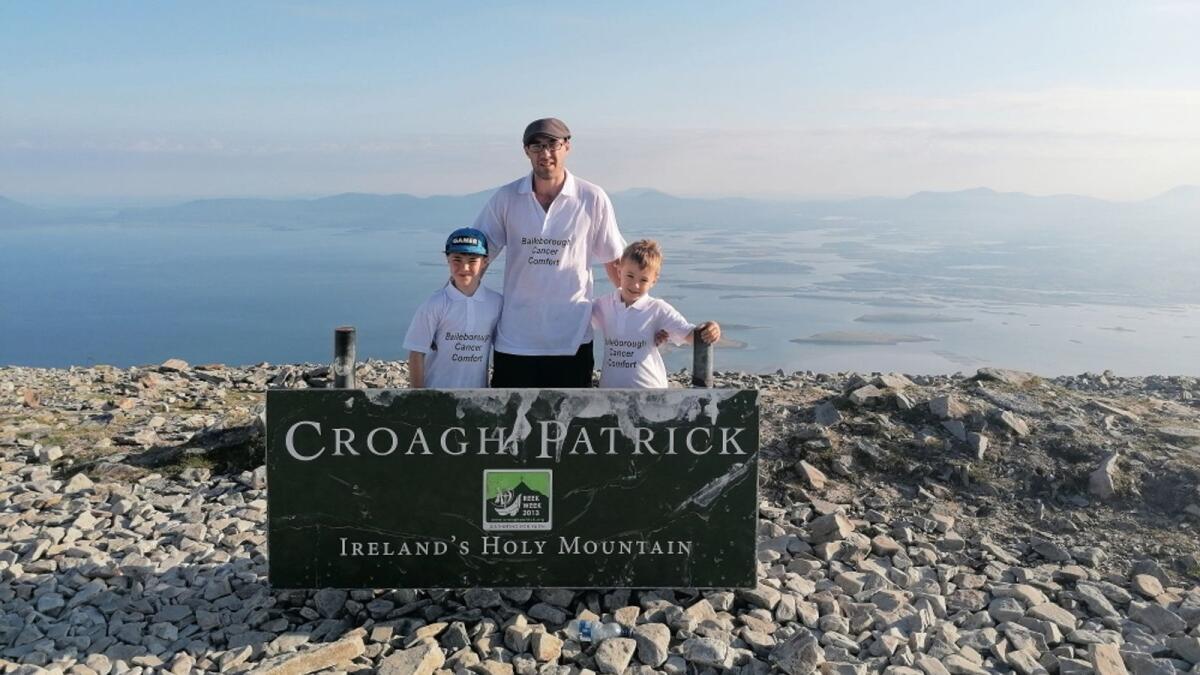 'I felt 100 foot tall' - proud dad
CLIMB Family raise €8K for charity
By Gemma Good
Bailieborough man Derek McElwaine has raised over €8,000 with his sons for a local cancer support charity.
The trio braved Croagh Patrick not once but twice in a single day (July 20) to raise much needed funds for Bailieborough Cancer Comfort. The charity gave much needed support to the McElwaine family after both of Derek's parents battled cancer.
Having completed the fundraiser, Derek looked back on the day his sons faced the mountain for those in need.
"People often say when they're proud they feel ten feet tall, I felt 100 foot tall that morning," he said.
They set off at 6am, completing the journey within five hours.
"The pair of boys, they did well for a seven-year-old and a 10-year-old," he said, explaining his sons, James and Conor were overtaking people on the route.
They raised a total of €260 on the mountain, when fellow hikers spied their fundraising t-shirts and "couldn't believe" they were climbing the mountain twice.
"People donated to us on the mountain, people we didn't even know," said a pleasantly surprised Derek. "I didn't expect that, complete strangers handing us money."
Upon reaching the peak for the second time, everyone erupted with cheers and well wishes for the group.
"On the mountain, there was a hell of an atmosphere," he recalled.
Seven year old Conor said he felt the "second time was a bit tough" however he was "delighted" when everybody praised them at the top.
"I'd like to do it twice again," he said.
The McElwaine family were delighted to hand over a cheque totalling €8,362.50 to Bailieborough Cancer Comfort last Monday. The funds will help cover car expenses to bring cancer patients to appointments.
"When we handed over the cheque, they were thanking us very much."
"We deserve no praise," Derek urged, explaining the organisation brought his father "up and down for five weeks on the trot" to daily hospital appointments.
"It's only a favour that we're returning."
He thanked everyone who supported them in their venture and is especially proud of his two sons.
"I don't think there are another two kids in Ireland who would have done it," he concluded.
READ MORE