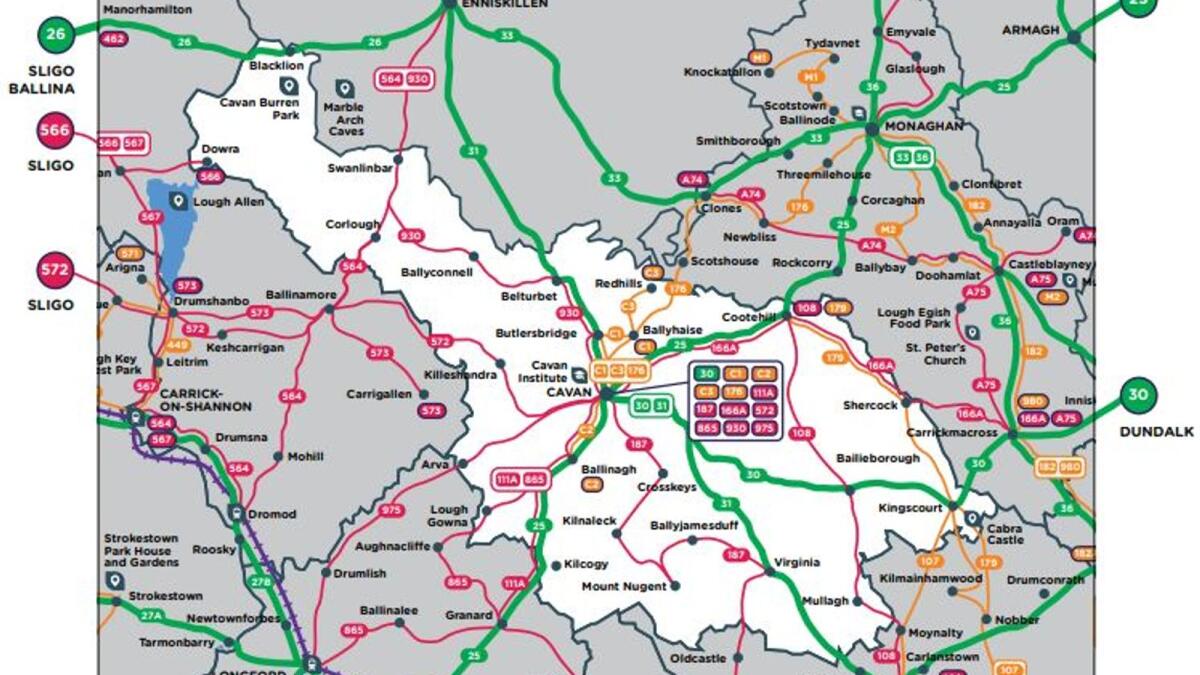 Councillors criticise new public transport plan
The NTA announced a public consultation last week.
Plans for improved public transport services throughout County Cavan have been criticised by Councillors.
Connecting Ireland was published by the National Transport Authority (NTA) almost two weeks ago with an increase of almost 25 % planned in rural bus services.
In Cavan, an improved, interurban bus service between Cavan, Dublin and Donegal town under the new 31 route.
There would also be changes and realignments on some other routes, with enhanced interurban services between Cavan and Belfast, Dundalk and Athlone.
Some new local bus services would also be set up under the plans with services for Shercock, Mount Nugent and Lough Gowna to Cavan.
Cllr Sarah O'Reilly (Aon) was highly critical of the lack of public transport options planned for Bailieborough under the plan.
"It's the second largest urban centre in the county and there's a high rate of deprivation so not everyone has a car", she told the monthly meeting of Cavan County Council.
She said the town is currently served by only two routes, both beset with issues for commuters. She described the 108 service which links the town with Kells as having "massive problems".
She said the earliest service is at 9.15am which renders it useless for people hoping to avail of transport to work in Dublin. "Early for who?" she exclaimed at the meeting. She also criticised the lack of coordination with the service as the return bus from Kells can often "leave with no one on it" if services from Dublin are delayed.
She welcomed the proposal to expand the 108 service to Cootehill but sympathised with the people of the town as it would "bring all its problems with it".
Cllr Shane P O'Reilly (Ind) also criticised the plans, saying Mullagh is left lacking under the plan. He described connectivity there as "chronic" and said it and surrounding areas are the "piggy in the middle" with little public transport.
Other Councillors too were vocal about a lack of serious improvements in transport options in their areas, with Cllr Trevor Smith (FG) Cllr Paddy McDonald (SF) and Cllr John Paul Feeley (FF) criticising the plans.
Director of Services for Transportation, Environment and Water Services Paddy Connaughton told the meeting that the NTA is to distribute information leaflets to local libraries outlining the plans. He suggested a meeting should be organised between representatives of the Council and the NTA and Local Link.
Cllr Sarah O'Reilly also criticised the ongoing public consultation as she claimed the questions being asked were too vague and "didn't even ask what direction you would be travelling".