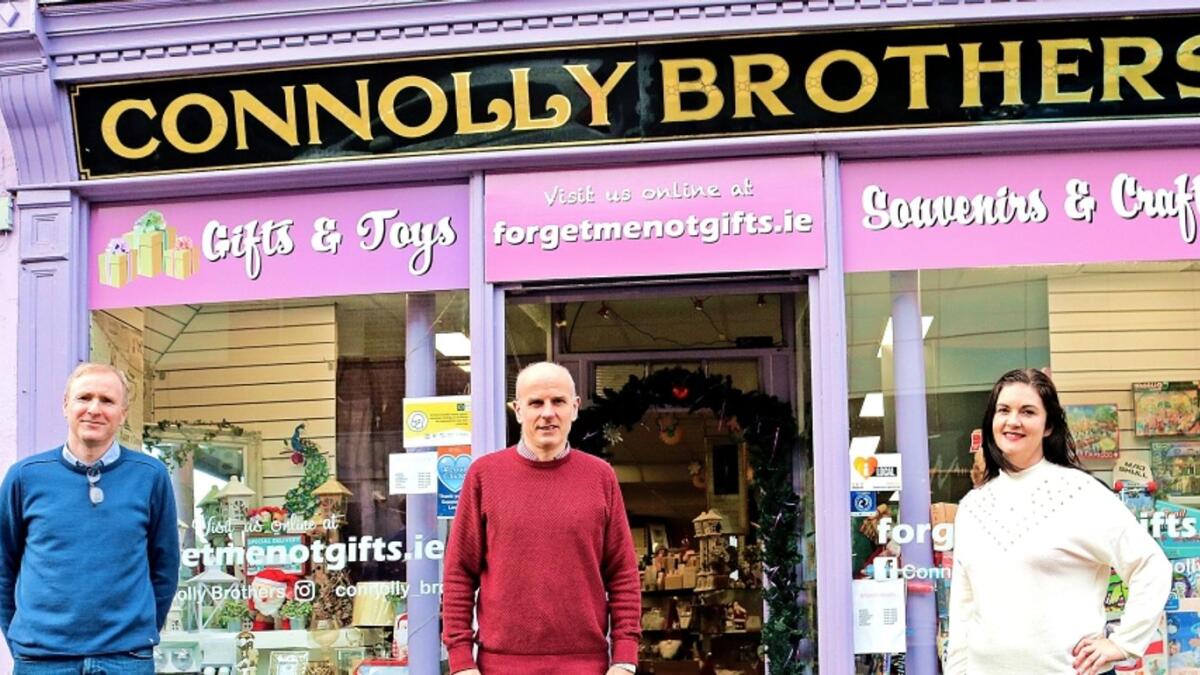 Love Cavan and shop local
In his role as President of Cavan Chamber of Commerce, Tom Brady says the town is ready for some festive fun: "Cavan Town is delighted to welcome you on the run up to Christmas. We very much want to thank all our customers who have supported local through a very difficult time. Thankfully business has rebounded well and our members are looking forward to a busy Christmas season especially those in the hospitality sector."
The focal point for the town's festive feeling is the Market Square, which will be particularly inviting this year with the new seating and canopies: "Thanks to the Town Team for the new tree and lighting that arrived last year and Santa Claus is already singing outside of Cavan Gifts as the song says 'it's beginning to look a lot like Christmas'," Tom tells.
The Chamber President says, in these uncertain times, preparations are key to a successful Christmas: "The most important thing is your safety and the safety of our staff is our priority - that's why we are extending our opening hours throughout December. We urge you to check with individual retailers regarding opening times, engage online and plan your journey in advance as much as possible.
"We are lucky in Cavan Town to still have so many locally owned businesses across retail, hospitality and services, which are complimented by enthusiastic, knowledgeable team members, the faces you recognise when you go shopping in Cavan Town," the Chamber chief explained to the Celt.
Gift vouchers
A big part of what Cavan Chamber of Commerce do at this time of year is promotion and sale of the LoveCavan Gift voucher. The vouchers are available for purchase from the Chamber office at 81 Church Street, Cavan, Eason on Main Street, Cavan or online at www.cavanchamber.ie
Tom thanked people for supporting local businesses through the voucher scheme: "We would ask if are looking to buy or collect vouchers from the office that you first give us a call on 0494378104 or drop us a mail to info@cavanchamber.ie and we will get back to you so that we can have the vouchers ready for you."
The voucher can now be redeemed at over 100 businesses around Cavan Town: "Remember if you are in business, you can reward your staff up to €500 tax free under the Small Benefit Scheme and this applies to company directors as well! We want the LoveCavan voucher to be front of mind for employers availing of this scheme. For a full list of participating businesses check out our website. Also keep in mind, if you are a business accepting the voucher, you can then spend this voucher with another participating retailer. Let's keep the money circulating locally," Tom urged.
The Chamber President said the voucher benefits both the consumer and the retailer: "We want all businesses in all sectors to be involved in the Love Cavan campaign whether purchasing or accepting the vouchers, using the #LoveCavan hashtag or simply displaying the #LoveCavan sticker, so please get in touch."
You can email info@cavanchamber.ie or call 0494378104 leave a message.
Tom concluded by saying: "A huge thank you to all the front-line workers who have and continue to go above and beyond also those in education, the local authority and the volunteers in the local community. The outlook is brighter and spirits are high in the run up to the festive season. So, a very big Happy Christmas from all in Cavan Town."