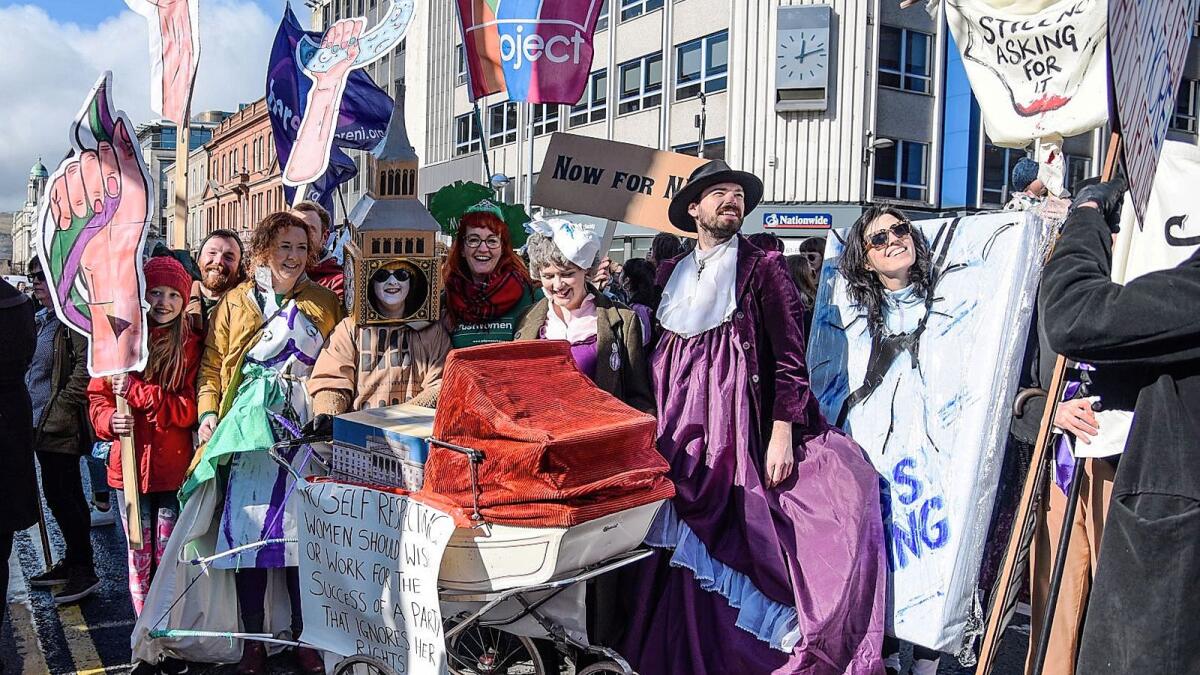 'We feel like we've already won' - O'Connor
Cavan artist among arts collective nominated for Turner Prize
Being sent to Coventry, figuratively speaking at least, isn't a nice prospect. For artist Laura O'Connor, who has just returned from the English city when she takes the Celt's call, it's a truly thrilling experience.
Laura is one eleventh of Array, a Belfast based arts collective on the shortlist for the world famous Turner Prize. The showpiece exhibition will be staged in Coventry in September to help celebrate its status as this year's City of Culture.
Having been a fan of the YBAs (young British artists) who frequented the Turner shortlist when she was an undergrad arts student, now the Killeshandra native and her fellow Array-ians unexpectedly find themselves amongst its nominees.
"It was complete shock," Laura tells the Celt. "One of the boys the next day still thought it was a practical joke. Nobody expects that. It's very very hard to get your head around something like that."
She recalls watching it on TV over the years, and modestly concludes: "It was never really something within reach."
Laura says her fellow Array artists have gotten over the shock that the Turner Prize is actually within reach.
"We had a week and a half to get our heads around it before it was announced. It was such a relief when it was announced, and we've had really great support from everyone in the community, and from afar. So we're mindful that this isn't just about us – this is about different social movements that are here."
The Array collaborative have made their name by bringing imaginative, humorous ideas to campaigns such as reproductive rights and LGBTQ+ issues such as same sex marriage to the streets of Belfast.
"We like to have a bit of craic but at the same time draw attention to serious issues through having a bit of fun," she explained.
These street protests resulted in Array catching the eye of one Belfast curator who suggested they submit a proposal to a major event hosted by Jerwood Arts in London titled 'Collaborate'.
"We ended up turning this activist protest into a more gallery based work," recalls Laura. "So we created videos and formalised it a bit more to fit into a gallery space.
"We used a lot of archive [footage] and discussed issues around Northern Irish identity, but did it how we know best. Some of us are film-makers, some of us are painters, some of us make costumes, do performance – so we intertwined all of our practices into that show."
She adds: "We're interested in changing narratives and breaking down what people on the outside might see us as. And actually going 'We are a much more diverse community – what you see in the news doesn't represent the people in Northern Ireland'."
Piqued interest
This Jerwood work was where they piqued the interest of the Turner judges, and then a phonecall came "completely out of the blue" asking if they would accept a nomination.
"We had to herd 11 of us onto a Zoom call quite quickly and have a chat about it, and freak out a little bit and wonder, 'what the hell?'"
Did any part of you think: art isn't a competitive pursuit and reject the nomination?
"We have those conversations a lot. And a lot of the other artists would too – accepting something like that and being part of the system which privileges one group of artists over another."
Array were also aware that the arts community of the North is much bigger than them, and they felt they were representing their fellow artists.
"If we don't accept it [the Turner Prize nomination] – it's still going to happen, there's still going to be collectives in the prize this year. Why not us? And why not use it as a platform to talk about human rights in Northern Ireland and look at Ireland as a whole and identity?
"It's going to give us an opportunity to fly a different type of flag," she says, with a laugh that acknowledges that flags are much more loaded in the North than many other places.
"It is important to have these conversations with people across the water, that we don't get left out. It is really great that Northern Irish artists have been included."
When Array's excitement subsided, a little, the mammoth workload that lay ahead quickly dawned.
"It is a big undertaking because we only have a couple of months to put a show together - the exhibition is in September. We will use some of the work we made previously, but we will make new work for the show, so it's going to be a busy summer."
Eye rolling
Then there's the eye-rolling coverage the British press typically give the Turner Prize. She agrees, but notes the Turner Prize event puts itself up as a spectacle.
"For us, we're kind of used to bad press, so it's alright," she jokes. "We use humour to get over that stuff and go: 'That's just your opinion man," she says affecting a heightened tone of indifference. "It is what it is. There's 11 of us, we'll be fine."
Then there's the prospect of Array being announced as the winners at the awards night in Coventry Cathedral on December 1 - how mind-blowing would it be to win?
"It would be quite crazy. I don't know. We feel like we've already won – just to be asked to take part is a really good opportunity.
"I don't think I've quite got my head around it yet, it is massive, but it's also a big undertaking: we've got a lot of work to do."