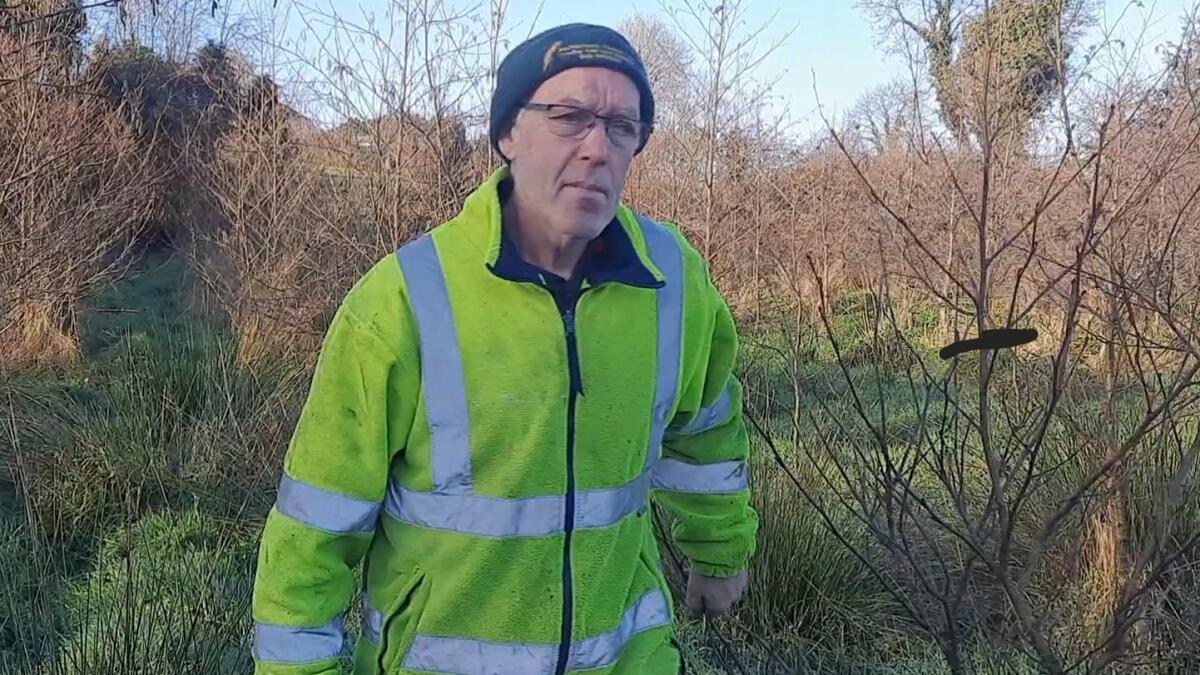 'Everyone says it's great, give us the tools to go ahead and do it'
AWARD Local man wins top prize for combining foresrty and farming
Owen Cooney admits he was "gobsmacked" to win the 2021 RDS Teagasc Farm Forestry Award.
"I'd have been very happy with second place," he assures.
He had never entertained the thought he could actually win it and, when he wasn't called out as runner up, he recalls thinking: "That's fair enough. I got here I got a good dinner."
It was then he was named as the winner.
"I really was gobsmacked when they called my name," he says at his kitchen table. His home farm is out the Bailieborough Road from Virginia.
The Farm Forestry Award category recognises excellence in sustainable use of land that incorporates both farming and forestry through the successful adoption of a whole farm planning approach.
With its 35 hectares spanning across four plots, Owen's farms takes quite a bit of planning. He does contract rearing of holstein friesian calves - "Dairy replacement stock from three weeks old until they are ready to go back to calf again. We have them here for a year and nine months."
And then he tops it up with a bit of calf to beef "to bring us up to a nice comfortable stocking level".
Close to 30% of Owen's farm is now under forestry, a mix of conifers and broadleaves.
"We have about nine different plots of forestry over the whole sites here, some big, some small, bits and pockets. It hasn't interfered with my farming – I still can farm as I always did," he says.
By planting forestry, he's also indulging his passion.
"Everyone has their passions but they can't explain why they have them, I've always had it. I like trees. I like what they do to the countryside, they're a great benefit. I've always seen the benefit around here. I love trees, I can't go further than that."
Up to recently Owen has been planting sections of marginal land, but in Spring 2020 he took his first steps into agro-forestry. He planted a selection of broadleaves such as oak, sycamore, cherry, red oak, beech, and Italian alder in rows on "flat good enough land".
"It was great to be at it, because it was the week that the pandemic broke here. It was lovely weather and it was the best fun we had in a long time. Sunny days, and everybody started walking the roads and I was busier explaining what I was at than doing work," he happily recalls.
He left 3m between each tree and planted the rows 8m apart.
"That means machinery can travel up and down between them and at the headlands you just leave a bit more space to turn around.
"So I've been able to do everything I ever did in that field since, only just there's trees there," he says adding he grazes sheep on the land in the winter and takes two cuts of silage during the summer.
"I'm only putting my toe in the water. I would definitely do more of it, but we're going to have to get more than a five year premium. It'll have to be a 20-year premium."
It's not just the short agro-forestry premium where his frustration at the current system surfaces. He's annoyed by the persistent logjam in the application system. Last month there were 5,500 applications awaiting decision with some owners waiting two years for licences.
"Afforestation – it's just flatlined now. It's terrible."
Owen says that even his application for his broadleaf agro-forestry, which he correctly observes is regarded as "the holy grail" by many environmentalists, was subject to delays.
Whereas a few years ago if anyone asked Owen about getting into forestry, he would have encouraged them. Now he stresses it is a personal decision, and would urge them to "think about it". He's hopeful the application system's "pitfalls" are only temporary.
"We need to get 10 or 12,000 hectares planted a year as a national asset."
He adds: "Everyone says it's great, give us the tools to go ahead and do it."
Continuous cover
Owen's eager to continue playing his part. He says he would be "very open" to operating a continuous cover system on the small pockets of forestry around his home farm where "it's on site and you can really get in to do the work".
Of continuous cover he explains: "You still have a canopy cover all the time – you are just continuously taking out timber.
"Take out bigger trees and leave good quality trees to come on and, as time goes on, either you let them regenerate and come again or you can intervene and start replanting."
He says continuous cover is practised all over Europe.
"We're very slow to do it here, it's because we're not focussed on forestry here. We're only first generation forestry owners, Germany they're probably fifth, sixth generation – it's part of their psyche, not here. It's coming though."
He is also starting the organic 10-week course online with Teagasc in the New Year.
"I'd like to put one of the blocks into organics, a stand alone system. I'm just keeping my options open," he says, adding he might consider getting a few rare breed beef cattle or "a small bit of tillage".
When the award is brought up again, he is eager to stress the input of forester Gerard Dunne of Greenbelt and Kevin O'Connell of Teagasc whom he met while undertaking the Forestry Levels 5 and 6 courses in Ballyhaise.
"Kevin would inspire you and Gerard is a good man to get things done," Owen praises.
The award is encouraging him to do more. "It's recognition of what we've been at, it's nothing more than that. Everyone likes to win a prize, no matter what it is, even if it's only a raffle. There's a buzz in it, and it keeps you on your toes. There's so much more I could do here, and I know I will," he said.