Little Mollie to lead tractor run
Previous
Next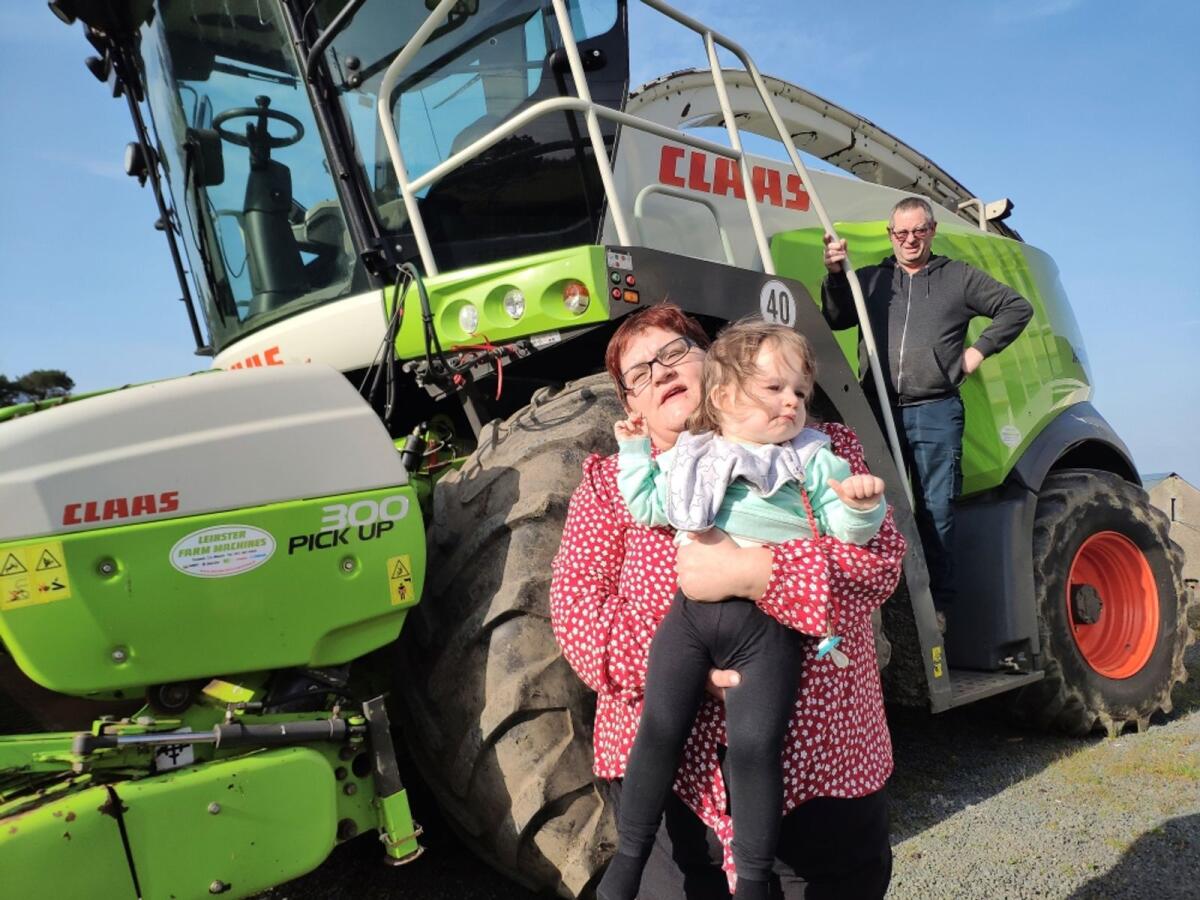 Mum Fiona Clancy Plunkett still vividly remembers clutching her four-month old daughter, tight to her chest, as she walked towards her husband Séamus with "tears streaming" down her face.
"I said to him 'Mollie has to go to Temple Street'. He asked 'why?', and I said 'I don't know!'. I just remember being able to say to him 'she's not focusing, it has something to do with her eyes'."
A lot has happened in the more than year and a half since little Mollie Plunkett was diagnosed with Optic Nerve Hypoplasia (ONH). Otherwise known as DeMorsier's Syndrome, ONH is an under-development or absence of the optic nerve. The condition is estimated to affect one in 10,000 children.
Mollie's vision is impaired and, though recent tests on her vision have been positive, it is not known whether the young Cavan girl will ever develop her sight fully.
Today mum Fiona brims with pride telling the Celt how Mollie doesn't let this impairment hold her back. So much so, that this coming weekend Mollie will assist in leading a major tractor and vehicle run fundraiser in her honour. Already the event has raised close to €7,000 for the National Council for the Blind of Ireland (NCBI), with more donations coming in by the day.
The Mollie Plunkett Run takes place this Sunday, March 27, and starts from St Brigid's Church near where the Plunkett's live in Laragh, travelling through Cavan Town, Cootehill and Canningstown before returning back to the home parish.
Registration is €20 per vehicle - all tractors, vintage cars and bikes, and lorries welcome - and refreshments will be served on the day, with a raffle also planned.
When asked if Mollie is excited about the event, mum Fiona simply laughs. "Where do you want me to start with her? Mollie is 21 months now and she absolutely rules the roost. She's the boss! She'll be there alright, front and centre, right up the front next to her daddy. She's a real daddy's girl."
Mollie's shock diagnosis came at a time when the world was otherwise reeling from the fifth wave of the pandemic in Ireland, brought on by emergence of the more virulent Omicron variant.
That something could be wrong with their daughter was furtherest from the family's mind.
It was only with the earlier relaxation of Covid restrictions, around the end of August, that Fiona and husband Séamus were able to celebrate Mollie's christening with friends and family. That evening, Fiona's brother-in-law Séan and his wife offered to care for Mollie.
"The next morning they brought her back down to the house, and it was Séan who said to me there was something 'funny' with Mollie's eye. My sister was there as well and she'd said the exact same thing. It was only the odd time you'd see it, depending on what way she'd look at you."
Come Mollie's three-month check-up, Fiona asked for the public health nurse for advice. Initially she was told "all was fine, nothing wrong there".
But a "nagging feeling" prompted Fiona to persist on Mollie's behalf, and an appointment was booked with the ophthalmologist at Virginia Primary Care Centre.
"We got the call on December 21, 2020. As soon as we walked in, the ophthalmologist didn't even have to examine her. She could see straight away that Mollie wasn't focusing. She'd have to refer us to Temple Street."
With the benefit of hindsight, Fiona says there were possible tell-tale signs. "She wouldn't look at us, or we could put something in front of her and she wouldn't pass any heed. We were in Virginia on a Monday and Temple Street by Wednesday. Within two hours of being in tested, the head consultant was able to tell us Molly had the sight of a six-week old."
As a family with no prior experience dealing with sight loss, the first question was "well, what sort of eyesight does a six week old have?"
Mollie had an MRI scan in January 2021 which confirmed ONH.
"The nerve from the eye to the brain hasn't developed. Has it developed or will it develop, we don't know," says Fiona, a native of Manorhamilton, Co Leitrim, who works as a healthcare assistant at the Breffni Care Centre in Ballyconnell.
Since the diagnosis, Mollie and her family have received practical and emotional support from NCBI, and the upcoming tractor run is their way of giving something back, by helping other visually impaired children and adults around Ireland.
Fiona is hopeful. "We were told Mollie might not be able to see at all. But there's something there because she got good news before Christmas that she's reacting well to light. It's a slow development," she explains, adding they can't rule out that she will be able to see properly one day.
Mollie, Fiona says, "goes with the flow".
"She's just the best little girl. She doesn't let her vision impairment hold her back at all. She's very cute, just a lovely child, has a great nature about her. This [diagnosis] definitely brought us very close, on both sides of the family because we'd never had to deal with anything like this. This is not in any of our families, so this was a major shock to us. Looking back, I don't think either myself or Séamus even knew what was going on. It took about six months or more for us to realise what was going on. Only for NCBI we'd be absolutely lost."