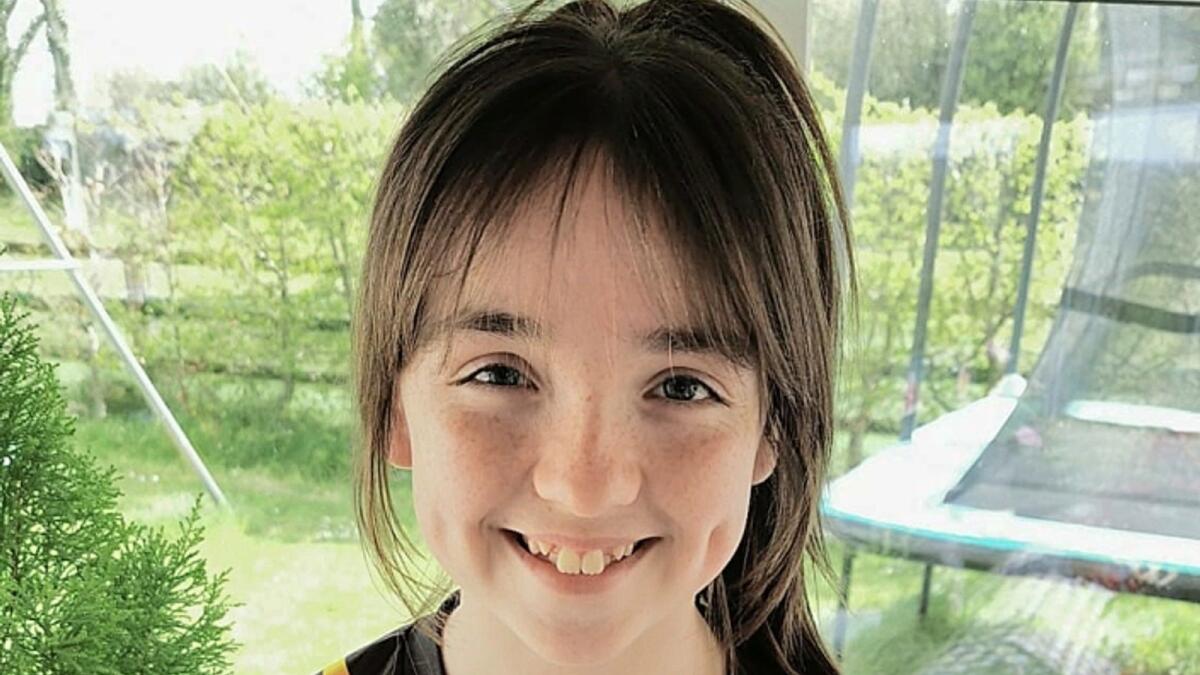 Race for Rachel's surgery
A Leitrim teenager is travelling to London for an operation that will determine her future mobility. Rachel Mallon was diagnosed with Adolescent Idiopathic Scoliosis a little over two and half months ago - a life changing moment for the 13 year old.
Since then, her parents, Brian and Edel, have frantically researched the condition to conclude that major spinal fusion surgery from the middle of Rachel's back to her pelvis is the only way to give their daughter a future.
"Rachel is kind, generous and loves music, singing, gymnastics and sports. She was told that following spinal fusion she wouldn't be able to bend her back for the rest of her life," her father told the Celt.
Rachel is from Bornacoola, Leitrim where she lives with her sister Aoife, brother David, her father Brian and her mother Edel who is originally from Whitehill, Edgeworthstown, Co Longford.
Rachel's Scoliosis is a rapidly progressing condition. The curvature in her spine increases her pain. She's been unable to attend school for the last five weeks because of the pain caused by sitting for long periods.
"My wife's sisters pointed out that Rachel may have postural issues last January," Brian explained. "I heard the word scoliosis before, but was not aware that it could develop in teenagers. We booked a specialist to look at her quite quickly, got a cancellation and got to see one."
Rachel has an S curve in her spine which initially measured 58 degrees on the top (thoracic spine) and 42 on the bottom (lumbar spine). This is classified as severe Scoliosis and requires surgery. The only surgery available in Ireland is a complete fusion of her spine which would leave her only being able to bend from the knees and a restricted quality of life.
"It was the worst day of my life coming out of the Santry Sports Clinic and out along the M50," Brian said of the day of his child's diagnosis. "I went up thinking she would need a back brace. To be told she would have to have her spine fused up to a third of the way up her back was shocking.
"Rachel just ran out crying. She is so athletic and into sports, it was the worst thing she could hear," Brian recalled.
Even at that there was a huge waiting list. The Mallons looked beyond Ireland for treatments for Rachel's condition. This brought them to a specialist in London.
The alarming feature of the young girl's condition is the speed at which it is developing: "We visited the orthopaedic consultant in London on March 30 after our initial online consultation three weeks earlier. We were given the heart-breaking news that both of Rachel`s spinal curves had progressed rapidly.
"Rachel's thoracic spine curve had increased to 70 degrees and her lumbar spine curve had increased to 60 degrees. She now requires VBT surgery on her lumber spine as well as her thoracic spine, which is at the limit for VBT surgery which is 70 degrees.
"This news means Rachel's surgery will be seven hours long instead of the original planned four-hour surgery. Her spine is also twisting, which shifts the location of the rib cage forming a rib hump. This deterioration occurred in the space of three weeks so having the surgery urgently became our top priority," Brian tells.
The surgery, which will take place in St George's Hospital London, involves entering from both of her sides – cutting her ribs and puncturing one lung at a time in order to get at her spine. They then fuse a number of vertebrae at both ends and connect a wire from there up through her spinal column, pulling the spine back into a relatively normal place.
The cost of the surgery is €120,000. With the help of family the Mallons have pulled together €90,000 and are hoping to raise the other €30,000 in a GoFundMe campaign.
The pressure is on to get the surgery done before Rachel's conditions progresses beyond treatment: "Our big fear is that we missed the window. That's why it's so urgent. If it progresses too far they won't be able to pull it back in with the VBT surgery. We won't know until the Wednesday before the surgery."
Brian says as the time for the operation draws nearer it's getting "very real" for his little girl: "She's very nervous, very worried, but she is very brave. It does get her down," he said.
Rachel's aunt in law, and neighbour Mary Callaghan Mallon is a Cavan woman – and sister of current County Board Chairman Kieran Callaghan.
The family's GoFundMe page can be access here