'Incredible' turn out for Darkness into Light
PHENOMENAL Donations go to fund Pieta House services in Cavan
Previous
Next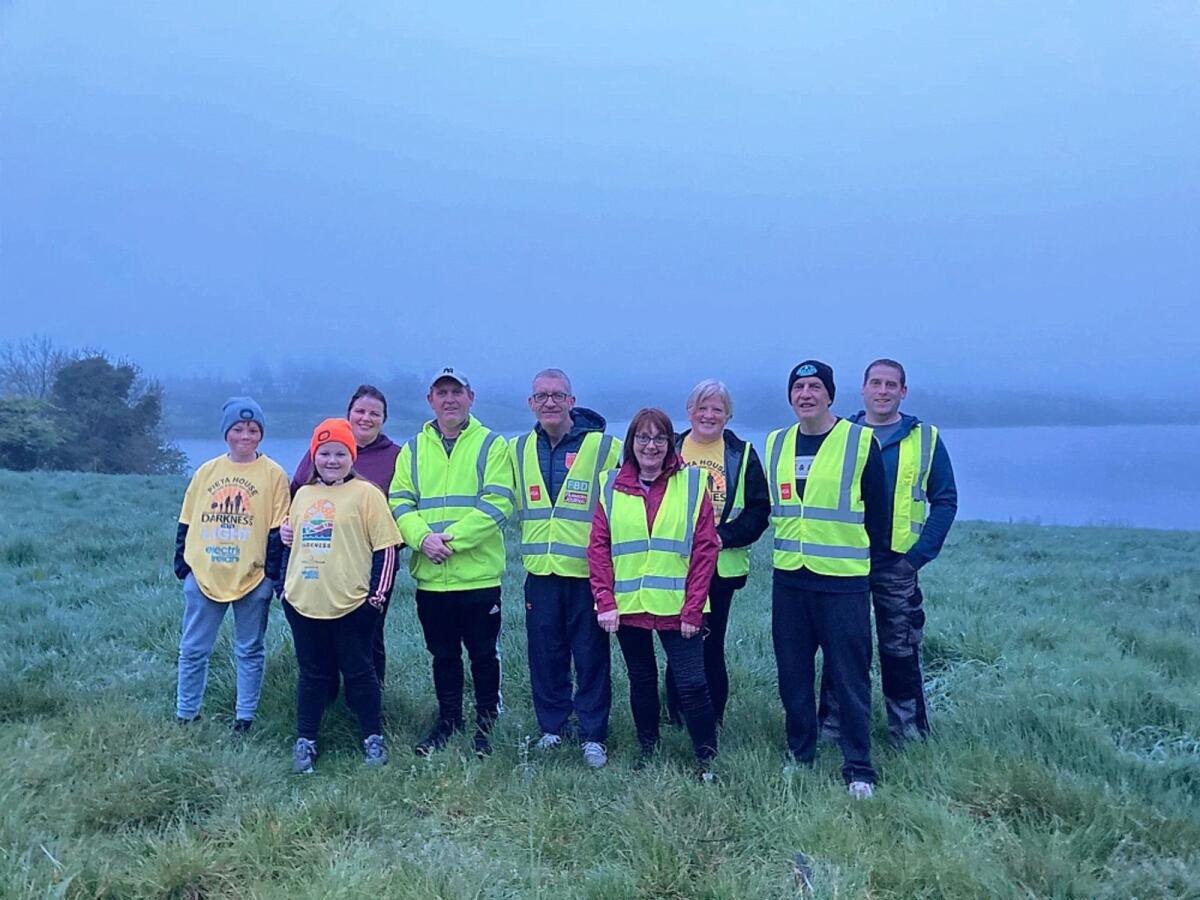 "Phenomenal!" That's one of the many positive adjectives used by the chairperson of the Cavan Darkness into Light committee, Fiona Corby, when describing the response to this year's fundraising event in aid of Pieta House.
While 1,800 registered for the Cavan Town walk, the event's grand marshall estimates that between 2,500 and 3,000 people actually turned up at 4:15am in the early of hours of last Saturday on what was a very foggy morning. Among them were two wheelchair users and 215 children, some of them in buggies.
Oh, and 47 dogs.
Between them, they raised over €30,000 for suicide supports to be delivered locally but, more importantly, they remembered their loved ones and raised awareness. And there were other walks too across the county - in Bailieborough and various events hosted by local clubs. Funds are still pouring in.
In all her years being involved with the event, Fiona feels this was the most emotional one to date.
Sadly, she reveals that Pieta House are aware of 18 people who have died by suicide in County Cavan in the past two years since the pandemic hit.
"This was the most emotional Darkness into Light I have ever done. There have been so many suicides in Cavan in the last two years. It [the walk] was oozing with emotion.
"There were people present who had lost a loved one to suicide just 11 days before," Fiona says, her voice breaking.
She described all those who took part as "incredible" and says she was "flabbergasted" by the turnout and support. She commended the "amazing businesses in Cavan and further afield" whose generosity enabled organisers to provide thousands of refreshments after the walk.
Speaking to the Celt yesterday, Fiona assures that all money raised in Cavan will stay in the county and go directly to the Pieta House Outreach service, which is based in the Tusla building on the Cootehill Road in Cavan Town. A part-time therapist is employed there, shared by Cavan and Monaghan, giving 20 hours to each county every week.
"There is also a suicide bereavement liaison therapist who goes out into communities and visits families who have been bereaved by suicide. Those services are completely accessible and free to all who need them," says Fiona.
People can avail of appointments online, via Zoom, face to face or telephone consultations, according to what suits them best. It takes €80,000 a year to run the Outreach facility. Only 20% of that is funded by the State; the rest is made up from donations.
"The committee believe wholeheartedly in the support that people get from Pieta House. I have seen it first hand," praises Fiona.
Like so many other volunteers, Fiona has a sad story of her own to tell.
She lost her brother James to suicide 16 years ago. He was aged just 23 years at the time.
Fiona became involved with Darkness into Light in Cavan nine years ago and was asked to be chairperson three years ago.
There is a small committee of five in place, backed up by a "family of volunteers" who come out in force to help with events like the walk.
Education programmes
Education is key, according to Fiona. She references Pieta House's school academy, which reaches out to primary and secondary schools and sports clubs, in association with teachers and mentors, to teach resilience techniques, with age appropriate material.
Trained therapists from Pieta House equip teachers and coaches to deliver the programme. They can apply directly to Pieta House.
A Special Needs Assistance (SNA) in St Clare's primary school, Fiona reveals the Cavan Town school has a well-being committee in place to promote "positive mental health" among pupils from Junior Infants right up the Sixth Class.
Fiona has this advice for people generally: "If you notice a loved one or friend withdrawing, if they are distant or not themselves, don't be afraid to ask the question 'Are you okay?' 'Is there something you want to talk about?'
"They might not have the energy to reach out... That could mean the absolute world to somebody.
"We want to let people know that there is light at the end of the tunnel."
HELP
- The Cavan Outreach Centre for Pieta - 0818 111 126
- Text the word HELP to 51444
- Freephone 1800-247-247