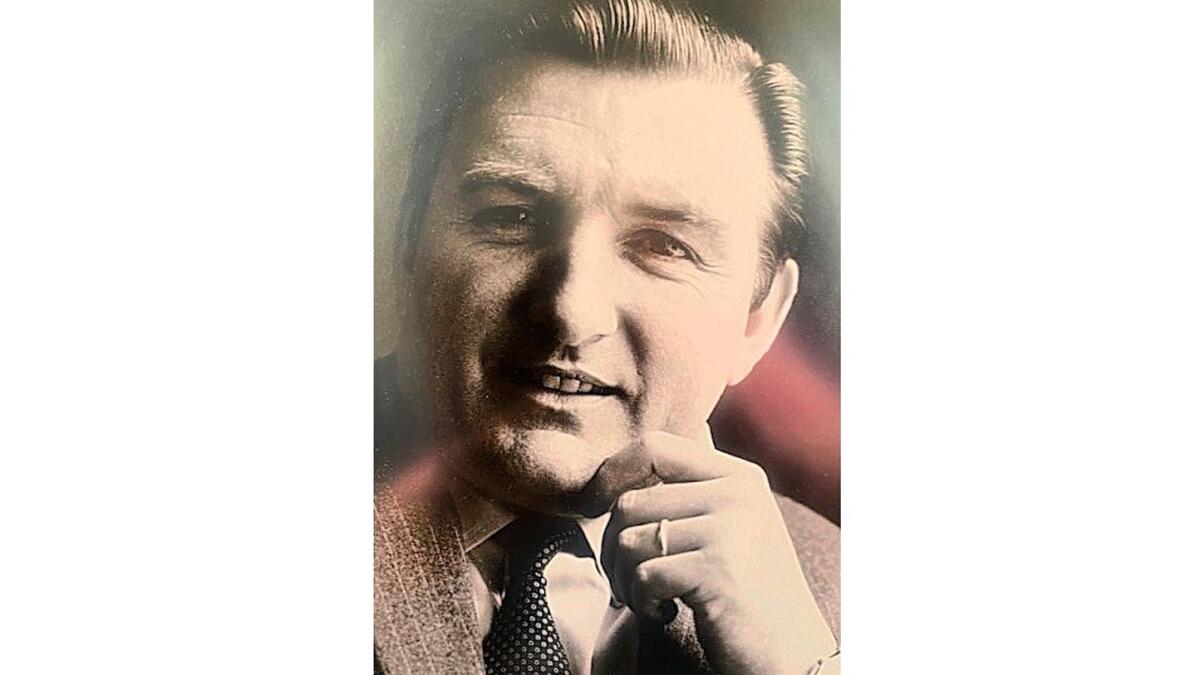 Staines air disaster remembered 50 years on
Previous
Next
It was the almost suffocating silence Frances Castledine remembers most that fateful afternoon. Only the faint hum of commuter traffic travelling on the nearby A30 permeated the vacuum enveloping the creak of twisted wreckage and fizz of flames engulfing the crashed British European Airways Flight 548.
Ms Castledine recalled just how "eerie" the "absolute silence" was in her evidence to a subsequent public inquiry. "Apart from the hissing from the aircraft and there wasn't any sound of a human voice."
On a unseasonably cold and wet Sunday (June 18, 1972), within 150 seconds of taking off from London's Heathrow's, the Trident 1 G-ARPI, destined for Brussels, suffered a deep stall and plummeted from the sky.
All 118 persons aboard, including six crew members, died in what then became known as the Staines air disaster.
Con A. Smith
Among the dead were 12 of Ireland's most prominent businessmen - members of the former Confederation of Irish Industry (CIC), today Ibec, Coras Trachtala (Enterprise Ireland) and the Dublin Chamber of Commerce.
The men were travelling to the Belgian capital ahead of Ireland's accession to the European single market. The delegation sought to establish opportunities for Irish industry going forward.
Leading the CIC delegation was the enigmatic Con A. Smith (42), first son of Con P. and Anna Smith of Mullamagavan, Lavey.
John Smith from Virginia remembers how his first cousin became one of the most dynamic influences on the Irish business scene.
"He had a flair, and a great faith in people. He was the kind of person who inspired trust. He had a particular way with people," says John of Con A. who, in 1955 at age 25, took his first steps into enterprise by taking over the family garage on Cavan Town's Dublin Road.
From there Con A. bought up garages throughout the country, before showing his guile by striking an impressive motor assembly deal with French motor manufacturer, Renault.
"He didn't lick it off a stone," John reminds. The elder Con P., from a farming background originally, bought an old saw mill at the entrance to Cavan Town in the early 1930s and built a garage and two houses.
By 1937 Smiths' Garage was appointed the main Austin dealer for Cavan, and a decade later obtained the Ferguson Tractor dealership after successfully diversifying during wartime.
As an auctioneer, Con P. purchased the former Providers Ltd site, today Tesco, with his brother Jack, and in 1949 expanded his business interests to hospitality, purchasing the Bord Fáilte Hotel in Termonfeckin, near Drogheda, together with 550 acres of land.
By now Con A., who had been studying architecture, fully switched his attentions to running the family's expanding empire.
Expansion
Within a decade-and-a-half Con A. helped amass a nationwide network of 16 car and tractor sales and services, with the central offices at 69 Lower Leeson Street, Dublin, and more than 500 staff.
In addition to the acquisition of the Murdochs hardware chain, he oversaw the investment in Cavan Engineering Limited, established 1962, a joint venture between Smiths and German manufacturers of heavy agricultural machinery.
By June 1972, over 1,500 people were employed nationally in Smith Group run companies.
It was Con A.'s canny ability to negotiate, seize opportunity at will, and his drive for success, that brought him to the attention of the Confederation of Irish Industry (CIC) who elected him president. So admired was he that he was elected to the position for a second term - just a week before the Staines air disaster occurred.
John can recall the sombreness that befell everyone, not just in the family but the wider community, when word first filtered through that Con A. had been killed, leaving behind his Italian wife Gemma and four young daughters.
"It came through as a phonecall at the garage. I was out working at the time, one my father would've built in the early 20s. Con (A) would've come to work there when dad went off to America to learn the business with Ford. There were so few answers at the time."
'Grounded'
What set Con A. apart from the people with whom he rubbed shoulders, says John, was that his cousin "never forgot where he came from. He loved Cavan. He also never pretended to be the smartest person in the room, even though he might've been. He was always listening, always learning. He went to Lough Derg every year and did the stations. He was grounded."
Con A. was laid to rest at Upper Lavey Cemetery following Funeral Mass in Dublin.
The 12 Irish who died in the British European Airways Flight 548 crash also included Melville Miller, managing director of Rowntree-Mackintosh; E.J. Gray, director-general of the CII; Hugh Kilfeather, Coras Trachtala; Michael Rigby-Jones, Irish Ropes Ltd; Michael Sweetman, Irish Council for the European Movement; Guy Jackson, Arthur Guinness; E.A. Coleman, Irish Steel Holdings; M.W. O'Reilly, Dublin Chamber of Commerce; O.M. Lochrin, vice-president of the Association of Chambers of Commerce of Ireland; F.M. Mooney; and Ivan Webb, chairman of the Council of the Federated Union of Employers and managing director of G.T. Crampton.
Only Mr Miller, a former advertising manager at The Irish Times, was taken from the plane wreckage alive, later dying in hospital from his injuries.
Then Minister for Finance, George Colley, said the loss of so much industrial expertise was a "most serious blow" to the nation. "To a small country like ours on the threshold of the new European challenge, their dynamism and their realistic grasp of the problems facing industry will be sorely missed."
Reflecting on the 50-year anniversary of the Staines air disaster, current IBEC CEO Danny McCoy states the 12 deaths were felt - personally and professionally.
"The delegation led by Con Smith, then president of IBEC's forerunner, the Confederation of Irish Industry, were true pioneers and patriots for Ireland as we entered the now European Union. The loss of the 12 business leaders in the Staines air crash who were on their way to Brussels left a hole in the heart of Irish business that took many years to replace. We as their successors will not forget them.
"We as their successors will not forget them and IBEC's new office in Brussels will have a new sculpture of 12 birds in flight by renowned artist John Behan to mark their outstanding contribution and the tragedy of their loss."
It is understood that the memorial will be unveiled in the coming weeks.
Public Inquiry
A year-long public inquiry into the Staines air disaster raised as many questions as it did answers.
The final report, published by High Court Judge Sir Geoffrey Lane in 1973, principally laid blame at the feet of 51-year-old Captain Stanley Key and his fellow crew members.
The inquiry found the first fatal error occurred in configuring the high-lift devices correctly. Several stall-warnings went unnoticed before the system was overridden but, by then, the aircraft had fallen to a point from where no recovery was possible.
The crash took place against the background of a pilots' strike too, disrupting services, and causing Flight 548 to be loaded with the maximum weight allowable.
Among the recommendations from the inquiry was the mandatory installation of cockpit voice recorders in all British-registered airliners in future.
Memorial
In memory of his son Con A., in the early 1980s, Con P. donated five and a half acres of land on Cathedral Road to be developed as a people's park.
Despite political and community pressure, and a wealth of investment including walkways and a playground, it wasn't until 2009 however that the park was formally dedicated.
Former Cavan Town Councillor, Paddy Conaty, was among those to the forefront in terms of pushing that agenda.
"My own father had promised [Con P] he'd get something done. The land was there for a good while and nothing was done with it, and when my father went off the council he said to me 'if there's one thing you do, don't forget to do the land for Con Smith'. He was very anxious that something would be left."
Paddy, who joined the council in 1979, laments that today, 50 years on, and despite the park playing an important role in the lives of many, that the legacy of Con A. Smith is somewhat forgotten.
He believes without the Smiths and the economic prowess of Con A. and also his father, that Cavan would be much worse off than it is today.
With that in mind, Mr Conaty was pleased to hear a memorial would be erected in honour of the 12 Irish businessmen who died in the Flight 548 crash in Brussels, and feels there should be attempts made to memorialise Con A., and his endearing legacy, here in Cavan too.
"The Smiths did an awful lot to put Cavan on the map, and Cavan lost out an awful lot [because of Con A.'s passing]. He was a great man for business, and and great man to remember people he'd met along the way."