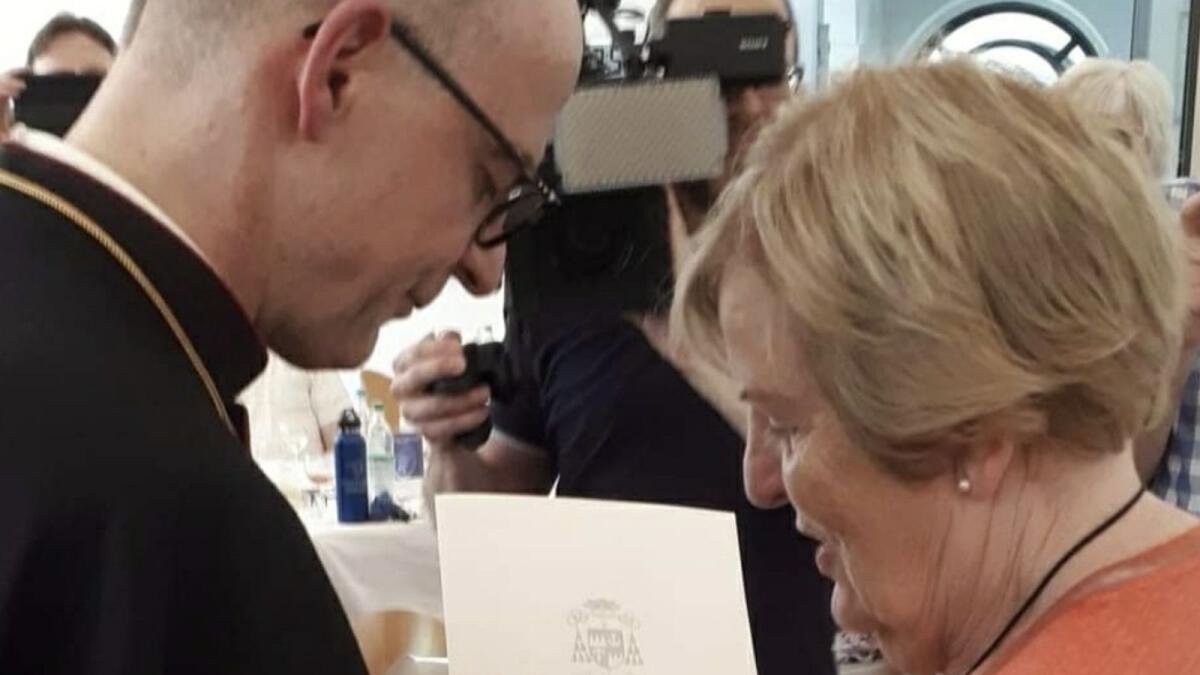 Local woman honoured by German Bishop
'Badge of Honour' presented by Bishop of Würzburg, Dr Franz Jung, during recent trip.
Visiting Germany as part of a delegation from Cavan commemorating one of Cavan's most influential sons Saint Kilian, local woman Madeline Ui Mhealoid was honoured by the Bishop of Würzburg, Dr Franz Jung, for her own legacy.
Ms Ui Mhealoid became the first Irish person ever to be presented with the 'Badge of Honour' from the Würzburg Diocese in recognition of those who have promoted the Christian faith and have continued links with the Bavarian city. This was for her years of commitment and service to Mullagh's St Kilian's Heritage Centre, and for her work in fostering strong and lasting relationships between Mullagh and Würzburg Diocese, which venerates St Kilian and celebrates the historical impact the Cavan born saint has had.
Ms Ui Mhealoid traveled with a delegation from Mullagh, joined by members of Cavan County Council led by Cathaoirleach John Paul Feeley and Chief Executive, Tommy Ryan.
It was the first foreign engagement by a delegation from the local authority since before the pandemic.
The Irish visitors also attended the town of Kurnach where they met with the Mayor, his deputies and local Councillors including Ballyhaise native, Collette Herrmann (nee Duggan).