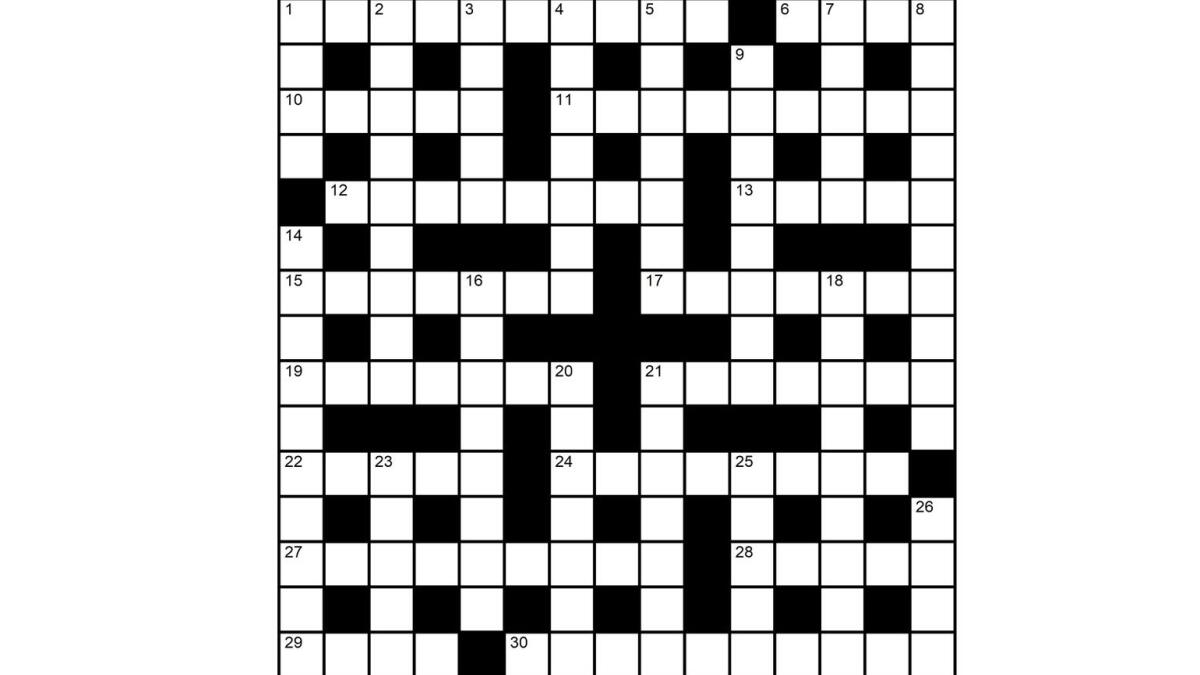 Crossword 9181 by Arahoden
Check out our latest crossword by our mystery compiler Arahoden. As usual, you can expect some Cavan twists. Print it out, complete it and enter our competition to win a coveted Anglo-Celt pen (details below).
Across
1. Rúnaí Cumann Lúthchleas Gael An Cabhán (4,6)
6. Yearn for an extended distance (4)
10. Anaesthetic discovered in Belturbet herd (5)
11. An Geata Bán on the border near Maghera (9)
12. Single equine for remote town (3-5)
13. Shoulder gesture in Dernakesh rugby match (5)
15. Peruses again (7)
17. Celts in to make design assistant (7)
19. Continuous uninterrupted (7)
21. Radium chemical symbol found in Cavan maybe a holiday trailer (7)
22. Ancient South Americans hidden in Sheelin castle (5)
24. Nick Lyon arranged a bridge in Belturbet (8)
27. Can hangar produce a townland for the Slieve Russell (9)
28. Thorny shrub when barrister loses rest (5)
29. He fiddled while Rome burned (4)
30. Translate Coillidh Bhuaile for fishing near Ballyconnell (10)
Down
1. Keel reversed Welsh symbol (4)
2. Gowna lake for Leonard's Shore (9)
3. Military disciplined walk between February and April (5)
4. Those lacking courage changed cod wars (7)
5. Sponsors champion cow at Virginia show (7)
7. Irish work (5)
8. Water safety lake at Shercock (10)
9. Male fashion department (8)
14. Order for Friary in Cavan town (10)
16. Annual Irish Festival in Drumshanbo (2,6)
18. Breffni Cailín made famous by Thom Moore (5,4)
20. Chinese cabbage disintegrates oak chip (3,4)
21. Commissioned military officer (7)
23. Seat for Maguire at Blackrock's Cross (5)
25. U-shaped river bend found in Cavan Box Bowl (5)
26. Precious metal weight a city for Helen (4)
To enter: Print out the crossword, complete it and post your entry to The Anglo-Celt, Crossword Competition, Kilmore Business Park, Dublin Road, Cavan, to be in with a chance of winning one of our coveted Anglo-Celt pens and for the glory, of course.
Please remember to put the volume number of your entry on the outside of your submission.
YOU MIGHT ENJOY: