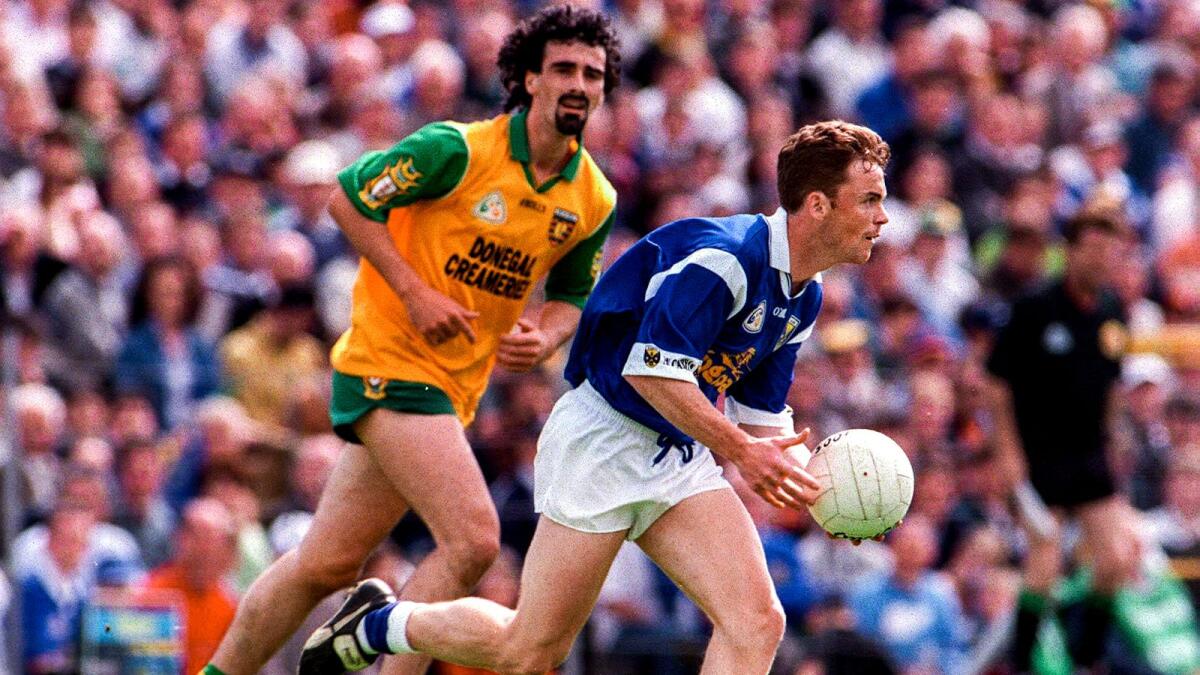 If those walls could talk: The story of '97 - part 2
An oral history of Cavan's 1997 Ulster SFC success
Cavan's momentous victory in 1997 was years in the making. To look back, PAUL FITZPATRICK spoke to Fintan Cahill, Ciaran Brady, Ronan Carolan, Stephen King, Damien O'Reilly, Anthony Forde, Jason O'Reilly, Philip Kermath, Bernard Morris and Raymond Cunningham as well as manager Martin McHugh.
(For part 1, click here.)
McHugh began to put plans in place. His first match was against Antrim in the National League on October 16, a one-point win. Soon, the team began to win games in Division 3 of the National League, beating Wexford, Tipperary and Longford prior to the Christmas break.
Ciaran Brady: Over time, we were moving up from Division 3 to Division 1. We were making progress and playing better teams.
My final exams were on and I had to take the year out. You could see that the thing had moved on a level and there was a good group of young lads coming through. Plus, the professional approach that McHugh had brought to it. And there was momentum there, moving through the leagues.
Philip Kermath: I remember we played Wexford in a really wet game, the old Division 3 that time. We were gradually moving up.
Then we were playing strong teams in the McKenna Cup and there was the Charlie Gallagher tournament in Cootehill, we actually won one of them one year against Derry. We were starting to compete at a higher level…
Fintan Cahill: When McHugh came in we started winning these games by two or three points. I don't know how you do that but he did…
Damien O'Reilly: One of our first games was away against Wexford, I think. We stayed in the Tower Hotel down there. I remember McHugh had found out a lot of information about our opposition. He was going through the team talk, telling you what foot your player kicked with and what to look out for. This was something we never would have come across before.
Through time that year, we got gear and stuff that wouldn't have happened before. We had weights and a dietician, a lot of stuff that wasn't common at the time.
In that first league campaign, we sort of got to the stage where we knew we'd win those league games. We had done such an amount of work and preparation and winning three or four games in a row gives you a certain amount of belief.
We knew we had good players but if you were missing someone or everyone wasn't just thinking the right way, it wouldn't happen.
But with McHugh, from the word go, it was very much 'we're in this together to be successful, this is what we're going to do and this is how we're going to do it'.
That's the way it was and out of that, there built this belief.
Martin McHugh: The first time we met, I remember I was nervous, I was training the team myself. I stayed in the Farnham the night before, got up and went up to Breffni Park and did the training. They were dead on.
Playing Railway Cup, you got to know other players and I suppose I had confidence in my own ability. Every player made themselves available.
Gowna were still in the club championship so their players didn't come in right away but other than that everybody was there.
I watched a lot of football in Cavan and watched videos and then we had trials which was a good thing to do, for me to get to know them, you didn't have to say a wild lot then before you picked a panel.
Damien O'Reilly: First of all he had a number of trial matches in Breffni Park and played a lot of games with a lot of players. He wasn't going on the word of anyone to pick fellas. You had to earn your spot on the panel.
He brought Joe Doonan in and the training regime was very serious. I often compare it to going to work for a company where you feel the management is very strong and very driven and all the things you'd like to see in place are there.
In a footballing sense, our set-up was like that. McHugh was very knowledgeable, he had been successful himself, he had Joe Doonan there, Paddy Rudden, a masseur whom he got from Dundalk, a physio Alice Reilly from Cavan and then Joan Oates, who was from Navan.
There was no stone being left unturned in terms of what was needed to be successful, everyone bought into it and we got to an Ulster final then in '95 which was proof that with a little bit of direction we could do something.
I don't want to make it sound like the people who were there before hadn't put in the work because they had, they had put in a tremendous amount of work and maybe they were unlucky at times, missing a few bodies.
McHugh had everyone available to him, he was after doing the trials and everyone who was around was available to him.
McHugh and his selectors, Mickey Reilly and Donal Donohoe, began to work on adjusting Cavan's traditional 'catch and kick' style.
Martin McHugh: The thing I really looked at was maybe the style of football, it was a bit different to Donegal. People said we played a slower game, we built up slower and kept the ball whereas Cavan was more of a kicking county at that time moreso. We had to change that a wee bit, the way football was moving on, it was important not to give away the ball and to play to our strengths.
The first training session was great, there was a bit of craic, the characters were there. We trained hard, Joe Doonan came in and trained the team and we did a lot of good training, hard training.
We had to get out of Division 3. I think that was the important thing the first year.
We trained hard and worked hard for that and lucky enough we got a few results that mattered and we got out of it.
Stephen King: He didn't want us to give away possession cheaply. Was it a shock to the system? It probably was for a few of us, there would be a few shouts of 'where the f**k are you kicking it?', particularly if you were a back who came out with the ball and aimlessly launched it out to the middle of the field to an opposition player. That was a no-no.
It wasn't like now where you worked it out but you didn't just plough out, knock a fella and kick it up in the air. It was a team game moreso than an individual game, we had to help each other on breaking ball and things like that.
Fintan Cahill: He completely changed the way we played the ball out of defence. It used to be this long kick, that was gone totally. It was a hand-passing game to midfield. He spent a huge amount of time on that and that alone. He said that playing against Cavan, all you had to do was block up midfield and it was 50-50 from there on.
Then you started to win your league games, started to come up from Division 3 to Division 1.
The attention to detail was key. He didn't mince his words. He told me on numerous occasions that the only reason I was playing full-forward was there nobody else. That's true like!
Stephen King: Division 3 was the right place for us to start, it was a target that was achievable. Cavan were never really poor in the league, we were always punching fairly well. We had a good run in the McKenna Cup as well if memory serves me right and then the U21s had a good run to the Ulster final as well.
Martin McHugh: In '95, I made up my mind that we were going to play Dublin in a challenge match two weeks before the championship and I would say to the boys, 'Dublin want to play us in a challenge game and we're ready for them'.
We were 2-4 to no score down and I thought it was a mistake [playing Dublin] but we got to grips with it and it ended up being a very good game. I wanted to set the standards. In fairness, Dublin agreed to play us and then every year, we played them in a challenge game to know where we were at. Was it psychology? Oh, totally and utterly.
I always remember saying 'I would swap no player in this room for any player on their team and that's a fact, that's where we are at'.
McHugh's first championship match was against Antrim on June 11, 1995.
Martin McHugh: I was nervous about Antrim because you got no information out of Antrim. In '93, we were All-Ireland champions and we played Antrim and narrowly beat them so I knew how good their players were. I was worried about it because we needed to get over that line, to get over that first hurdle.
I always remember we made a decision that we were going to try and get a goal and get it early and we were going to work on a tactic of trying to get a goal. Peter Reilly, until Larry came, was the fastest thing carrying a ball.
If you look back at that game, we got the ball to Peter and we had worked in training on a move where every man stayed and then they moved out of the way and let him through and he went through the middle and he bagged two goals in the first half, and that's what won the game for us.
We had worked on it. Antrim didn't realise the first time, it was a brilliant goal, and then he got the second one. And that won the game for us, we won it by five or six points.
That definitely took the pressure off, we had won a championship game for the first time. It didn't matter who we beat, we needed to win that game. That gave everybody a big lift in the whole county.
Damien O'Reilly: It was a big deal because we hadn't got past that before. I thought we probably would win it but you had to actually go and do it and we did, it was workmanlike. You were a step further than you had been in a while, it was all positive. We were going well, that's why we expected to win these matches.
Stephen King: Beating Antrim was a serious monkey off the back. If you're favourites, you have to carry that tag and pre-McHugh, we didn't carry it that well. Winning that match was a game-changer as regards championship.
Victory over Antrim (2-11 to 0-8) set up an Ulster SFC semi-final against old rivals Monaghan, which in turn led to a first Ulster final appearance since 1983.
Damien O'Reilly: We knew it was going to be difficult [but] around that time, I think Monaghan were probably a bit stale. I definitely thought they were beatable and I thought we would… I thought if we played to our form we had a great chance.
Martin McHugh: Monaghan had hammered Donegal when they were given no chance and Donegal had beaten the All-Ireland champions Down.
So we ended up meeting Monaghan. I remember listening to Northern Sound radio and older Monaghan players were saying it was only a matter of turning up. I was listening to this on the radio thinking it was great craic altogether.
I looked at Monaghan, they had a very good player called David King at full-back but I just didn't think he was a full-back.
I rang Tony Boyle who had played on him and I talked to Tony for about an hour and a half about turning him and trying to get past him, what his weakness was. We targeted him and Fintan Cahill scored 1-4. He had a great game against Donegal on Tony.
Lucky enough it worked out. Paul O'Dowd made a brilliant save from Declan Smyth from a penalty.
That was a big victory for us, that was one that got away on Monaghan. It was a very good Monaghan team.
That was the day that we probably realised we had something here, a bunch of players here, we had to try to make them into winners and start winning more games which they did in the league then.
I really enjoyed that day and I knew all the Cavan supporters really enjoyed it.
Stephen King: Any time you play Monaghan, be it in a championship match or a challenge match, it's a big game. They're your neighbours and big rivals. That was a huge, huge win.
McHugh had his homework done, his match-ups. He isolated their threats. It wasn't just about going out and lorrying the ball into the forwards any more, there was a purpose to everything.
The hype was unbelievable. To get to the Ulster final in McHugh's first year, it was a huge achievement. It was testament to him that he was able to do that in his first year, it left expectation very high then in the county but at least you were back in the conversation as regards winning Ulster Championship matches.
We were after having a good league, the U21s were progressing well and suddenly there was a future there for Cavan.
Fintan Cahill: It was a new era, people were getting carried away. As much as players pretend to themselves that they don't get caught up in the razzmatazz of getting to an Ulster final, they do.
The first game was Antrim and you get no thanks for that. Then it was Monaghan, the old rivals, in the semi-final and we were going into that expecting to win.
And then in the final, we were pretending we were expecting to win but really and truly we were happy to be there. And that was the case now, I'd defy any of the players to say it was different.
True to form, Tyrone beat us.
Anthony Forde: You go from a situation of not winning a game for seven years to suddenly being on the brink of winning an Ulster Championship, it was a big step. To bridge that gap, it was a good summer to beat Antrim and Monaghan and we had progress in the league that year as well. We were going in the right direction but we knew we still had work to do.
The inclusion of the other U21 lads from 96 then probably helped that. Peter and Dermot were another year older, Terry, Larry came in, Jayo, Mickey, Michael Reilly was there as well, Paul Brady. With us all there and the experience of the boys that had been on the road a long time, it gelled well after that.
Damien O'Reilly: It came too early for us. It was a big step up, they were more seasoned and when you have Peter Canavan in your team, it's always going to be difficult. They were there for a good many years and it was all new to us.
It was different, Cardinal Sean Brady shook hands with us in the middle of the field before the match. A lot of things we wouldn't have been used to, it was the first time in years and years we had been in an Ulster final.
There was massive excitement but I remember we were quite calm about it because we knew it was going to be difficult. Obviously we were still determined to win it but we knew it was a big task and we didn't get too carried away.
Philip Kermath: In '95, it was a great summer, it was a great summer of weather. I was injured and standing watching it and you could just feel something was happening. There was an influx of new players, Peter Reilly was starting to come in, there were a lot of younger players and it probably revitalised some of the experienced players like Damien, Stephen, Fintan…
There was a big push of younger players and you could feel something starting.
Jason O'Reilly: You were coming in playing with heroes. Mark Lawlor is married to Stephen King's sister so I would have seen Stephen a lot. The likes of Fintan Cahill, Adrian Lambe, Aidan Connolly, Damien O'Reilly, Ciaran Brady, Bernard Morris, Ronan Carolan, they were all household names in Cavan.
I was with the U21s in '95 and Martin McHugh says to me, 'there's a jersey there for Sunday if you want it', we were playing Armagh.
I was brought into the hotel after that game against Armagh and they all came over and shook my hand and welcomed me, someone said, 'you're here now, it's going to be a harder job to get out of here!'. And he wasn't too far wrong.
Martin McHugh: The county went half-mad, it was crazy. We were probably ahead of our time, we didn't expect to get that far.
It was Derry and Tyrone in the other side and we all knew we probably weren't going to be good enough to beat the winners of that. It was good experience to get to that final.
It came too soon. I think I made a mistake that day myself, Aidan Watters was a brilliant man-marker. Damien O'Reilly was playing full-back and was a very, very good player but wouldn't have been as tight a marker, he ended up playing full-forward. Of course, Damien was a great footballer.
I put Damien O'Reilly on Canavan and I should have put Watters on him. He was low to the ground. But Canavan was hard to mark anyway, nowadays you'd probably put two players on him. But I still think we wouldn't have won it anyway, we just weren't good enough at that stage but it played a big part in winning it two years later.
Most teams have to get beat in a final to get back to win a final. But Cavan had arrived. They were a big gun that was gone for a long time.
In 1996, Cavan won promotion in the league again but suffered a disappointing loss to Down in the Ulster semi-final. Later in the summer, the U21s went all the way to the All-Ireland final, losing to a star-studded Kerry.
Martin McHugh: The most disappointing thing in '95 was we had got promotion, we over-achieved and got to the Ulster final but we should have won the U21. Donegal beat us in a replay and we had them beat the first day. They got a late goal and it was fortunate.
In '96, we got promotion to Division 1 but the Down game was disappointing. We were going to play Peter Reilly centre-back that day and Down knew it beforehand, it was disappointing that leaked out on us. Everybody had it beforehand, not that it was a big deal but still…
The Down game, they were just that bit better that day. We were still close but I don't think we ever looked like winning that game to tell the truth.
But the great thing in '96 was that we got to the U21 All-Ireland final. We trained the two teams together and James Lovett trained the U21s for me. We had a fair overlap between the two teams.
That U21 run was brilliant, that gave us another lift, we had young lads coming through. We had a great run, we beat Derry well in the Ulster final and they went on to win the All-Ireland the following year.
The Meath games were the big games. Kerry beat us in the final but Kerry team was awesome, that was an unbelievable team.
Kerry and Meath went on to win two All-Irelands each and Cavan never went on to win one. We beat Meath after a replay and deserved to beat them and then we played Kerry in the final.
I always thought there were two big refereeing decisions went against us in my time in Cavan. The same referee and the same opposition, Pat Casserly of Westmeath against Kerry. The sides were level, the ball went up the field and Jason Reilly, who was a butcher at the time and very strong physically, held Mike McCarthy off, won the ball and was heading for goals and your man blew him up for a push and I thought it was a very bad decision.
The same thing happened in 97, I felt that we should have had a penalty in the first half that day, I think it was Larry or Jason. I like Pat Casserly as a referee but I just thought that time, the big teams sometimes got the big calls and people would still say that to this day sometimes.
It was a brilliant campaign, I'd say there was a never a crowd like it at an U21 game before or since. 45,000, 50,000 in Thurles. There was a hurling match on afterwards but forget about the hurling match – that was Cavan supporters. Never seen anything like what I saw that day. We had to say then at that stage that we were building to something good.
Ronan Carolan: Losing the 1995 Ulster final was absolutely vital, and [so was] the hurt in '96. I remember meeting Peter Canavan and that famous comment that 'you have to lose one to win one'. That was, kind of, his consolation to us. It was absolutely vital.
We were very, very comfortable in Clones by '97. We were a really well-oiled machine down to the warm-up and what we did and exactly how we did it. The players were just very, very accustomed to it and Clones was like a home ground to us in that we loved playing there - 1995 was part of that, '96 was an unmitigated disastrous defeat against Down.
It hurt so much that we weren't going to get beaten again, even though we were nearly beaten in the first round but when we got our momentum in '97, the hurt of '96 was probably greatest in our mind because we shouldn't have been beaten by Down in '96.
It was just a bad performance. Personally, I'd say it was my worst performance in a big game. I was just after finishing my Finals and I was on the verge of getting married, so I'd a fair bit on my plate but it was really regrettable. I remember Martin commenting to us to look into our soul after the game and we knew it was within us. We just didn't get over the line. It was a clever Down team who knew how to beat teams if they weren't putting it away. It was a real education. Gary Mason marked me and he was probably similar to me in athleticism and so on but it was a good day in that it fed the hunger for '97. Those two years were important.
Damien O'Reilly: In '96 we were going decent enough, I remember beating Down and Louth in Breffni Park in the league but we didn't play as well in the championship.
We weren't as sharp against Down in the semi-final. I made a bad mistake and let a ball bounce across my head and they got a goal from it. I just felt we weren't up to it as much that year.
Stephen King: I knew the talent was coming, you'd be following the minors and U21s.
I could see what was coming on board, you could see they were going to be adding to our panel and if Ronan, Damien and the other lads stayed about, we had a reasonable team.
Me being the elder lemon, I was delighted to see this. We had a chance.
Damien O'Reilly: You had to look at it that we had a fella came from Donegal to manage Cavan and suddenly we reached an Ulster final in '95 and an All-Ireland U21 final in '96. He had to great huge credit for that.
Of course we knew the young players were there. Peter had been with us. You might get a couple off a team but we got so many, it was a big lift in every way. They were all quality players.
When you look through the years before that, not many lads came in from the 1988 U21 teams and there weren't many successful U21 years after that so to come from nowhere to an All-Ireland U21 final was a big achievement.
Athletics coach Joe Doonan had been brought in at the outset to train the team and Cavan were exposed to a level of preparation they hadn't experienced before. Competition in the squad was fierce.
Fintan Cahill: Doonan had been at the Olympics with Catherina. He brought it to a different level, he knew precisely what he was talking about. We went down to Thomond College to get tested, to do leaps and stretches, sprints, power, get it all measured. McHugh asked yer one, 'now, out of all the players, given some had certain qualities, who do you grade the top? She said 'Cahill'. McHugh said 'this is a waste of money, it couldn't be right!'
Stephen King: Joe's training was severe but any training was severe for me, full stop! He brought in bounding and a lot more than just running. Using every muscle, high intensity bursts. I really enjoyed it because it was different, it wasn't running round the park but it was an awful lot harder. For me, he had a fantastic input.
Ciaran Brady: The training was tough… it was serious training but it was mind over matter. Once you got your head around it that you were doing it. It was psychological as much as anything, you had to push yourself through the pain barrier. It was extremely tough but I think it was character-building.
Jason O'Reilly: It was a big shock to the system, the amount of days you had to train was a big thing and you were sore after every training. You'd have your togs, your socks and all that there for you, food after training. The training was a big shock. Joe Doonan was doing the athletic training, plyometrics, all that kind of stuff and warm-ups were only really starting. It was all new. You never wanted to be at the back of the pack, whether it was laps or sprints, you always wanted to be first. The likes of myself, Larry, Peter, Terry Farrelly, Anthony Forde, we were all part of the one group who had come up from the U21s. There was good competitiveness between us as well but there were a lot of big names still there on that Cavan team that we were trying to get a jersey from as well to be honest.
Raymond Cunningham: The training games were intense. You could come off some days thinking 'I won't start the next day'. That's what you need. We had a panel of players that was very strong. The players that didn't start, lads like Mickey Graham, Jason O'Reilly, Philip Smith, Adrian Lambe, they're serious footballers who could have started any day. You never knew who was going to be starting and that was the beauty of it.
He had guys who could come in and do a job and if you didn't perform, you were taken off. And that's always a good way to have it for a manager.
Bernard Morris: We were going well. If you blinked, there was a lad in in your place and you weren't going to get back in.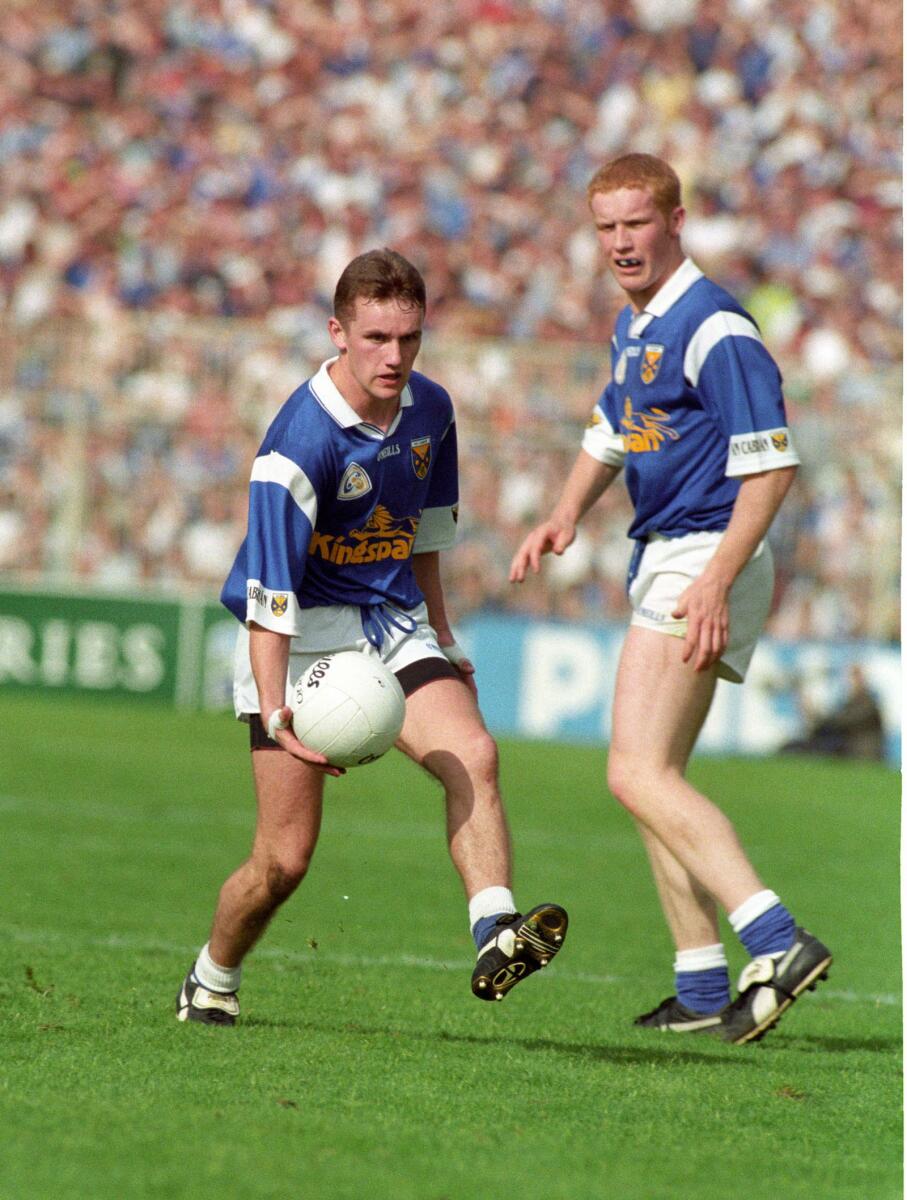 Ciaran Brady: Training sessions were very intense. We used to have A versus B games, in-house, and whether it was by design or not, myself and Fintan Cahill were always marking each other and there was no quarter asked or given.
It often came to blows. McHugh encouraged it, I don't remember too many frees being given.
Fintan Cahill: We used to thump each other, it wasn't unusual. McHugh had to stop a few games, not just because of me and Ciaran. Once you get competition for places, you'll get that.
You couldn't be guaranteed you were going to be started. You'd be fighting for your place, you were being watched and being judged.
Ciaran Brady: It set us up big time for the matches. The intensity was so high that it stood to us going into matches. They were as physical as any inter-county game. That's what's required.
Ronan Carolan: I lost my place coming into the Fermanagh game. I wasn't playing that well but I wouldn't say it was appetite. Martin was very good about it and we had a good relationship but, basically, he would have said you're going to get a 'rest' and you will get back.
There was no assurance that you would get back because it was a hugely competitive panel - training sessions were extremely aggressive events, the panel was extremely tight. You'd have to be in the best of your health. The panel was such that if you weren't performing - I won't say you were 'happy' to come off but you were happy to come off for the benefit of the team in that they would get over the line because a close friend was coming on instead of you.
I remember Fintan coming off in the Ulster final and Philip Smith came on and it was, practically, passing the baton and it was like, 'right, it's not my day'. I'd say I was totally drained early in '97.
Anthony Forde: Training was tough. It was a really competitive group. I wouldn't say it was a settled team as such, there were lots of changes. You had younger lads coming into the squad and a lot of the seasoned guys there. Training games were very competitive. I think the week before the Ulster final, the B team actually beat the A team. There were a lot of players going well at the one time.
Was it a hard forward line to get into? Who are you telling!
Raymond Cunningham would always kick a big score when you needed it. Ronan, speaks for itself how good he was. You had Adrian Lambe, Fintan Cahill, Peter and Larry. Super, super footballers. Strong, had pace and always knew where the goals were. Really, really good footballers.
Mickey was Man of the Match against Fermanagh and then came on in the Ulster final. He would have made a lot of teams in Ulster to be fair.
Tomorrow: Part 3 (of five) - Cavan begin to rev up their preparations for the 1997 campaign, with a battle royale against Dungannon steeling them for summer.
Read part 1 here.