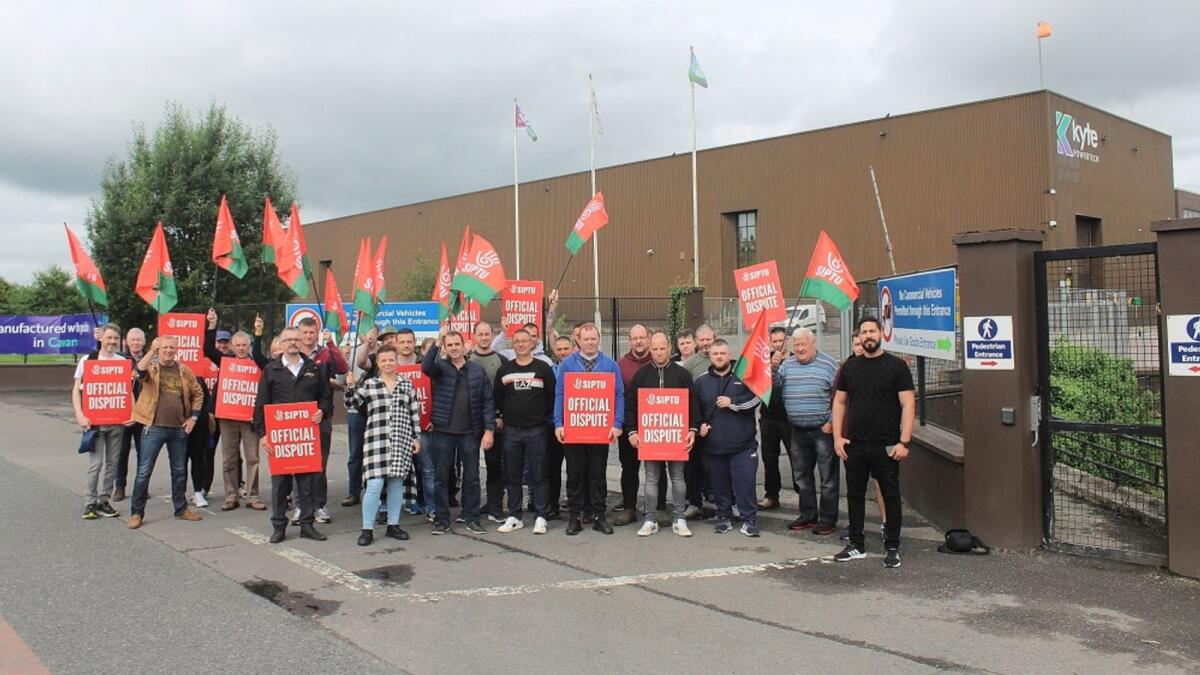 Labour Court talks to take place
Talks at the Labour Court in Dublin will take place Thursday, September 1.
Union officials representing striking workers at Cavan manufacturing firm Kyte, and company management, have been invited for fresh talks by the Labour Court in the hope of finding a resolution to the ongoing industrial dispute.
Kyte workers resumed strike action last Friday (August 26) in their bid to wrest pay increases from their employers, warning of future stoppages and a possible ramping up of their campaign in the coming weeks.
The talks at the Labour Court in Dublin will take place Thursday, September 1.
Workers at Kyte previously rejected earlier Labour Court pay deal recommendations.
The initial 24-hour work-stoppage by Kyte workers at the Dublin Road factory was postponed in light of the tragic death of colleague Frank Nulty in a hit-and-run accident on the N3 the previous week.
Sector organiser with SIPTU Martin O'Rourke asserted there had been no further contact with management over the pay dispute in the intervening days, however he stressed that workers had always been open to "meaningful discussions".
"We remain available for resolution to the dispute, it has to be resolved at some stage, and it can only be resolved by talking," said Mr O'Rourke.
Over occasional horn toots and blasts of support from passing cars and lorries, the senior SIPTU official said they had been heartened by response of the public, and noted they had received donations of food and drink from local businesses.
Mr O'Rourke rejected the Celt's suggestion that many workers elsewhere have had no pay rise, and would bite the hand of employers offering a three per cent rise, which the Kyte workers had rejected.
"That's not our experience," he said noting they [SIPTU reps] are in numerous pay negotiations nationwide. "A lot of settlements are between 2.5-4%, but there's nobody biting the hand off their employer for those pay rises."
He rattled off a litany of rising household bills generally, and added specifically "rents in Cavan have gone up dramatically" and concluded: "People just can't live on the wages they are on."
"Our members aren't out on strike for the fun of it. They are not suffering a financial reduction in their wages for the fun of it. They are aware that inflation is sitting at 10% this year, possibly 10% next year according to the Central Bank and was 5.6% the year before. They are facing real and substantial reduction in their wages."
The Celt asked, if the company, which employs 455 people – including approximately 360 SIPTU members, physically can't meet the workers' demands, are they concerned about possible redundancies or the profitability of the company being imperilled?
"It's not like our members are saying inflation is nine per cent, and it was 5.6% the previous year, so we're seeking 14% just to stand still. They're not saying that – and if they were there would be justification for it. All they are looking for is to be able to send the kids back to school in September if they have to, heat the house, put food on the table and have enough petrol to drive to work. That's all."
One worker who did not wish to be named was a father and long-term employee.
"Everything is going up except for the wages," he remarked and observed the spiralling costs of living as a source of stress. You don't know if you are going to make the mortgage next month."
The man was amongst the 88% to vote in favour of rejecting the earlier Workplace Relation Commission and Labour Court recommendations.
"We felt we had no choice – this has been going on since September 9 last year, when we had our first meeting."
He describes the wage issue as "upsetting for everyone".
"This was more or less a community for years, and now we're very much a community of us against [them], trying to stand up for ourselves.
"A lot of people who have been here for so long are feeling let down. We have to stand up for ourselves we have to do our best, and it will be hard, we know that."
In the absence of a breakthrough, SIPTU workers have contingency plans to hold two further work stoppages – on Friday and Saturday (September 9-10) - the following week.
This week's strike action has been deferred in light of the decision taken by both workers and management to re-engage in discussions before the Labour Court.
Workers were also due to hold a meeting later in the Cavan Crystal Hotel to decide future course of action. That too has been deferred until the outcome of talks are known.