Cavan girls take gold on cyclo-cross home debut
Inaugural Castle CX hosted by Breffni Wheelers.
Previous
Next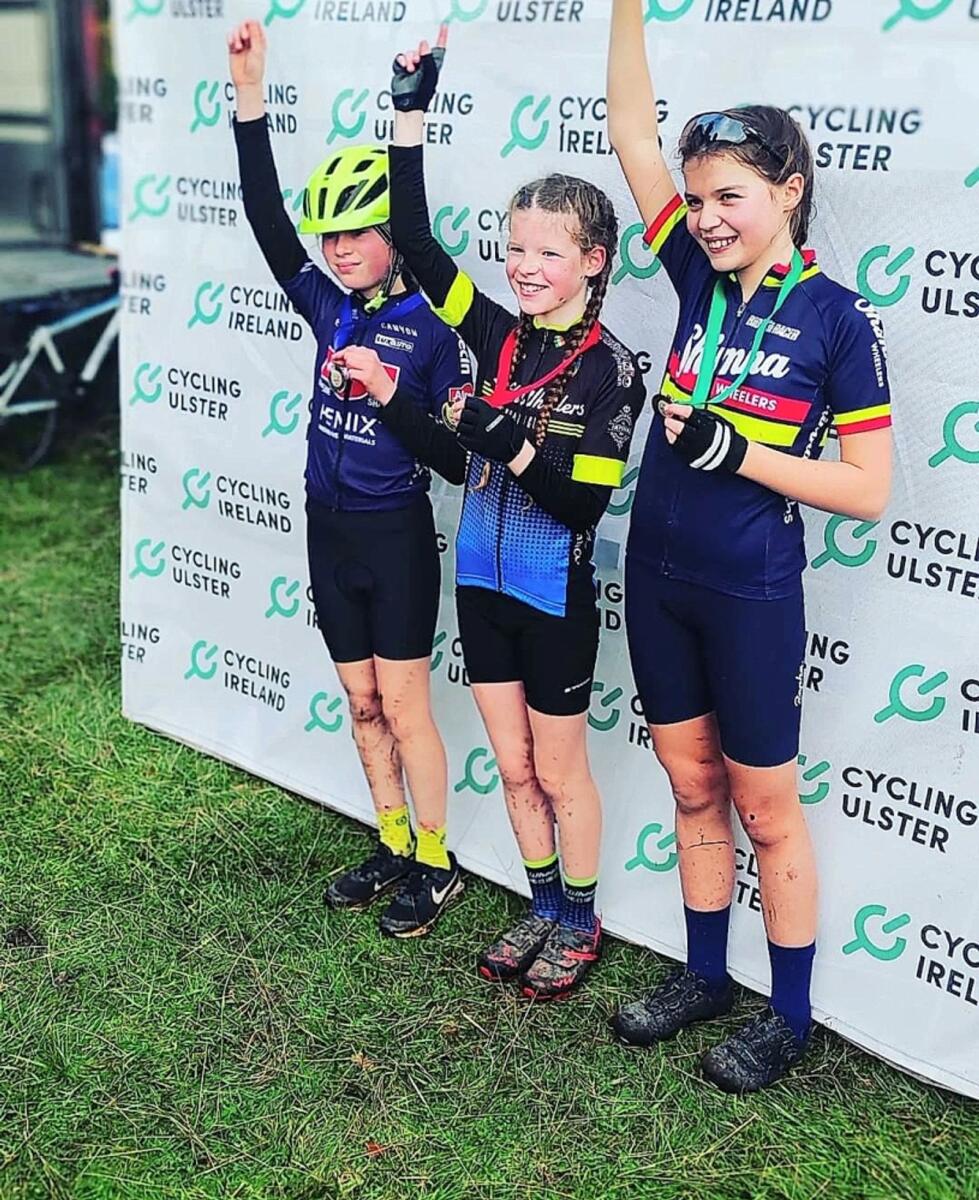 Two of the county's brightest young cyclo-cross talents came away with golds from Round 4 of the Ulster series, which took place at Castle Saunderson for the first time last weekend.
Breffni Wheelers' riders Aisha Gannon (Under 16) and Ava Baker (Under 12) took full advantage of racing on home-turf, across a tricky tiered track filled with plenty of rolling terrain and many short ups and downs, all in the shadow of the historic castle itself.
The inaugural Castle CX was hosted by local cycling club, the Breffni Wheelers, and marked the first time that such a unique event was held in the estate itself. The event was held with the support of Cavan Sports Partnership, Cavan County Council, Scouting Ireland, and Coillte.
Requiring competitors to mix skills between road cycling, mountain biking and steeplechase, dismounting at speed to carry their bikes up stairs and steep embankments, the venue was seen as "perfect" by the more than 300 riders and supporters who attended Sunday, October 30.
In the U16 race Gannon fell just behind Cuchulainn CC rider and next nearest rival Rhiannon Dolan on Lap 1, but set a blistering pace in Lap 2 (10:39) to put her far ahead the rest of the chasing pack, ending the three lap race with an impressive total time of 32:35 overall.
Baker was the only rider to complete all six laps of the U12 event, making up for a slow Lap 1 with shredding seconds off her remaining five rounds, finishing with a total time of 18:43.
Of the other local racers, Frank McDermott (M40) of Oldcastle CC finished seventh (52:15) in the six lap A'Race, which was won by Joseph Mullen (Junior) of Navan Road Club (56:30). Breffni Wheeler's Pierre Kinsella (M50) finished 17th overall with a total time of 1:00:08, ahead of Emyvale CC rider Declan McEntee (1:01:00) and Fergal McCabe of Oldcastle CC (1:02:04).
Mervyn Kinkade of DB Cycling Club came in 21st in the four lap B'Race (50:12), just ahead of Oldcastle CC's Stephen O'Halloran (50:35), DB teammate Jamie McMahon (54:54) and Breffni Wheeler's own Charlie Gannon (55:53). The race was won by Connacht rider Dominik Drwal (41:17).
In the four lap MTB Support C'Race won by David McKee of VC Glendale (46:16), DB Cycling Club's Barry Kelly came in third (48:40), with teammate Peter Gallagher in fifth (52:19).
Breffni Wheeler's Donncha Gaffney meanwhile finished ninth (47:00) in the U14 three lap race.
Everyone who attended agreed that Castle Saunderson provided one of the most "epic backdrops" to any Ulster event stage.
Using the impressive castle ruin as the backdrop for both the race start and finish was "always the plan", explains Breffni Wheeler's John Lord, who said the local club were "beyond proud" with how the race went. "It was a massive achievement for the club, the biggest event we've ever organised."
He said the success bodes well for hosted other such events in the future, and hopes too that it might help encourage further investment in cycling in the county.
In September this year Cavan County Council received €250,000 for a feasibility study, in partnership with Fermanagh and Omagh District Council, to explore ways to develop Castle Saunderson and Castle Caldwell in County Fermanagh. The funding will be used to appoint a design team to advance the completion of a series of interlinked large scale capital works, and Mr Lord believes that cycle tracks could benefit from the Shared Island Local Authority Development Funding Scheme.
"We've showed an event like this can be done. That castle is of the most epic backdrops, and the amount of people who arrived in awe of the place and the potential it has. There's huge scope down there. It's not flat either. Killykeen for example, it's a great facility, but it is predominantly flat. Castle Saunderson has everything going for it from a cycling perspective. Outside of the castle itself there is so much that could be done."
He says the grounds lend themselves to sports like cyclo-cross. With the inclement weather and several inches of rainfall recorded since the beginning of last week, organisers were "worried" with how the track might hold up.
"When we left on Saturday evening you could float a boat down outside the castle there was so much water, and when we came back Sunday morning it was gone. At one stage we were talking about hiring a submersible pump to get rid of a flood in one part of the forest, and again a few minutes later it was gone"
Already pre-emptive discussions have taken place about bringing a Round of the Ulster Cyclo-cross series back to Cavan again in future. "Talks are promising, and after the feedback we got, absolutely, I think it should and it will happen here again."