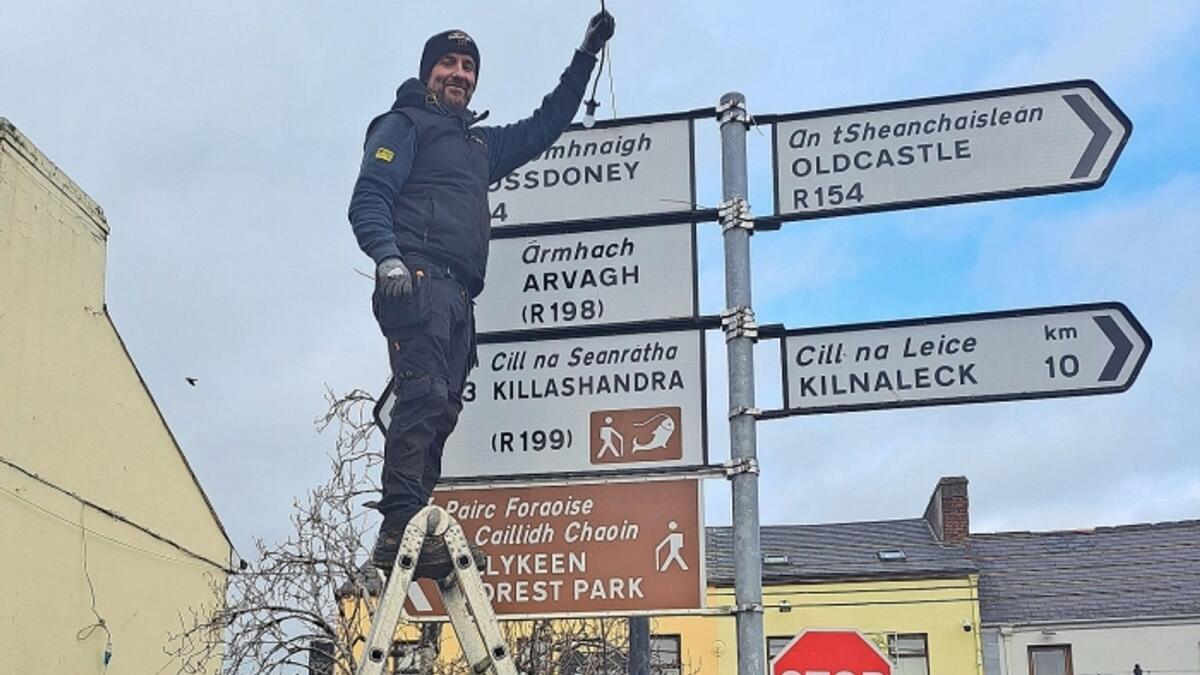 A brighter Christmas ahead for Ballinagh
It's beginning to feel a lot like a normal Christmas around Ballinagh once again.
"It's absolutely brilliant," says Tina Brady of the Christmas lights committee. "We've so missed the usual event."
The usual event this year will see Santa meet with kids - they are planning for around 400 - in his beautifully recreated living room, while outside a Christmas market boasting 30 stalls is run. The festivities climax with the traditional countdown to Santa switching on the town's lights at the Market Square.
Since 1999 festive season launch has been a big occasion in the town, and the Christmas Lights committee did their utmost to keep the show on the road during the pandemic.
"For a few years it's been different with Covid," admits Tina Brady, a founding member of the Lights Committee. "We ran a wonderland last year and people had to book in. It was successful as well, but very limited numbers because we had to adhere to the Covid regulations and guidelines.
"We more or less told people the lights were being switched on and if they wanted to come, sit in their cars to watch it."
While relieved to no longer have to adhere to restrictions, Tina assures they are still conscious of the prevalence of Covid and are taking precautions. Masks and hand sanitiser will be available for anyone who wishes.
"I know it's not mandatory anymore but we feel we have a duty towards the public. If people want to use them, they are there."
The lights committee which numbers just seven in total, so it's little wonder Tina says "There's a lot hard work goes into it."
A cake sale sounded the starter's pistol on fundraising in early October. A bucket collection in the town followed where members of the local football team proved a welcome support. Next came the business collection.
"The businesses always donate - the businesses are very good," says a grateful Tina.
Fundraising came to a conclusion with volunteers last week pitching up in both Moore's and Gavin's shops to sell raffle tickets for a fabulous basket of festive goodies.
The Celt notes they started early.
"You have to – you have to raise a lot of money."
Cost
Including the electricity bill at the end, the electrician, normally costs between €8,000-8,500 and there's often unwelcome surprises with repair and replacement of lines of lights and feature displays.
"Last year five of our features had broken, and the replacement bill could have been up to €30,000. "Which there wasn't a hope we could raise."
However Rossa Lighting of Virginia came to the rescue by undertaking a massive repair job at a fraction of the cost.
"You have to expect the unexpected," says Tina who as treasurer counts the tales of the unexpected in cents and Euros.
Their big project this year were new lights the bridge, although they had to overcome connection issues as it's too far away from the line.
"It'd be a bleak time without lights, and people have been through enough in the last few years so - light up the town, give them a little bit of cheer."
They are sighing relief that they switched over to LED lights three years ago.
"It's half the battle – your electricity bill is way down," she observes.
"We do know it is going to be up a bit this year, like everybody else's – it will not go up that much hopefully, but we'll manage it anyway."
Support
"When we're out doing our fundraisers the support we get is unreal. For our cake sale we have all our local bakers, and even the professional bakers in Cavan come out and deliver the stuff to us on the day of our cake sale. We've got locals baking for us, and then all the people who come and buy the stuff.
"I think Ballinagh is a great town - it's exemplary. No matter what's running people come out and support it, and give. It's the same people who are giving all the time. So you have to be appreciative of all this – we are appreciative anyway."
The lights committee are: Jackie Gill (Chair), Ann Gumley (secretary), Tina Brady (treasurer), Marion Duffy, Ann Leddy, Jim Dunne and Serena Dunne.