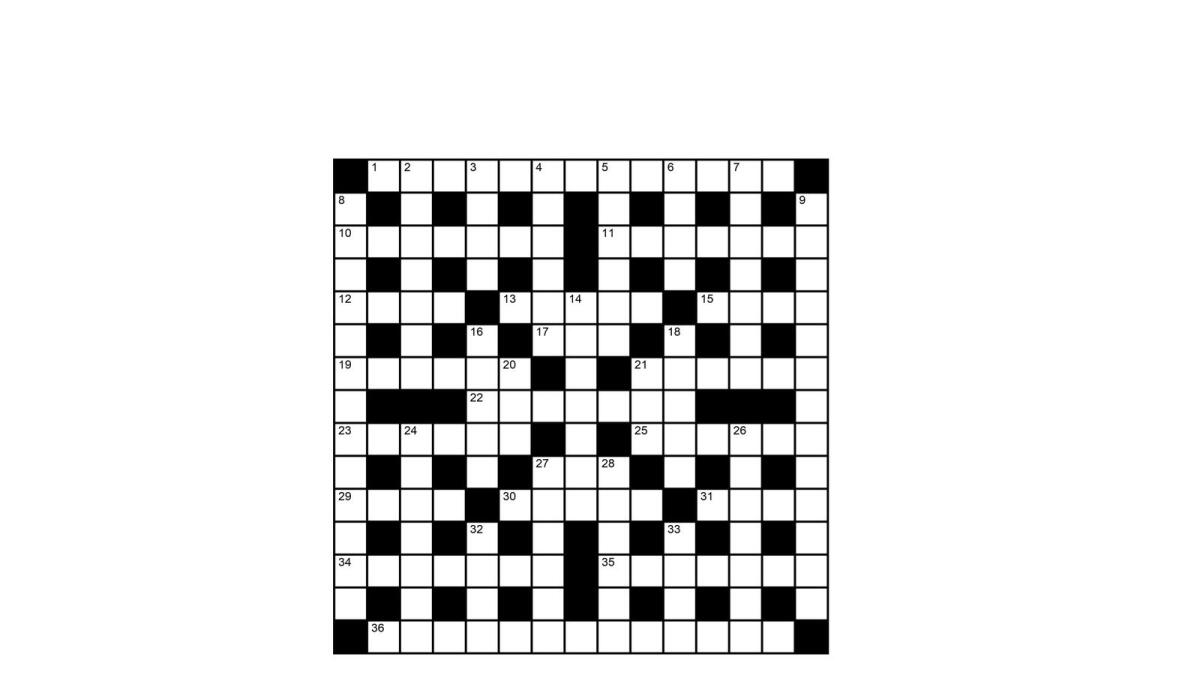 Crossword 9199 by Arahoden
Check out our latest crossword by our mystery compiler Arahoden. As usual, you can expect some Cavan twists. Print it out, complete it and enter our competition to win a coveted Anglo-Celt pen (details below).
Across
1. Community venue in Cootehill (3,10)
10. Cats age modified at college in Ballyhaise (7)
11. Fatima visionary maybe a Caribbean Island (2,5)
12. Eternal city (4)
13. Prisoner incarcerated interminably (5)
15. Slightly open sounds like a drink (4)
17. No score is reversed in Ballintemple (3)
19. Inventive device names a cartoon Inspector (6)
21. Eavesdrop an elongated insect (6)
22. Cross near Mountain Lodge sounds like rites (7)
23. Cootehill school constructed dearly (6)
25. BBC owe for a fly trap (6)
27. Address for a married woman (3)
29. Wives and girlfriends curtailed jokers (4)
30. Iron Mike (5)
31. Pakistani language both sides of Urney Hindu (4)
34. Salad plant outlasted Liz Truss (7)
35. Red Sire produces a Gowna Lake (7)
36. Lady footballers at home in Bunnoe (5,8)
Down
2. Weaponless to make dame run anyway (7)
3. Regular repast prepared in Palais Dome already (4)
4. Derryheen Lough hidden by Drumlin chintz (6)
5. Tipperary town cross between Cavan and Ballinagh (6)
6. Small island found in Billis legal (4)
7. Secure mandible for tetanus (7)
8. Sounds like our female patron saint is in good health - sacred place in Raffony (2,7,4)
9. Primary education location near Maghera (13)
14. Digits for Fionn Mac Cumhaill at Shantemon (7)
16. Precious stone sounds like duel (5)
18. Stone craftworker on both sides of Maghera garrison (5)
20. Attempt a score in rugby (3)
21. And the rest in short (3)
24. Series of boat races when we leave Watergate (7)
26. Hardened fighter revered by the Maasai (7)
27. Reflexive me destroyed SME fly (6)
28. Thoroughly soaked in The Stray Sod densely (6)
32. Destroy by fire (4)
33. Ned leaves veranda on the shores of Garty Lough (4)
To enter: Print out the crossword, complete it and post your entry to The Anglo-Celt, Crossword Competition, Kilmore Business Park, Dublin Road, Cavan, to be in with a chance of winning one of our coveted Anglo-Celt pens and for the glory, of course.
Please remember to put the volume number of your entry on the outside of your submission.
YOU MIGHT ALSO ENJOY: