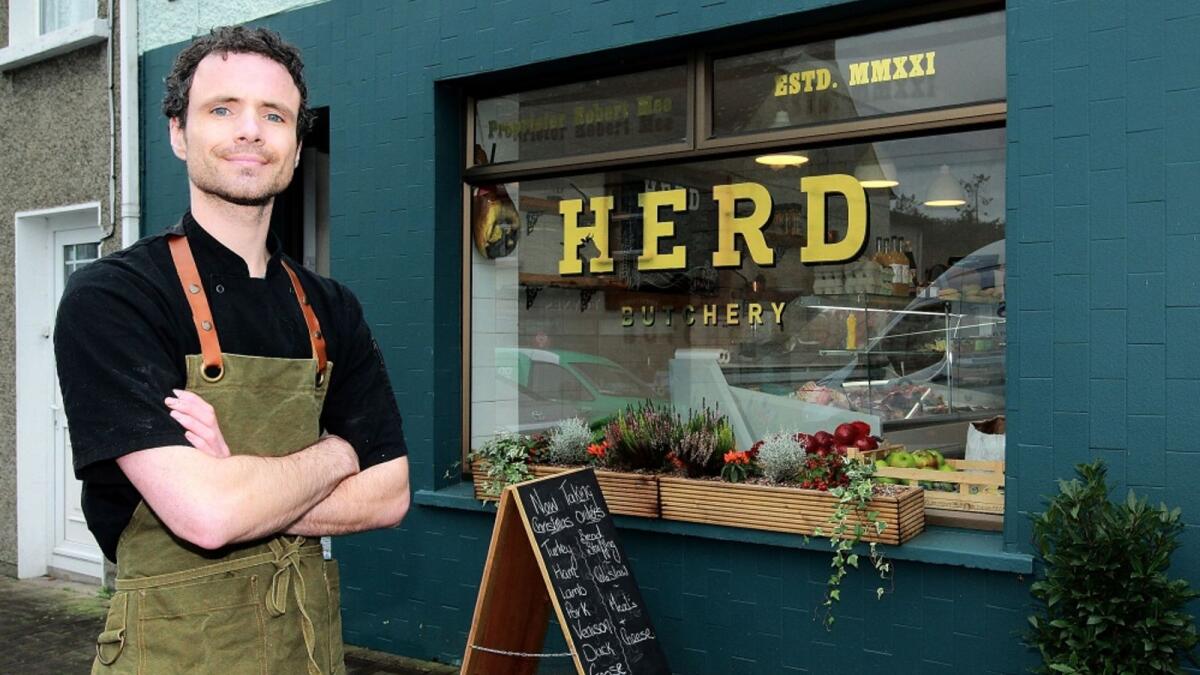 Leading the pack with Herd Butchery
A Cavanman is shaking up the butcher shop scene in the county, using a decade of experience in both Ireland and Canada to do so.
Robert Mee is the man behind Herd Butchery, an artisan butcher shop in Butlersbridge, County Cavan, specialising in whole animal butchery, house made charcuterie, and local fine food products. Where possible, the produce for sale is sourced directly from farmers and local producers.
"We are a traditional butchers shop, we deal directly with farmers, so we source locally," says Robert.
"We took over last year and we want to sell good food that's locally sourced so that's the main thing we do," he adds.
Soon after he took over the business, Robert became noticed for his impressive pork produce.
"One thing that is pretty unique to us is our free range, outdoor reared pork. This was one of the things we wanted to get into the shop.
"We're the only butchers shop in the Cavan Monaghan area who are working with the Irish Pigs Society, which is a group of farmers who got together to raise some standards in pork rearing for outdoor reared pork.
"We've had a lot of people travelling from other counties for it. Last year we were on 'Ear To The Ground' with this pork. It's something that not a lot of people are doing in this area and we've created a reputation for a high quality of meat," outlines Robert of the niche product.
The butcher stocks as many local products as possible, the majority originating in Ireland.
"Everything is from local farmers, I'd say 90% of our products are Irish and we have as many products that are local to Cavan as possible," says the proud owner.
The emphasis is on nose to tail butchery, a sustainable form of traditional butchery that leaves no part of the animal wasted.
"Through our sausage making and charcuterie program, we can utilise cuts of the animal that would usually be disposed of, which allow us to cut down on waste. It also gives us the opportunity to introduce new and interesting products to our customers," says Robert.
"Everything is butchered in this butcher shop. That seems basic but it's not common practice anymore, with a move towards more vacuum packed meats. Whereas I just got my beef delivery and I'll break it down," he further explains.
Robert, his wife Áine and their one-year old son, Rowan moved back from Canada in 2021 to open Herd Butchery when the opportunity came up to take over from the previous owner, Brian McEntee.
The new butcher shop is building upon a legacy created by Brian, who operated out of the premises for 35 years. Robert trained as a butcher in this premises over 20 years ago so he has a very strong connection to the location and the community.
Herd Butchery are grateful to all of their customers who contributed to making 2022 a fantastic year for them.
"We would like to thank all of our customers for their support in the last year."