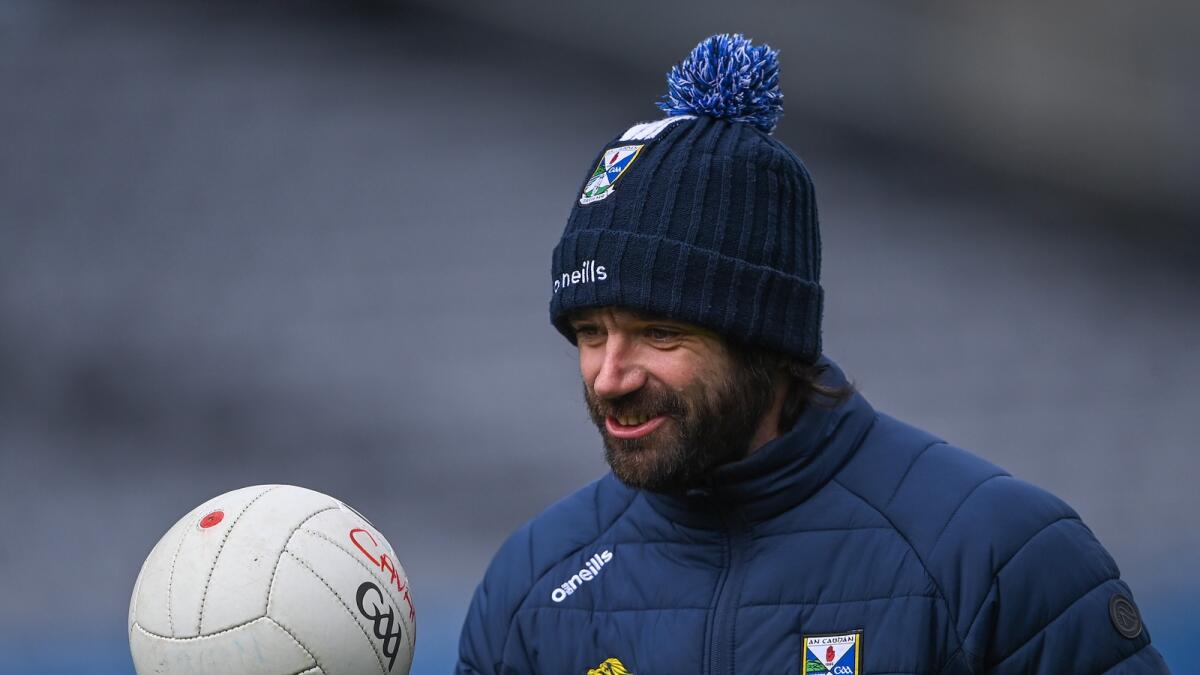 'Sometimes it's easier to be in the back seat than the front'
GAA news
The McKenna Cup is back. While it's far from the most glamorous competition in the GAA calendar, it serves a purpose and, according to Cavan defensive coach and selector Ryan McMenamin, it is particularly useful for rookies to test the temperature of inter-county football.
Cavan have been drawn against championship opponents Antrim; the big stuff seems light years away at the moment, though.
"It was funny the way the draw came out in fairness, it was the same over the other side as well with Tyrone, Derry and Fermanagh. Yeah, look, it's going to be interesting to see, I don't think the matches are going to have any bearing at all on the championship, I don't think they're even going to have any bearing on the league," McMenamin told the Anglo-Celt at the launch of the competition.
"Probably with us at the minute, we have a right few injuries, a hangover from the club season, we're trying to get boys right. We probably haven't been out that long and this bad weather has come in and kind of set us back a bit.
"The boys always enjoy having a fixture ahead, something to focus on and there's nothing as hard as this time of year when it's training, training, training all the time. We're just going to enjoy it and see where it takes us."
The McKenna Cup is the first staging post in the majority of inter-county careers, be they long and successful like the Tyrone man's or brief.
"I think everyone started in the McKenna Cup and I mind there was only one man and his dog up watching us (on his debut) against Monaghan in Dungannon. That was about 22, 23 years ago. It's crazy.
"It gives players a chance to come in on a softer landing rather than coming straight into the league. These days there is more pressure put on the league because it is linked to the championship now. It gives players a chance to breathe maybe and make those few mistakes because you're not going to hit the ground running all the time, there are going to be ups and downs in your county career.
"If you didn't have the McKenna Cup, you'd be looking for friendlies and as well all know, friendlies seem to peter out in the last 10 minutes and it's hard to know what to take from them. It's great getting a few young boys from the U20s last year and hopefully we can give them their debuts during the McKenna Cup."
'Ricey' is entering year two involved with Cavan. Looking back, he's glad he opted to give it a go last year.
"It was very enjoyable, the lads are absolutely fantastic, the backroom team and management are great too. I was going to take a year or two out but when I got the opportunity to work with Mickey, you always like to push yourself, go outside the boundaries.
"We achieved mostly everything that we wanted to achieve, losing the Tailteann Cup final was probably a kick in the teeth but look, as I said, we always put our hands up and said on the day we were beaten by the better team. You have to take your hat off to Westmeath.
"We had a good year and it could have been better and hopefully we can keep the standard this year as last year."
How did he find the switch from manager to selector/coach?
"I found that alright. It is what it is, sometimes it's handier to be in the back seat than the front seat. One thing I haven't missed is, no offence, talking to the media all the time and getting the scrutiny. Mickey does take a lot of the scrutiny and a lot of the grief coming from the media if you perform bad or you lose a game or you get knocked out early in the championship.
"I think that's the sport we're in. If any of the backroom team or management has a point to make, Mickey is always open to that, we always have good conversations and they're always lively conversations. I have no issue with it at all, I never had. I really enjoy the role I have, I think it's a great role and they are an easy bunch of boys to work with."
Asked how exactly he viewed his role as defensive coach, McMenamin explained: "We've been working there with James Burke, he's doing the training. He sets up what way we think is going to be best, last year there were problems with it we always felt so hopefully we'll try and nail it down this year. It's trying to make sure we're going to be hard to beat from 15 to one all the time, it becomes a major thing.
"Nowadays, you talk about a defensive coach, it's about trying to get everyone to buy in so that we become a hard team to beat."
The game has changed. For a time, it was unrecognisable from football of old but even that has morphed again; now, most teams play different ways at different times in different matches. Fluidity is key.
"I think it has evolved. You look at the way Glen played against Kilcoo, when Kilcoo didn't have the ball, they played with 15 men behind the ball whereas Glen kept two up at all times. Then halfway through the second half, Kilcoo played man for man.
"I think teams have got to the stage where they are changing tactics within games and I think the game is evolving very, very rapidly. You can watch Dublin when they played in their pomp, they went man for man but at times they dropped 15 men behind the ball as well.
"I think there are some teams that will play 15 behind the ball and some teams will play their own style. I think that's great, if you had everyone playing the same away, as it was when it was all blanket defence, it was hard to watch. But I can see the game evolving that teams will take more risks now and again, there is more of a reward.
"All inter-county players now are in great shape and able to get up and down the field at all times. You have to be fit, you have to be adaptable and you have to have good ball skills as well."
Last question – and maybe a tricky one. What current Cavan footballer reminds you most of yourself?
"I wouldn't want to put that on any man," McMenamin laughed. "Although he'd probably hit me a slap, I'd probably have to say the Gunner!"