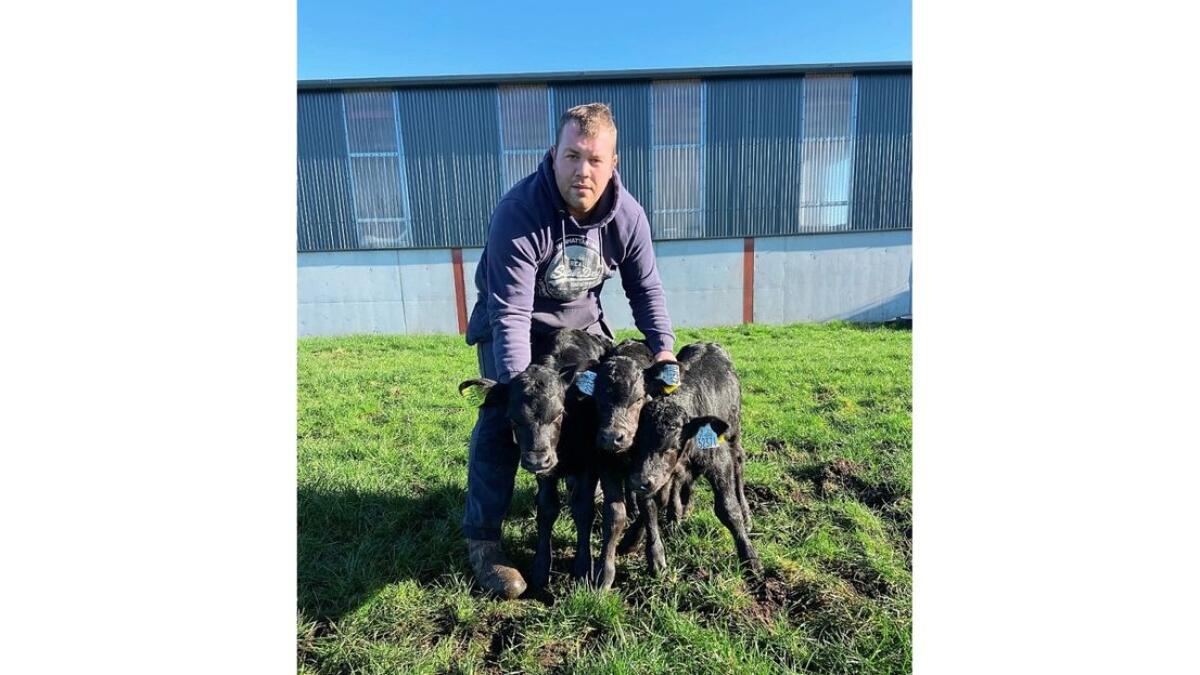 Making time for contracting
While only a small percentage of dairy farmers are both spring and autumn calving, even fewer of those calve the majority of their herd in the autumn.
Shane Doughty is in this small minority, but the Virginia man says it suits his system as it allows him to spend more time on the contracting side of his business in the summer.
"I milk 100 cows that are mostly holstein friesian, with a few British friesians alongside my father John. This type of cow suits our system so we don't think we'll go down the Jersey route.
"We calve 70% of the herd in the autumn. The autumn calving cows are dried off during the summer so this means we can spend more time contracting, doing things like spreading slurry, cutting silage and making bales."
Shane had a welcome surprise recently when it came to calves.
"We had triplet bull calves born on Ash Wednesday. They were born to a Friesian cow from an Angus bull. They're all healthy and well. It's really rare to have triplets, it's the first time we ever had any born on the farm, even going back to my grandparent's time."
Help
Despite the well-documented labour shortage in the farming sector Shane is able to call on a reliable crew to help out.
"My brothers Cian and Evan, as well as some friends and neighbours, help out when I'm busy at contracting. It's usually for a 2-3 week period.
"Dad mostly looks after the farm work, but he helps out as well. We also have a relief milker in the summer, so that takes a lot of the pressure off.
"The contracting calms down over the winter so that makes it easier to focus on farming because we are busy doing things like calves cows, feeding calves, milking etc. It is too much for one person to do on their own."
On the farm 80% of the herd is calved from AI with the remainder going to an angus bull. All calves are kept on the farm for at least 18 months.
"We keep all the angus calves and finish them on grass between 18-24 months on an out-farm. Angus is one of the few breeds that are able to be finished at grass, so it works well for us. If we were to fatten them at grass it wouldn't be worth it."
Despite the trend of expansion on dairy farms since quotas were lifted, Shane says his farm size has remained steady.
"We're near our full capacity in terms of cow numbers. We could stretch it out to 120 at a push. Our neighbours are dairy farmers on both sides so unless they decide to sell to us there are very few chances for us to sell. But if we were to expand we would need to spend a lot on new sheds, tanks and a parlour."
After a busy few weeks spreading slurry Shane is hoping to turn his cows out to grass soon but has plenty of fodder should the weather conditions worsen.
"We spread slurry using dribble bar and pipes. Our own tanks weren't that full so it was easy enough to manage. I aim to have the cows out by St Patrick's Day, we should have enough grass by then.
Lucky
"I'm in no hurry to get them out, they're happy inside. We're lucky we have plenty of silage to keep them going so if the weather worsens between now and then we'll be ok. Other people aren't in the same situation, last year there was a bad drought in the middle of the summer and some farmers had to start feeding silage earlier than usual so now they're running low."