Dillon claims All-Ireland Junior Singles title
Handball
There were jubilant scenes in Kingscourt last Sunday week as local player Joe Dillon became the first Cavan handballer to land the All-Ireland 40x20 Junior Singles title.
The 29-year-old former Cavan footballer added another medal to his collection which also includes Ulster minor and U21 football medals, a SFC medal with Kingscourt Stars and an Irish senior racquetball title.
Having been out of handball for a number of years, Dillon returned after lockdown and went on an impressive run, ending up in the All-Ireland final where he found Kildare's Kevin Diggins too strong.
This year, he knuckled down to training and after a few months of preparation, his performances moved on to another level. Wins in the Ulster Championship against James Gavaghan (Monaghan), Sean Digney (Down) and Paddy McRory (Tyrone) earned Dillon a place in the All-Ireland semi-final, where he was to face the highly-rated young Cork player Conor Walsh.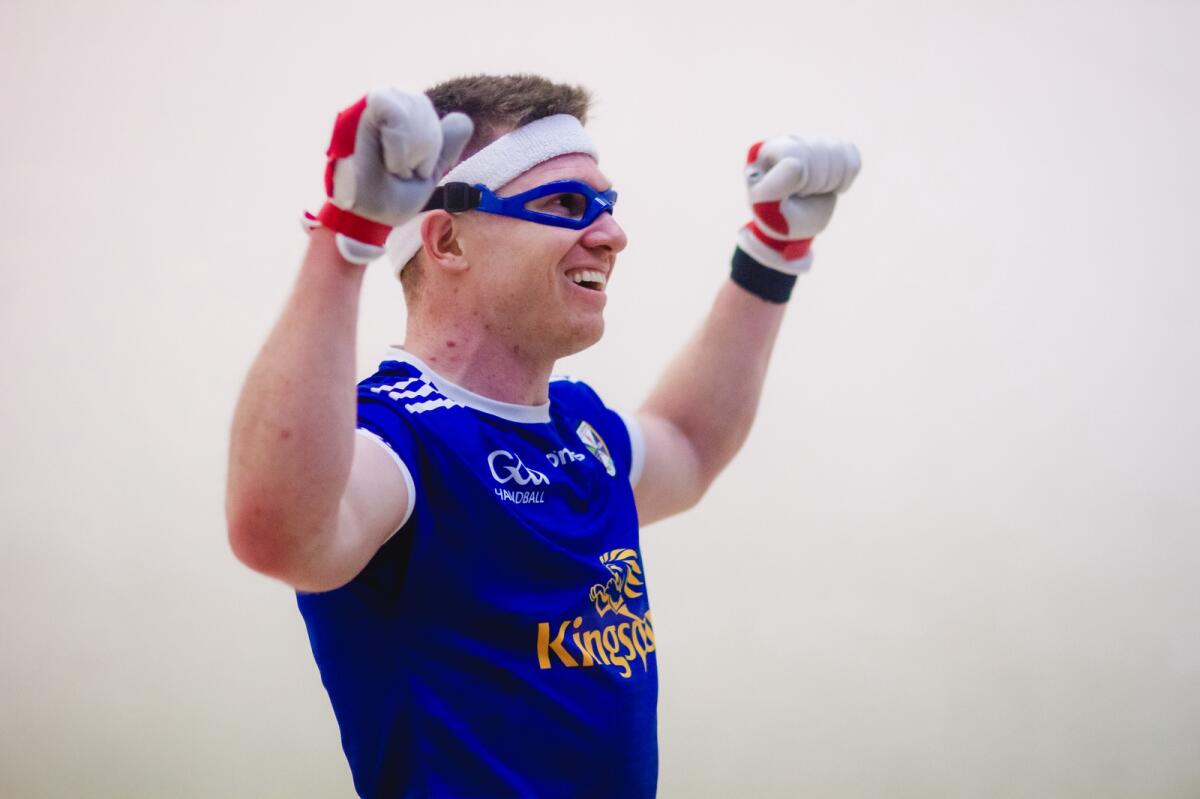 The Mallow clubman recently returned from the United States, where he came close to winning the top grade in the USHA Collegiates in Arizona, and was installed as favourite to win the competition outright.
Dillon, roared on by a large home crowd, started slowly in the first game, losing his hand with a double fault and falling 5-0 behind but he rallied to lead 13-6.
The powerful Walsh came storming back and the game was in the mix before Dillon pulled away to win 21-18. In game two, utilising a good lob serve and attacking the ball on the fly, Dillon stuck with Walsh to 16 all before pulling away for a straight games win.
That set up a final on Sunday against Galway's Peter Donohue. Dillon had beaten the Inis Mor clubman in the All-Ireland semi-final in Salthill last year but Donohue's form in beating Kilkenny's Jack Holden easily in the semi-final suggested a close final was in store.
On the day, Joe was not to be denied. Despite not hitting the heights of 24 hours earlier, he played smart handball, mixing up powerful offensive play with spectacular retrieving to run out a 21-8, 21-16 winner.
The win marked the first time a Junior Singles title has come back to Cavan since the famous Victor Sherlock won the softball title in 1949, although it should be noted that there was no Intermediate grade in those days.
Michael Finnegan (1996) and Paul Brady (1999) are Cavan's only winners of the All-Ireland Intermediate Singles title in the 40x20. The sense was that this year's Junior Singles was the highest standard for many years, with Walsh in particular an outstanding player for the grade who has competed in senior ranking events and not looked out of place.
Only a maximum of three (and often just two) players escape junior ranks each year, namely the All-Ireland Singles and Doubles winners. With no competition played in 2020 and 2021 due to pandemic-related restrictions, the field has become very congested with lots of very strong players 'trapped' in junior ranks, which makes the victory all the more impressive.
This theory is backed up by the fact that Diggins, who beat Dillon in the 2022 decider, went all the way to the All-Ireland Intermediate Singles final this time around, losing a tiebreaker against Monaghan's Gavin Coyle.
Bawn clubman Coyle, a training partner of Dillon, is a familiar fixture on the local scene, playing a lot in Kingscourt, and his success was a very popular one. The right-hander also had a massive win over Cork in the semi-final, having come through a strong field in Ulster, and he played brilliantly to get the better of the talented Diggins in the final, showing very impressive conditioning and skill.
The focus for Dillon will now turn to an assault on the Junior Doubles, where he will pair up with clubmate Cormac McMahon for the first time. Although doubles can be hard to predict and Junior Doubles in particular is a shark-infested water, the duo will be expected to go close should they click as a partnership.