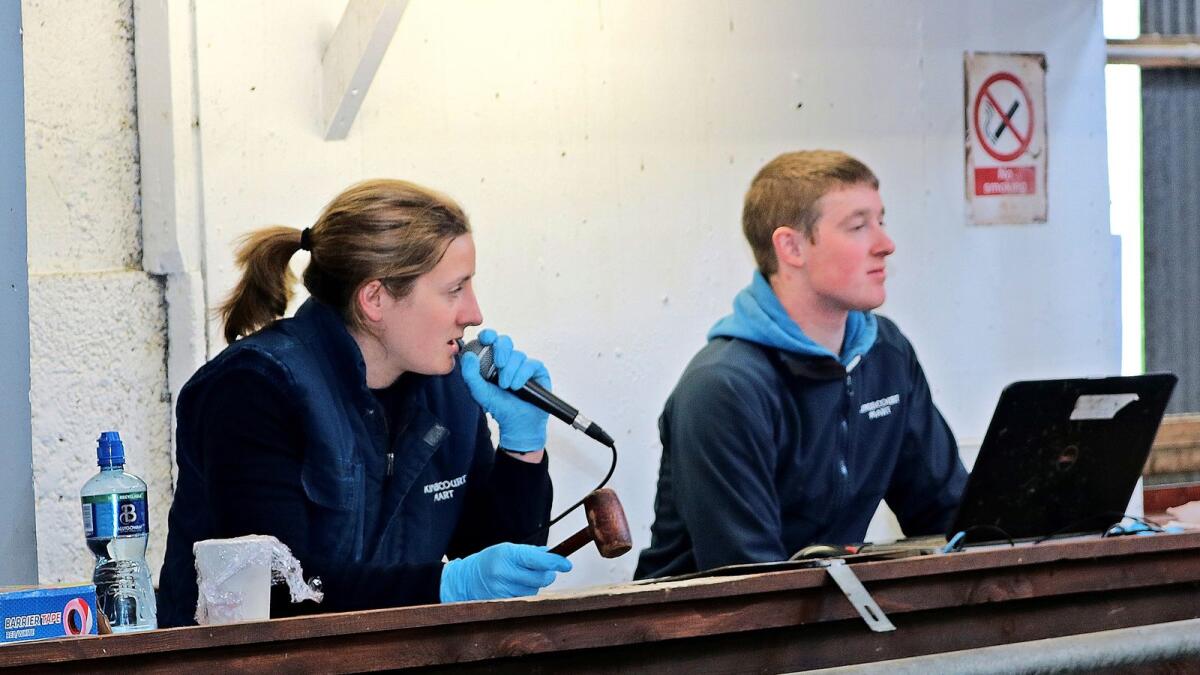 Local marts report price increases beyond expected seasonal uplift
Business in Kingscourt Mart is thriving according to mart manager Lisa Keenan, who says after a recent very short-lived dip in the market, cattle sales are strong.
"Things are flying", she said. "Trade was good over the last few weeks. There was a slight dip a fortnight ago which made us think that the market was beginning to slow up, but it didn't last long and it quickly picked up."
Lisa also says that farmers are optimistic as a result of increased factory prices, which can be attributed to several factors.
"Cattle are a good price in the factory. A lot of factory agents are buying heavy cattle, they are competing for all types of heavy cattle.
"Feedlots are also buying forward stores. This is contributing to a good trade all around."
Kingscourt Mart deal mostly in suckler-bred continental and commercial stock. They also sell cull cows from dairy farmers.
The rise in sales is driven by the start of the grass-growing season, which usually causes prices to pick up. However, Lisa says the increase is even greater than usual.
"Grass is growing and farmers are trying to source cattle for their land, this always causes a rise in prices at this time of the year for younger cattle and store cattle. This is in keeping with normal trends for this time of the year, but it's at a higher level.
"They are a couple of hundred of euro dearer this year, compared to last year. The normal rate used to be €2.30kg for R grade store cattle, but now it is over €3, it's a massive difference."
The sale of sheep dropped back slightly in recent times, but Lisa says they have since recovered.
"Sheep took a bit of tumble a few weeks ago, but it is steadying now. Factories put up sheep prices. Prices are dictated by factories when it comes to cattle or sheep that are coming close to being fit for killing. When prices are good it definitely has an impact on sales."
This sentiment was echoed by John Tevlin, manager of Ballyjamesduff Mart who explains that one of the reasons behind cattle prices coming close to their highest ever is due to the advent of online bidding in marts.
"Cattle prices are very positive, we have record prices. Some of that can be attributed to northern factories buying from us and customers bidding online who wouldn't travel to the mart.
"They're able to buy direct instead of coming out to different marts, this has had a major impact on the price of cattle. On Wednesday March 15 we'll have an entry of 60 dairy cattle from a clearance sale, it should generate a lot of interest."
One consequence of online purchasing systems is that farmers no longer know who they are bidding against, which has removed some social awkwardness.
"In the traditional sense people were often reluctant to bid against each other if they were in the same line of business, or if they were bidding against a friend or neighbour. But now with the online platform they don't know who they are bidding against."
High input costs means farmers are holding out for higher prices, according to John.
"Farmers are bringing more factory-type cattle out to the mart, where people are getting better prices for them. Costs have risen, so farmers need better prices to cover themselves. Fertiliser has gotten more expensive since the war in Ukraine. The cost of meal has gone up as well. But for once farmers are getting a good return on their product.
"There was an attempt to pull prices two weeks ago, it didn't have an impact. People had an alternative route to go down. They could go to the mart, which helped to keep prices up."
Bad weather is unlikely to have a negative effect on mart sales according to John.
"A lot of cattle are being purchased by feedlots or northern customers, so they're going back into sheds, so the weather won't have an impact on the market in the short term.
"If rain and snow keep up it could have an impact on the trade of cattle that are going for grass, so we're hoping it is short lived. If conditions are bad, it could have an impact calf on prices, if boats couldn't get sailing."