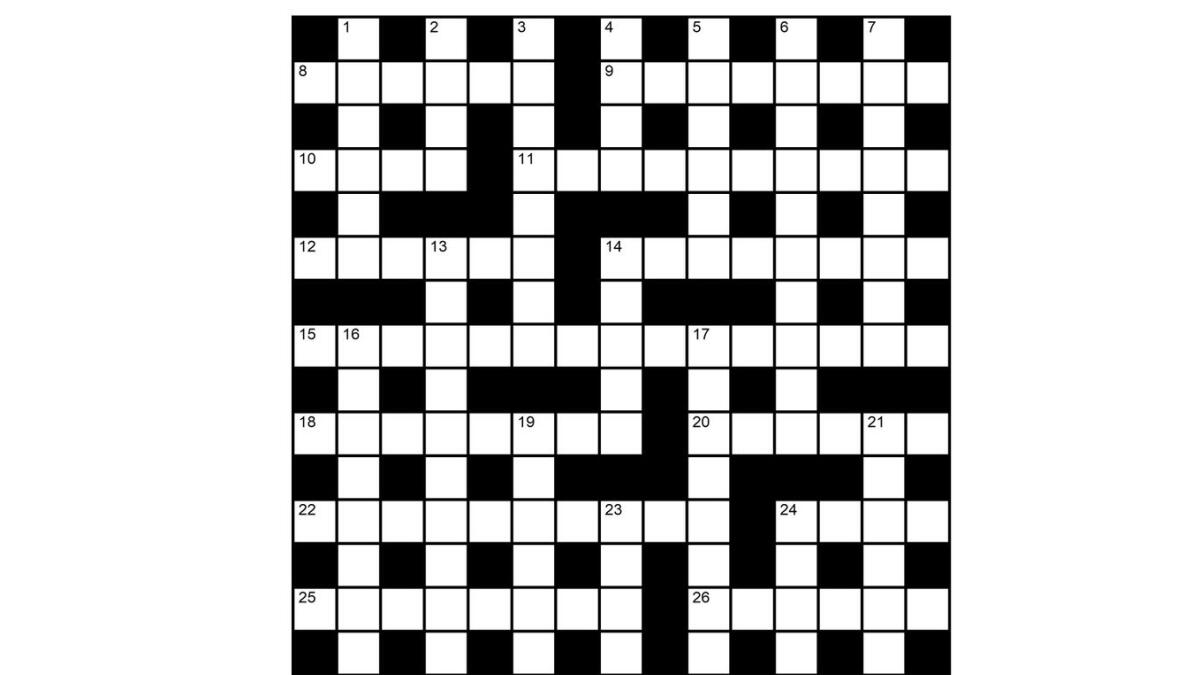 CROSSWORD 9223 BY ARAHODEN
Check out our latest crossword by our mystery compiler Arahoden. As usual, you can expect some Cavan twists. Print it out, complete it and enter our competition to win lunch for two in the Cavan Crystal Hotel, not to mention a coveted Anglo-Celt pen (details below).
Across
8. Follows Packie to park in Killeshandra (6)
9. Dr Armour constructed Business Park outside Ballyjamesduff (8)
10. Social Democratic and Labour Party curtailed (4)
11. Church in Gowna a special school in Cootehill (4,6)
12. Return a tape to the start in Loughcrew independently (6)
14. Emulsion applied for a fight (3,5)
15. Library in Cavan Town (8,7)
18. McIntosh transformed this memorial park (3,5)
20. Apollo number for first moon landing (6)
22. Precedes lower used to complete a parish with Corlough (10)
24. Before Eagles for rounders in Mullahoran (4)
25. Chemical response upsets creation (8)
26. Naturist resettles in dust (6)
Down
1. Cavan suburb maybe a village in Roscommon (6)
2. Pals return smack (4)
3. At the precise time (2,3,3)
4. False god concealed by Cloncovid oligarch (4)
5. Marine sportsperson maybe internet browser (6)
6. Regal Erne residence built by calmer Scot (4,6)
7. Formerly Ceylon (3,5)
13. Sink Munich to make a lake near Milltown (10)
14. Lifting device covered by Darwin challenge (5)
16. Old Kings of Breifne rue rooks' disturbance (8)
17. All the people reconveyed without CD (8)
19. Spain and Portugal together (6)
21. His one damaged Killeshandra lake (6)
23. Connection for Credit Union in Kingscourt (4)
24. Finishes to start every new Denn story (4)
To enter: Print out the crossword, complete it and post your entry to The Anglo-Celt, Crossword Competition, Kilmore Business Park, Dublin Road, Cavan, to be in with a chance of winning one of our coveted Anglo-Celt pens and for the glory, of course.
There's also a two-course lunch for the Atrium Bar in the Cavan Crystal Hotel up for grabs!
Please remember to put the volume number of your entry on the outside of your submission.
YOU MIGHT ALSO ENJOY: