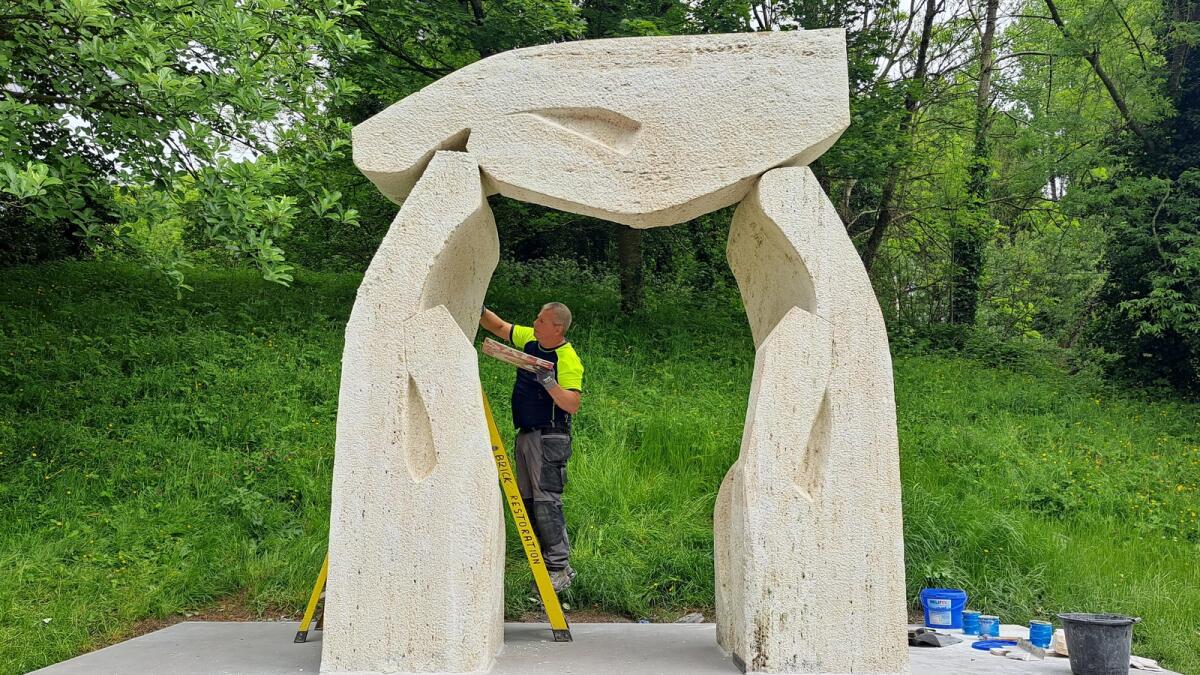 WATCH: Hands sculpture installed at peaceful new location
VIDEO: Repairs this week being carried out on artwork sculpted by Imogen Stuart
The final touches are being added to an iconic Cavan Town artwork as it takes up residence in its new custom made location.
Imogen Stuart's iconic 'Arch of Peace' was erected in the early 1990s at Market Square. Having stood for decades in the heart of Cavan Town it was dismantled in late 2017 as part of an upgrade of the town centre. This week it has finally been taken out of storage and placed in its new position on Farnham Road, at the western entrance to the town.
The former Richmond House site at Tullacmongan, next to the junction of the R212 Dublin Road and Owen Roe Terrace, had originally been earmarked for the sculpture. However that plan was dropped in favour of the Farnham Road site beside Cavan Livestock Mart, and opposite McCarren's.
Minor repairs are currently being carried out on the artwork by Rolandas Venslovas, stonemason and restoration specialist. Aiming to carry out a sensitive restoration, Mr Venslovas is replicating the texture of the original sculpture by crushing down travertine stone saved from a support section no longer required, and mixing it with a solvent.
A municipal district meeting was informed in February 2022 that Ms Stuart, despite her advanced years, had travelled to Cavan Town from her Dublin residence and was pleased by the new location. A steep grassy bank and seasonal flowers provide a natural backdrop for the impressive sculpture carved out of the cream coloured travertine stone.