The fire burns for Galligan as he takes on new challenge
Exclusive
PAUL FITZPATRICK sat down with Raymond Galligan for the Lacken man's first interview as Cavan senior team manager.
"Rumblings of a possible crisis in Cavan football under Tommy Carr were emphatically crushed by a thoroughly convincing performance against an out-of-sorts Roscommon in Dr Hyde Park in this Division 3 clash.
"Full-forward Raymond Galligan was the Breffni men's hero as he produced a master class in the art of point-taking. By the time Galligan was substituted with nine minutes remaining, he had contributed 10 points to his side's cause."
- Irish Independent, Monday February 8, 2010
First things first: he knows what some are thinking. Of course he does. Cavan have appointed a new manager who has no experience patrolling the sideline, who won't be best equipped to wield the axe if it's needed. Cavan are taking a gamble. Cavan are… doing a Cavan.
We're in a café in Virginia. Ray Galligan, in his first interview since taking the biggest job in the county, pushes aside his coffee cup, furrows his brow. He's well aware of it and, yeah, he can understand it. He tackles it head on.
"It depends how you define the word 'experience'. If it's in terms of managing a group of people, I have any amount in terms of my work, I manage two large day services at work in a challenging area, working with young people with disabilities with a large staff team.
"In regards to managing a football team, I have experience of leading and driving things forward behind the scenes. Knowing what's needed and being confident in myself that I can drive this forward, I have absolutely no reservations about this working.
"I am aware there will be difficult conversations with players, breaking down those barriers in terms of friendships, but at the end of the day, this is a results business, I'm aware it's a tough business and those conversations are part and parcel of it. I knew when I put my name forward that that would be part of it.
"I'm really looking forward to it, I have a great team around me with lots of experience in all areas of management and coaching and I am very confident about my ability to tackle that."
It's been billed as the leftfield GAA story of the off-season so far but Cavan's new manager doesn't see it that way - not by a long shot. If the odds are against him, well, that's fine. From discarded forward to novice goalkeeper, that confidence has always been his armour.
He's ready for this, he says, ready for the public nature of it, the risk and the rewards. Come what may.
****
When he looks back, it's been a long, long way from there to here. He made his debut in the Tommy Murphy Cup in 2006. High summer and a few dozen at the game. A start, of sorts.
Four years later, he scored 0-10 in a National League opener against Roscommon. Imagine the sensation: a big haul on your debut – left foot, right foot, sideline balls – and the cheers of the crowd raising the roof of the stand as you stroll off, game won and job done. Life didn't get much better for a young forward from the football heartland of the county. Tommy Carr is purring on the radio and Cavan have run riot in the Hyde. Everybody loves Raymond!
But this game's not easy. The Indo was right – there always were "rumblings of a possible crisis in Cavan football" back in those late and post Celtic Tiger years. Players and managers came and went, the graph continued in one direction. It's sobering to look back on now. We all partied.
By the time the ship was righted in 2013, Galligan was gone. He packed off to Australia for a year, coming off the bench to kick a few scores for Lacken in a relegation play-off a day or two after his return.
At 27, his inter-county days seemed to be behind him. His Damascene conversion to a goalkeeper has been well documented – a chat from behind the bar with clubmate Terry Hyland, a call-in to the county with no promises - but his next step hasn't.
When Hyland drafted him back into the panel at the end of 2014, he was third-choice goalkeeper and making it to number one seemed a long shot. He ended up captaining the team to an Ulster title and winning an All-Star. No experience? He's heard that one before…
"Every day is a learning day for me. When I went for the goals, I started at the very bottom of the ladder but behind the scenes, I was training three days a week on my own in Dublin with a goalkeeping coach when Cavan were training the other four," he recalled last week.
"I just made sure that when I got my chance, I was ready for it because I had done treble the training that the other two lads had done, unknownst to them. When I got in, I made sure I wasn't coming out and that's the way I'm looking at this job."
That extra training was done with former soccer pro Shane Supple. Three nights a week, when Cavan weren't training, he'd meet Supple at the St Brigid's club in Dublin. Working as hard as he possibly could gave him belief.
"I did it [the extra training] of my own accord. That's the mentality I'm going to bring to this and it's the mentality I want from the players, it's not just about what you're doing three or four days a week, it's about what you're doing off the grass. To get to the highest level, you have to apply yourself on and off the field as best you can."
Galligan made the team and, bar a short spell under Mattie McGleenan, stayed in it. In 2019, Cavan reached a first Ulster final since 2019. In 2020, in the depths of the strangest winter, they won it.
When he thinks about that championship, a moment stands out – and it's not the final, receiving the cup, not the obvious things.
"At half-time against Monaghan, we were seven points down. Mickey had given us a couple of minutes to get our breath and get our thoughts and I'll never forget, a number of players spoke calmly and very directly about the hole we were in, to put it mildly, and how we could get out of it.
"I just remember coming out for the second half thinking Monaghan should have been out the door at that stage, they'd missed a number of goal chances, but if we just do what we said we'd do, chip away, the clock is our friend. We'll be in the hunt with a few minutes to go.
"There was a complete calmness going out for that second half and we backed it up and that re-assures me that we have got fantastic leaders in that dressing room. To me, that was the defining moment. No-one talks about Oisin Kiernan's point from out on the wing, Luke Fortune's two fantastic points he kicked that day, Gerry Smith… Scores from difficult angles in the second half at times when every score counted. I thought boys became men that day.
"It was incredible. Every day it was backs to the wall. A more efficient Antrim team could have caught us out but I think the biggest problem for us was that we had come from such an emotional high, we could not get back down in such a short space of time.
"We were living on a cloud and then we played an Antrim team that were just teed up to hit you with an ambush but we got over it, stumbled over it. And then 10 points down against Down… it was just an incredible journey… Hopefully we can bring those days back now again."
****
The years that followed promised much but Cavan didn't deliver. The county has made boom-bust football its brand and after the gaudy riches of the Athletic Grounds, a windfall so unexpected as to be akin to a lottery win, the bailiffs moved in. Relegation to Division 4 so soon after that breakthrough seemed unthinkable but it came to pass. From rags to riches to Ruislip; the Cavan way.
Soon, the currency they traded in had become devalued. Does it bother him that the 2020 success, in some cynical eyes, now comes with an asterisk attached?
"Not really. The way I look at it is, in 10 years' time, when my son is 10 or 11 years of age and I say I won an Ulster medal, he'll probably have to google what Covid was. We will always be 2020 Ulster champions. I suppose the narrative in the short term will be about Covid.
"It was hard won. That perception is probably a little bit disappointing but as a player, I don't think we'll ever forget those memories. It's a fantastic medal to have and it's just a pity we don't have more of them.
"I really hope we can pick up more medals and silverware over the next couple of years and give the players what they deserve. Their attitude and the way they have prepared over the last number of years has been second to none. I feel they should have a lot more silverware than they have... but every county thinks that way."
Successive promotions were secured, a run to the Tailteann Cup final sandwiched in between. There was a sense that the 2023 championship would be a defining one for the Cavan squad and management. Before taking on Armagh in the Ulster Championship, they felt primed and then… nothing. A chastening loss left more questions and, maybe, one unpalatable answer – the sun had set on this Cavan squad.
Having been in the dressing-room, on the pitch, he rejects that out of hand. What happened Cavan? For him, there's no mystery. The league is where the blades are sharpened for the real stuff and Cavan were blunt. They may have been aiming for the stars in championship but operating out of Division 4 and 3 simply lowered the ceiling.
"To me, a lot of it has to do with the level you're playing at. When we did slip into Division 3, there was maybe a touch of complacency on players' behalf, maybe being over-confident, we ended up falling into Division 4 and in the last three years, we have been in Division 3, 4, 3. Albeit we have got out of those divisions but the reality for me against Armagh last year was one team was coming from playing in Division 1 where we were coming from Division 3.
"We may both have finished in Division 2 but they were a battle-hardened team in the first round of the championship whereas we thought we were moving well. The reality was they had been really, really tested and we hadn't.
"And that showed in the first 15, 20 minutes, their level of intensity was streets ahead of ours. That wasn't because we weren't well prepared, management had got us in a good place we felt, but I definitely believe that playing that higher standard stood to Armagh.
"That would probably be one of the main reasons in my eyes, we have been playing those lower tier teams. Even though they are tricky and competitive but if we want to be achieving highly, we need to be playing those teams at the top table."
Mickey Graham had another year to run on his agreement with the county board and was expected to stay on but, between a Friday and a Monday, changed his mind. Initially, Galligan tried to change it back for him.
"I actually pressed him hard to stay that weekend when he told me he was thinking about quitting because he was always very good to me personally and to the players. I wanted him to stay, first and foremost."
"When he made his final decision, he rang me and told me. He just felt it was time for change. It wasn't until the following week that I started to think that it might be something that might be worth trying to explore…"
****
Raymond lives with his wife Niamh, a native of Donegal Town, and one-year-old son in Dublin, not far from St Jude's GAA club. A week or two after Graham stepped down, he was at home in Lacken, attending his grandparents' anniversary Mass at Potahee Church.
By then, he had spoken to his wife about the possibility of throwing his name in the hat for the job ("she gave me her backing, 110pc") and with a few individuals, including ex-teammates. He had decided to go for it.
At the Mass, he met his uncle, Tom, and the chat turned to the vacant position and who would fill it.
"I said I didn't know and he said 'you have to go for it'. I said 'Jesus, I don't know'.
"Then we got back into the car and my wife looked at me and she just started laughing. It was in my head before that and he really just drove it home."
When he decided to go for it, he was all in. There were ripples of surprise around the county when his name was revealed along with Jason O'Reilly and Micheál McDermott (Danny Hughes's interest wasn't made public for another fortnight) but he kept his counsel.
"I spoke to a few of the players who I played with for a number of years because I knew if I was successful, the relationship would change. And to be fair, the players made it very clear that they knew that was going to happen.
"My main reason for making those calls was to make sure I had their backing and they really backed me and told me to go for it. That definitely makes things easier for me going in and managing this group because they know it's business and it's going to be nothing personal.
"There will be difficult decisions, they all know I'm going in there for one reason and that is for the best for Cavan football. That's the only reason I want to manage this team, to get Cavan to the best place that we can."
He immediately got to work assembling a backroom. Mayo man James Burke, who coached the team last year, committed to staying on. Eamon Murray, a Gowna native who managed the Meath ladies as they came from nowhere to win two All-Irelands, came on board too as did selector Damien Keaney but, with respect to the others, Stephen O'Neill is the absolute A-Lister on the ticket.
A three-time All-Ireland winner and former Footballer of the Year, O'Neill's credentials as a player are impeccable and his reputation as a coach is outstanding. Galligan believed he was the man he and Cavan needed.
"I felt we really needed to add some value to our attacking play in the forwards and he was somebody I really loved watching as a player.
"I had heard fantastic things about him as a coach when he was with Tyrone and the Antrim lads I spoke to said he was just fantastic to work with. I spoke with James about him to make sure it was going to work and he was very excited about it.
"I went up and spent time with him before the interview just to make sure we could work together. I met him and his family, he's a real family man, and I believe he is going to add real value... I think it's going to give our forwards a real extra incentive to get on the team and work with him and to find ways to improve individually and as a unit.
"Initially, the big thing for him was the commute, finding out where we would be training and stuff like that. I sent him a few videos of our league games and he watched them and he was very excited when he saw the players we have as well.
"It was very straightforward, he was very excited by it and that's reassuring as well, we didn't have to force anyone into a job, Stephen himself was interested from the word go. We had a good conversation and he liked my thinking, it very much aligns with his, and that was important for him, that we want to make the very best of the players we have available."
Murray and Catherina McKiernan, who needs no introduction, are also on board.
"I crossed paths with Eamon a few times previously. I just loved the way he held himself, he was someone I felt would be a real good person around the panel but also he has huge experience of winning.
"I really admire what he did with Meath, they came from Division 3 and Division 3 ladies football, no disrespect, is a low grade, and he ended up winning two senior All-Irelands. That was an incredible journey and to have him alongside me moving forward, it will be a huge asset.
"I think the players are going to really like him, he has a lovely style about him, he's a very genuine, straight-talking, nice man.
"Catherina has endless experience. She is an Olympian, she has been an unbelievable role model, she's probably the most successful person ever to come out of Cavan. She has many strings to her bow, she will be able to facilitate running workshops with the lads, assess their running ability and hopefully help with injury prevention but also, she has a serious, serious mindset in terms of preparation and really getting the absolute best out of yourself.
"She can help lads who might be low on confidence too, those wee chats to help change their thinking."
What slipped by, almost, was that one of the great modern-day Cavan playing careers was coming to a close. There was no inkling among the general public that he might be considering calling time on his playing days. He finished with 114 caps; there were another couple of dozen there for him, surely, had he wanted them. But he took the manager's job to be successful and felt it was worth giving up on that last season or two.
"At the end of the season, it was definitely something I had thought about. I had a lot of constant niggly injuries, my ankle had been giving me a lot of bother over the last 12 months. It hadn't stopped me from playing or training but I had constant niggles.
"I had thought about whether it would be a good time to walk away but once I committed that I was going to go for the job, I 100pc said to myself that I wouldn't be playing. We have fantastic goalkeepers in Cavan so I think that transition will be easy.
"The other side of this is I want to really make this work and I suppose I have a lot to lose. I possibly cut off a year or two of my career but I feel I can add more value to the team now by doing well in management. Will I play again? 100pc, never again, absolutely not."
When we spoke, he was nursing a dislocated shoulder, sustained on club duty with Lacken.
"I think nature is just saying you need to be in the stand or on the line watching these games," he laughed.
So, the job is his, the gloves are hung up and the management team are in place. What now?
****
"Rebuilding". It's a word he dislikes, has found "frustrating". Are Cavan in transition? "Absolutely not," he says.
"For me, we have a fantastic balance of youth and experience in the county. I think it's important for us to bring fresh blood in, bring new players in and give them the opportunity and bring that extra bit of competitiveness to training and around the camp.
"I just feel that the talent is there in Cavan and we're now at the higher level of Division 2. The type of football needed to progress is definitely going to be forward-thinking and I think we have the players to back that up."
By now, he has made contact with the members of last year's squad. All, more or less, are on board again, he reports. He intends to carry a large panel at first and will trawl the county for new players.
"I've spoken with a lot of the players who were involved last year and thankfully I've got the backing of all of them, there's no-one officially retiring yet. I'm very confident I'll have the experienced players back and they will add value to the team. That's been very re-assuring, to know that they're on board and they're as excited as I am for this opportunity of competing in Division 2 and hopefully getting into the All-Ireland series.
"I've been at a lot of the junior and intermediate games over the last couple of weeks. It's so competitive and you're really looking at players who are thinking 'get that ball inside' and also lads that are conditioned as well, conditioning is a big thing for me.
"Some teams mightn't have the same level of conditioning as others, (but) we wouldn't be closing the door on guys that aren't fit enough. We can bring players in and maybe have them ready for the end of year one or year two… we're trying to keep an eye out for players who are ready to go and also players who have work to do in the gym and might be ready for the following year after getting a feeling for what it's like to be part of an inter-county environment.
"I think there is huge talent there that hasn't been brought in and hasn't been involved in the last couple of years and I hope to bring in a number of new players."
In terms of a philosophy, having played as an out-and-out scoring forward for so long – he won an intermediate medal at corner-forward as a 17-year-old – and then in goals, he is intimately acquainted with attacking and defensive strategies. His preferred approach is to move the ball quickly and get it to the trigger men, early and often.
He doesn't dress it up in any complicated-sounding language, either.
All agree that Cavan need to get better. Which areas, though, to target?
"I don't think it's a case of trying to get better in one particular position, it's trying to maybe improve on… the elephant in the room for me is that we struggle to break blanket defences down. That was evident this year against Fermanagh in the first half of the league final and certainly against Down in the Tailteann Cup.
"It's trying to educate and coach players about committing bodies to the attack and getting ahead of the ball and really trying to learn how to play different types of games.
"Division 2 will show all different types of games but our main template will be attacking football. Getting that ball from defence to attack as quick as possible. The style of play I liked when I was playing out the field was 'get it in early' and that will be the plan. We have to feed these forwards that ball so it's heads up, get that ball in as early as possible.
"We have serious talent, especially in our forward line, serious ball-winners. There will be games where we have to play a different style to counteract defensive teams but it's all about committing bodies to attack, camping in their defence rather than camping in ours.
"That's my philosophy and it's the same for Stephen, Eamon, James and Damien, we all feel that with the talent that's in Cavan, it's really about getting ourselves ready for the big days in Croke Park, because that's where you want to be playing."
****
For the last couple of weeks, Galligan has been balancing playing and training with talking to players – current and potential – and getting around the county to see games. The reaction from the football community has encouraged him.
Cavan supporters are desperate for success and that can manifest themselves in a harshness bordering on the cruel. Sustained disappointment has at times bred apathy but give them something – anything – to latch on to and they'll mobilise as one. Galligan has been a county player over half his life, man and boy. He knows this.
"People have been very positive, I was down in Ballyconnell two weeks ago watching Drumlane and Templeport and the amount of goodwill and good wishes was fantastic. It's been the same in Breffni Park and Lavey, different places I've been to in the last short while. People have wished me well and been complimentary for putting my name forward and excited.
"I always had quite a good relationship with supporters. The main stakeholders in all this are the players but at the same time we have to be very transparent with our supporters. I want Cavan with blue and white flags on every pole during the summer, I want Breffni jammed for the first few rounds of the league. As the saying goes, it's the 16th man and there is no better feeling than having that support cheering you on. It raises the hair on the back of your neck.
"And I want us playing football that is going to put bums on seats. Regardless of the results, if we play the game the right way, it will excite the supporters and get them out and that's what I want to do."
He intends bringing the team on the road where possible, holding some open training sessions, encouraging the players to make time for the followers. He sees bringing everyone along as part of the mission.
"I want to feed their expectations and we don't want to let them down. I will never, ever forget the joy 2020 brought. Thousands and thousands of people came out to Kingspan Breffni and sat in traffic for hours.
"We have the best support in the country, I really believe that, but it's time for us now to give them what they expect. Because I'm fully aware, in the last two or three years, the results weren't good enough and with that, the crowds weren't the same in Breffni. But we're playing Division 2 now, it's very exciting, we have some fantastic games ahead of us and it would be just great if the supporters can get out and just back us and see what it is we're trying to do."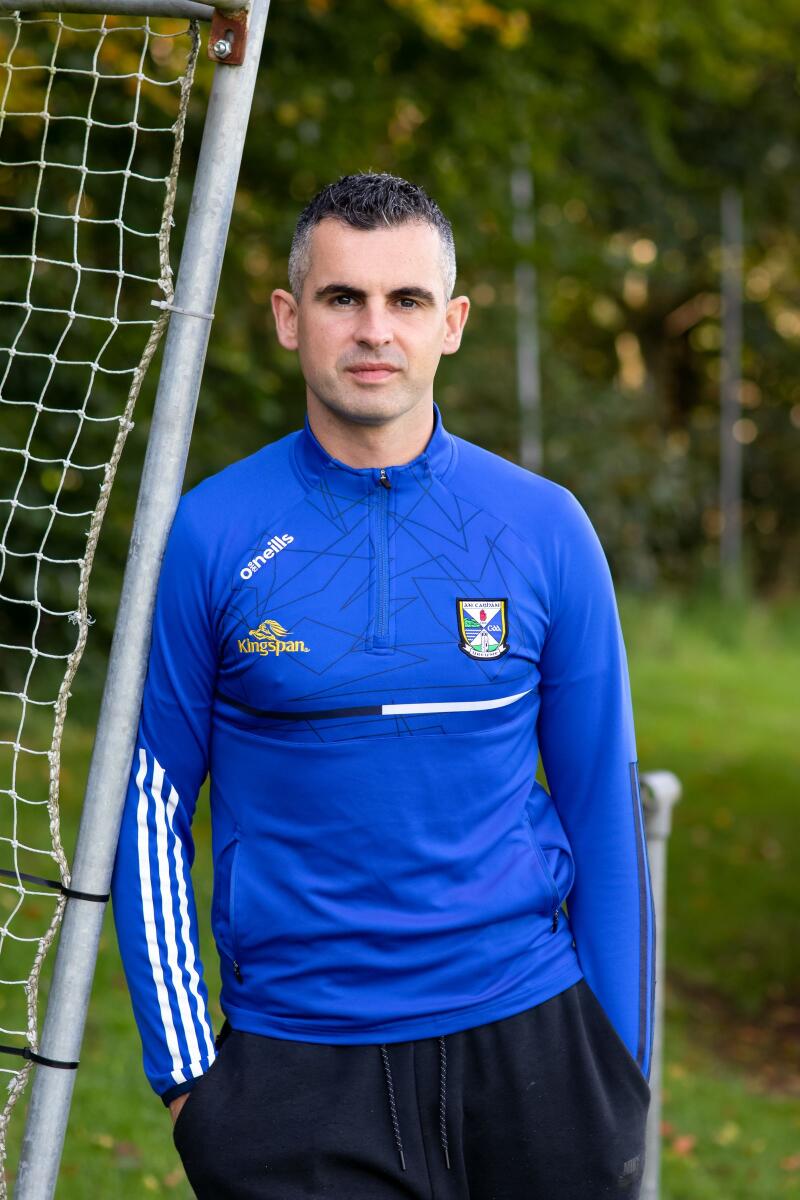 There is no time to practise his lines back stage. Galligan's audition will be a public one; in the National League, he will go up against McGeeney, McGuinness, O'Rourke, Harte. He's not daunted by it. There's a spikiness there, almost. Why should Cavan bow down? What would be the point in that?
"I think being in Division 2 is going to test us, there's no question, it's going to be difficult but it's going to be difficult for every team. I think it should really excite the players, playing better opposition, there's a serious carrot of getting into the All-Ireland series, getting three games, full houses in Kingspan Breffni.
"There are some very high-profile managers involved but I just can't wait to see this Cavan team hopefully playing at their potential. The full focus for me is getting out there and putting everything into our league and see where we go from there.
"The players are the key for me, they always have been, even as a captain. Making sure that they're feeling cared for and valued and given that space to be able to express themselves. It's all about the players for me.
"The 'who's who', that sort of stuff, would never faze me and never did when I was a player either."
What would success look like?
"For me, success is going into work in the morning and seeing the place absolutely humming with happiness, that everybody is actually looking forward to Monday morning. To me, that's success.
"Obviously success is gauged on medals in a lot of places but my short-term goal is to go in there and have that dressing room humming, that I have the best players in Cavan putting on that Cavan jersey and that will in itself bring success.
"If we bring what we expect to bring from the management team to the players, I feel we can definitely do well. I'm not here to make big talk in the first couple of weeks, I just want us to get the very best out of this team.
"The big thing is that we're definitely going to put everything into playing football in the right way. That's not to say we didn't in the years gone by but I just feel that for us to compete at a high level, we really have to (play that way). And that is feed the forwards the ball."
****
Raymond and Niamh have a house in Virginia and intend moving down in the new year. His day job, managing a day service for adults with disabilities (St Michael's House, in Rathfarnham) allows him to finish in the afternoon and work remotely at times. The window is there to devote himself to football management after that.
He'll missing playing – of course he will. But he has chosen to stop so that he can take on this role and there's an important distinction there.
"I don't think you'll ever get that back. I even saw it with my club yesterday, you're just thinking 'Jesus'… You'd love to be out there.
"You really need that fire to be able to compete at inter-county level, to prepare 100pc, on and off the field. It takes a major commitment and to be honest, I feel the commitment is all in the top four inches.
"If the mind isn't fully invested in what you want to do, and you're really just desperate to for it, it won't work out.
"Of course, I'll miss not playing but my God, the fire is definitely back in me now to lead in a different way. Definitely."
GALLIGAN ON...
Playing every game under Graham, at the expense of the sub goalkeepers…
Now, looking at it, it probably means a little bit of extra work to be done with the lads. My competitive nature was that I wanted to play every game, every single game. It didn't matter even if it was an in-house game, it literally was, 'I'm ready to go'. Injury or no injury, 'I'm fine'.
I never believed I was going to start next week, regardless of my form. From the day I started, I had that mindset… be there early for training, work as hard as possible. I never felt secure in my position, even though I was fortunate enough to be playing.
That's probably why I always wanted to play, I tried to make sure I was playing as well as possible to get that chance. It's not a bad policy I think, you didn't get too complacent.
Possible return of James Smith and Thomas Galligan…
I had a great conversation with James, he's focusing on the club scene at the minute. I'd be confident James will be involved next year, he unfortunately got an injury lately but James will go and do his thing with his club and hopefully he's very successful because the further those guys progress in competitions, the better they're coming back in to Cavan.
With Thomas, he's heading to Sydney this month. He knows the door is open for him, like it is for any player as the season progresses. Hopefully he gets that out of his system over the next couple of months but what happens in the new year, I really don't know because Thomas hasn't even had a taste of Sydney yet. That's the way we've left it with him.
His time as captain…
I knew my job was to lead the team, the management's job was to organise and set up tactically the way he wants to play. I never over-stepped the mark regarding my role but Mickey would have given me a lot of responsibility in terms of things like addressing internal issues.
There are always small issues but nothing that ever really was a concern or created problems in the camp. It was having one-to-one conversations with players, keeping standards high and making sure we're all going in the one direction.
I would like to think there has been very little talk outside the camp in the last number of years and on top of that, there has been huge resilience, the players have stayed together through tough times.
We had a tough two or three years there and the players have stuck together and I think that's a compliment to all the players. That was part of my role.