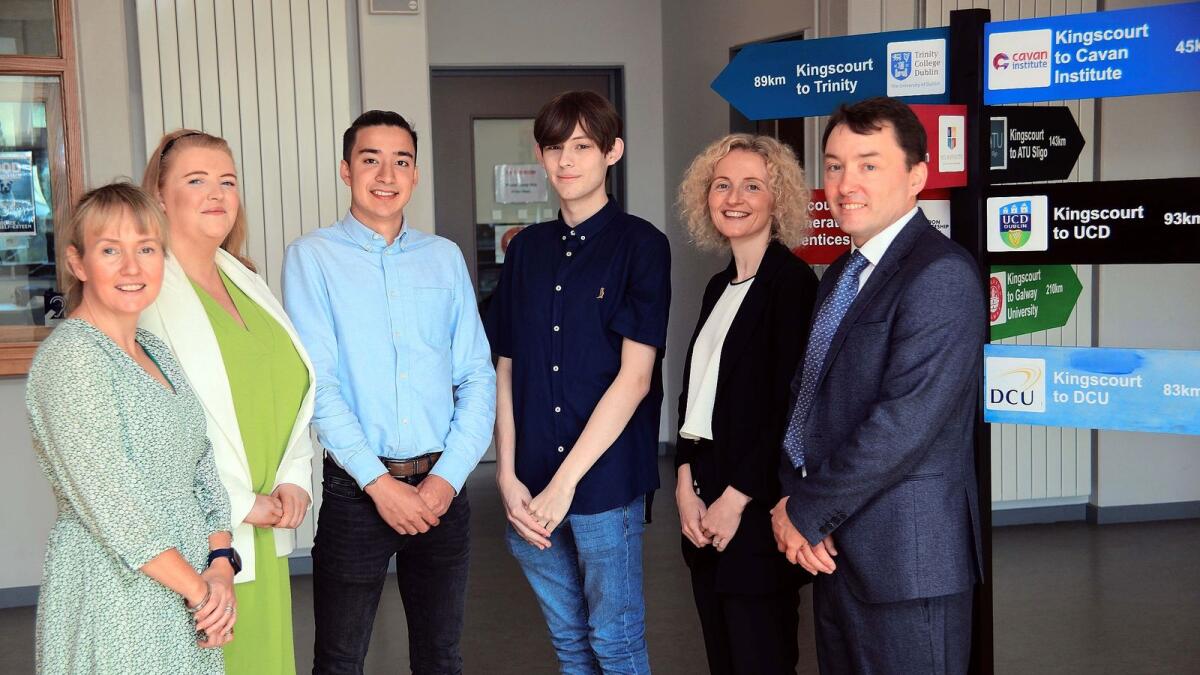 Saint Gobain scholarships & bursaries
Gyproc Saint Gobain has once again proven its support of the local Kingscourt and Carrickmacross communities and strengthened its links with local schools by sponsoring STEM (Science, Technical, Engineering and Maths) scholarships and bursaries.
Coláiste Dún an Rí students Ryan Lockwood and Alex O'Reilly from Kingscourt and Inver College students Grace Marron and Aaron Woods from Carrickmacross were each awarded a STEM scholarship, which will cover the entirety of their tuition fees for their undergraduate programmes.
Previous
Next
Delighted with the scholarship, Alex who is set to study General Engineering at DIT in Bolton Street in Dublin said: "It was a brilliant relief because it saves my mam and dad a lot of money. It's great to have work experience and Erasmus already sorted almost and it's great to be involved with a local company."
Ryan is heading to Trinity to study Biological and Biomedical Sciences: "I was overjoyed knowing that I was going to get so much money for college and not have to have my parents stress about it."
Explaining what prompted her interest in STEM subjects and applying for the scholarship, Grace said: "We did a lot of the practical subjects in school and I like that kind of stuff. I like the maths and the drawing end of things so it just made sense."
Aaron agreed: "It's brilliant with the work experience. There's just some stuff you can't learn in college. It's great to have that kind of experience coming in first hand. It's something local as well so I'm not going up to Dublin every day."
ABOUT THE PROGRAMME
The Saint Gobain STEM Scholarship Programme is a three to four year programme depending on the duration of the student's undergraduate studies.
The scholarship provides the financial assistance for payment of tuition fees. Additionally it allows for all scholars to gain practical work experience during summer recess.
On completion of their scholarship and gaining their degree, scholars have the opportunity to join Saint Gobain on a two-year graduate programme, which may lead to securing permanent employment with a Saint Gobain site in Ireland should the opportunity arise
Once-off bursaries worth €500 each were also given to three students in Coláiste Dún an Rí. They were awarded to Cian O'Rourke, Aaron Kennedy and Kate Gilbride, each of whom were surprised and delighted with the support.
New DKIT Engineering student Cian explained: "I'm very happy about it. I don't think any of us knew we were gonna get the €500."
Agreeing with his classmate, fellow DKIT student Aaron Kennedy said: "We only thought the two scholarships were up for grabs so, when Gyproc said they were gonna give us a wee bursary each, it really meant a lot to put that towards the college funds. It made it easier on the parents."
Kate who is heading to University College Dublin to study Science agreed, stating: "It was a nice surprise for everyone."
Partnerships
Speaking to the Celt about the company's STEM scolarships and bursaries, Human Resources (HR) manager Jennifer Fitzpatrick said: "Today is all about Coláiste Dún an Rí and Inver College and their partnership with Saint Gobain's scholarship programme."
Gyproc Saint Gobain is a market leader in plaster, plasterboard and drylining systems.
The scholarship programme was set up in 2022.
"As part of our Diversity and Inclusion Strategy, we aspire to be a leading employer in Science, Technical, Engineering and Maths. The STEM programme has allowed us to do this, encouraging young women and men to pursue their dream careers, whilst also creating a future talent pipeline for Saint Gobain, explained Ms Fitzpatrick.
Principal of Inver College, Fiona Mulholland, is thrilled with the programme: "It's absolutely fantastic for the school. It's a wonderful link that we have established with Saint Gobain. Continuing to forge links with our community and with all of our stakeholders in Education is absolutely vital for the success of our school, for the programmes that we offer and for the opportunities that are available to our students."
Coláiste Dún an Rí principal Fergal Boyle agreed: "This is a fantastic support for our students going forward this year into college, but also for the students here in the school, they know this is available on their doorstep, along with apprenticeships in Gyproc Saint Gobain."