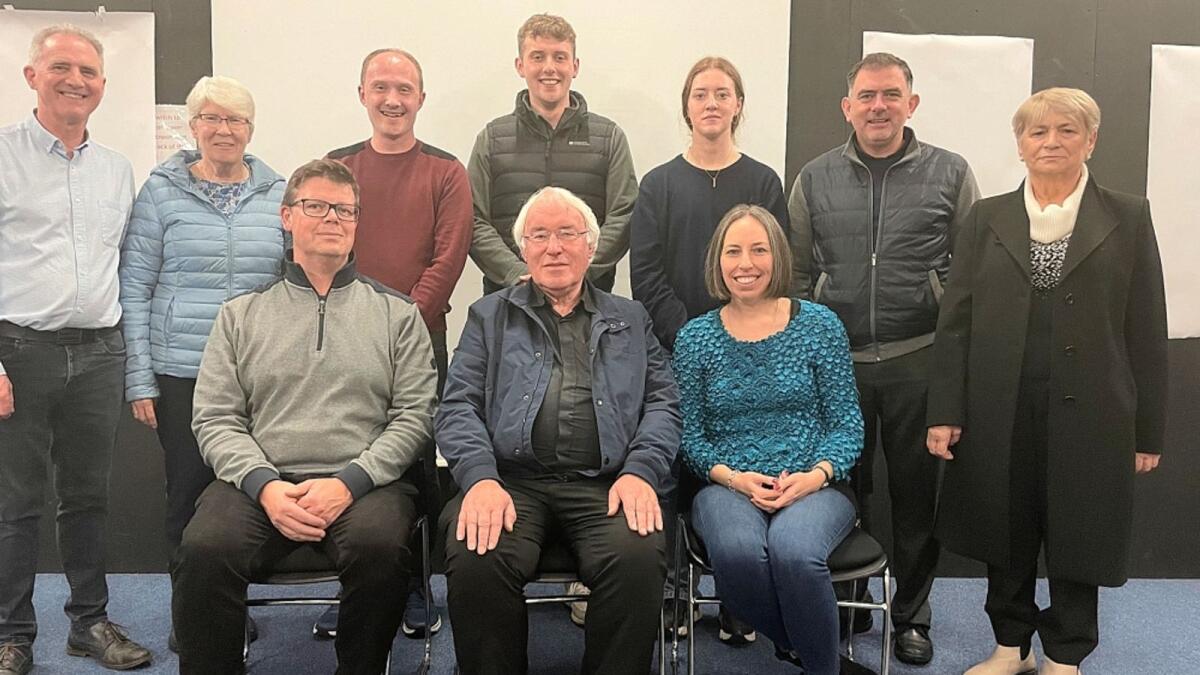 Protecting parish identity
How fewer priests and less Masses will impact smaller rural parishes was one of several key points raised at a meeting in Belturbet last Saturday night where ministry across the Diocese of Kilmore into the future was discussed.
More than 130 people attended the gathering, organised in response to a pastoral letter issued by Bishop Martin Hayes last month. The letter warned that churchgoers "can no longer rely" on a model, which solely depends on a priest.
Covering most of County Cavan, it's projected that, by 2030, there will be only 27 priests ministering in Kilmore, which comprises of 34 parishes and also extends into parts of counties Leitrim, Fermanagh, Meath and Sligo.
In view of the reduced number and ageing profile of priests locally, the requirement for a Diocesan wide review follows an extensive consultation process with the Diocesan Synodality team, Diocesan Pastoral Council, priests, Diocesan staff, and Director of Pastoral Planning and Faith Development, Martina Gilmartin.
The parish of Annagh meanwhile is divided into the districts of Annagh West and Annagh East, or Killoughter, the former containing St Patrick's at Drumalee, one of the oldest churches in the Diocese, and the latter at Redhills. It contains Belturbet Town, and is connected to the parishes of Castletera, Drumlane, Drung, and Urney.
The area already reflects much of which Bishop Hayes has warned about - a soon to retire priest in Fr John McTiernan and another much younger - Fr Jason Murphy - who in just six years time will find himself among the 27 still left ministering.
At present, in Kilmore, there are 64 priests - 44 still in active ministry, two abroad and 18 now retired. Aligned to that is only one seminarian nearing ordination to the Diaconate.
Engagement at the Belturbet meeting was plain-spoken, forthright, and sincere.
It was primarily based on responses to three set questions, the same asked at parish community discussions throughout the Diocese over the past week. They included asking: 'What preparations need to be put in place, in conjunction with neighbouring parishes, if there are less Masses and the possibility of no resident priest'?; 'What kind of skills and tasks should a Pastoral Worker training programme focus on?'; and finally, with fewer priests 'what are people's fears and concerns about faith in the future?'
Focus groups within the audience were set-up to collate feedback.
From the floor, the upkeep of churches not in use was raised, with fewer Masses and less money available from weekly collections.
The training of Pastoral Workers to assist in lessening the burden on priests, taking on auxillary tasks, was another teased out, with counselling for the bereaved among other skills potentially required.
A show of hands resulted in a handful of people demonstrating a willingness to take on the role.
"These are the real things we're being asked to look at and are being asked to solve," said Darragh McAvinney, a parish council member who helped coordinate the Belturbet meeting.
It was accepted that, while faith means "different to different people", some had become "disillusioned" with the Church.
"We need the young people coming back to the church. One of our fears, with not as many priests about, it might leave it even easier for some people not to come out to Sunday Mass," said one speaker.
Another stated that parents had a key role to encouraging their children to attend mass and practise their faith. Some had seen a lift in numbers of people re-connecting with their faith post-Covid; while in Belturbet a children's Mass in Belturbet saw more families attending.
It was asked also if a congregation would "take to heart" the words of a lay person providing a sermon in place of a priest. "In the past priests have given guidance on a Sunday morning. Would people really listen to a lay person giving the same advice?"
Another question related to the number of children of Communion age, and how many of their families are attending Mass with regularity "and why are they not? How can they be approached?"
"If you don't turn up to training, you don't get on the team. There has to be more buy in," stated another speaker emphasising the same point. "It has to be more than just a photo opportunity."
"People are bypassing Church ceremonies," remarked a dejected speaker from a different group. "We felt that faith, as we know it, is dying out, unfortunately, regardless of whether we have priests in our Church or not."
The issue of celibacy and rights for priests to marry was also raised, as was the issue of Mass times clashing with kick-offs or throw-ins at various sporting events.
Speaking for the people from Redhills, of which there was a large contingent in attendance, Fr Murphy said they had seen "major change" already, with fewer Masses taking place than before, and the likes of Baptisms now scheduled for one Sunday in a month.
"My greatest fear is the likes of Redhills, the likes of Milltown, will suffer the most. I think Belturbet will survive obviously, it's a town, a centre of population, but the places that have supported the parish financially and every other way will be the ones to suffer," he said. Fr Jason highlighted how in Bunnoe and Drung, Mass is already held on alternative months. "It's not working," he said.
"You might think that people will go to a neighbouring church to get Mass but that's not happening because, obviously, you have an identity with your local church. That identity isn't necessarily there in other churches," added Fr Jason.
Opportunity
There were those however who see the impending changes as an "opportunity" for more people to become actively engaged in their church community.
"I think the moment has come and I think this is opportunity for us in our parishes," said a female speaker.
Another felt that the loss of young people was because of a lack of "belonging", but that this could be remedied by encouraging them to take part in tailor made programmes. "Make it a community thing."
The acceptance of "other forms of liturgy other than mass" was highlighted.
The subject of steaming Masses to churches with Eucharist provided at the appropriate time was greeted with seemingly widespread approval within the Civic Centre hall.
"I think it would be short-sighted to start to close churches," voiced a follow-up speaker.
But the difficulty for one priest covering Masses in Belturbet, Drumlane and Castletara was made obvious to all with start times all currently within 30 minutes of each other.
The next step will see the feedback collected from the parish meetings delivered back to the Diocese.
There have been no decisions made as yet, and the process regarding what is set to happen is expected to progress further over the coming months.
Fr McTiernan declared himself "heartened" to see such a turn out to discuss what is set to herald in a new era of teamwork involving priests and people embracing co-responsible leadership within Church communities.
"Quite a range of age groups as well, and it was excellent."
As one of the priests on the "cusp of retirement" he says: "We carried the task for a long number of years and it is passing over to other people in a different way now hopefully, with the parish as a whole more involved and people carry a responsibility for their own community in a new way."
Fr Jason expressed a concern that the process now undertaken is perhaps a little late given that more than half of the Diocese's priests are already over 70 years of age, and one third over 75.
He also notes the age cohort present at the meeting, with people aged 30 years and under in the minority.
"We've made many attempts at this down the years. I think now we're coming to crisis point with the age profile of priests, that in 10 years time a lot will be gone. That presents a lot of fears for us as well. What does my future hold for me personally, and from talking to younger priests as well, they too feel what is my quality of life going to be in the future if I'm running here, there and everywhere."
A Belturbet native who is parish priest to Redhills, Fr Jason says it was "encouraging" to hear the fervour of feedback.
"People want and they need that sense of belonging, to their own church, their own community and area. They want to preserve that. In the midst of all this rationalisation is the sense of parish identity. That needs to be protected."