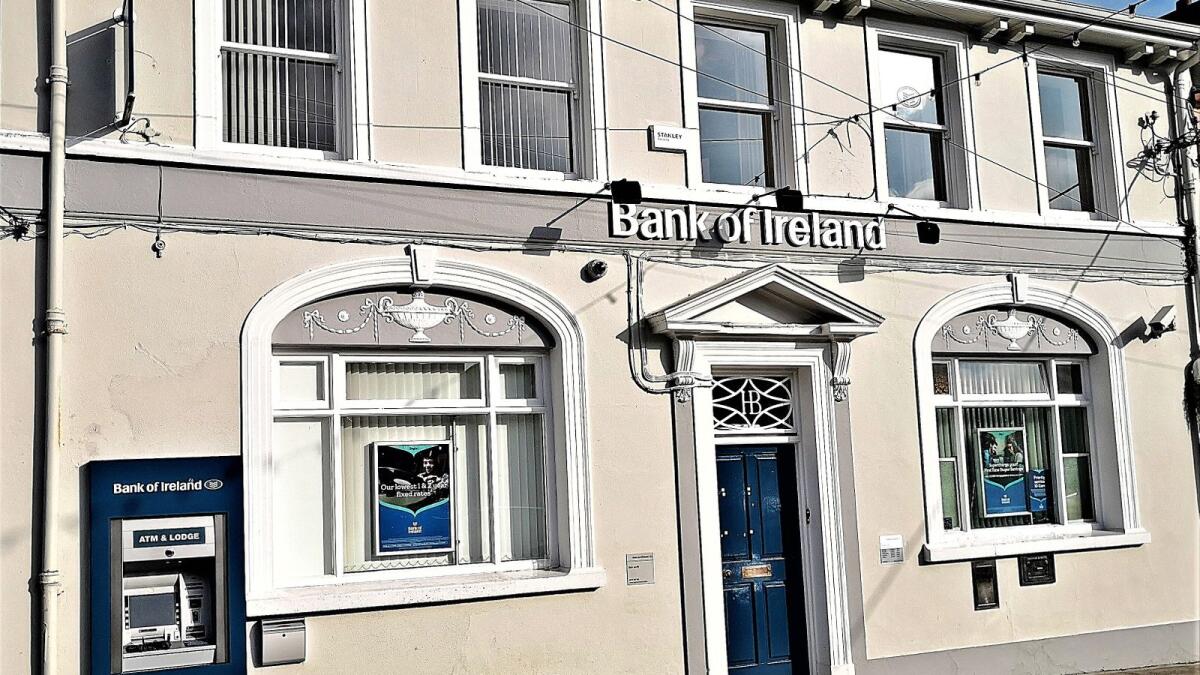 Online public meeting on bank closures set for next week
HAMMER BLOW Local Dail deputies slam Bank of Ireland for decision
The fall-out from the decision by Bank of Ireland to close scores of its branches nationwide, including five in the Cavan Monaghan constituency has rumbled on.
Deputy Pauline Tully is set to host an online public meeting next week calling for the Bank of Ireland to reverse its decision on the Kingscourt, Cootehill and Arva branches.
The Sinn Féín deputy urged people to attend the meeting at 7pm on Tuesday, March 9 saying: "For our towns and communities to thrive, we need our local bank branches to stay open. In the middle of a pandemic, when customers and businesses are under severe pressure, Bank of Ireland - which was bailed out to the tune of €4.7 billion by the Irish people - should not be closing local bank branches.
"Keeping our local branches in Kingscourt, Cootehill and Arva open is crucial for our community," she asserted.
She also claimed the government can play an "important role" in intervening.
"As a key shareholder in Bank of Ireland, the Minister for Finance Paschal Donohoe needs to stand up for local communities facing the closure of their bank branches."
Deplorable
Meanwhile Deputy Brendan Smith slammed the decisions of both Ulster Bank and Bank of Ireland to close branches in towns across his constituency, adding that "once again, it is vulnerable people who will suffer".
"The Financial Services Union made the very strong point that the Bank of Ireland decision will result in the removal of vital services from elderly people, those with no Internet access, those who lack confidence in doing business online, and people with literacy and numeracy problems. The decision is a hammer blow to staff, customers and communities," said the Fianna Fáil deputy.
He branded the latest decision by the Bank of Ireland as "deplorable".
"It is deplorable that the Bank of Ireland is making this decision during a pandemic when, of necessity, there has been a dramatic reduction in footfall in our towns and villages and, understandably, fewer people attending branches owing to public health guidelines.
"This means a further dramatic reduction in banking competition and shows no regard for staff and local communities that have been loyal to the Bank of Ireland over many decades."
The Cavan-Monaghan TD also spoke about the impact on the border region of the decision by NatWest to exit the Irish market and close its Ulster Bank operation here.
"The Border region has had a strong presence of Ulster Bank over many years. The recent decision will result in the closure of branches in Ballyconnell, Ballyjamesduff and Cavan town and in Monaghan town, which are four branches in my constituency.
"This followed on from the bank exiting towns such as Belturbet, Killeshandra, Kilnaleck, Swanlinbar, Clones and Castleblyaney in 2013-2014 and Arvagh and Cootehill in 2017. This shows the dramatic change in the landscape of Ulster Bank services over the past number of years. In a number of months, there will be no branches or presence in many of those towns. It is a dramatic change, and for the worse, unfortunately."
Jobs
Looking towards a post-Covid future, Deputy Smith said these banking decisions will deprive "communities of a necessary banking service".
He stated: "When the Covid crisis is over, we all hope there will be an opportunity to create more jobs in rural Ireland through people being afforded the opportunity to work from home and from digital hubs. However, at the same time that we are encouraging private employers and the public service to give opportunities for employment in smaller towns and villages in rural Ireland, major institutions are exiting those towns and villages and depriving communities of a necessary banking service."