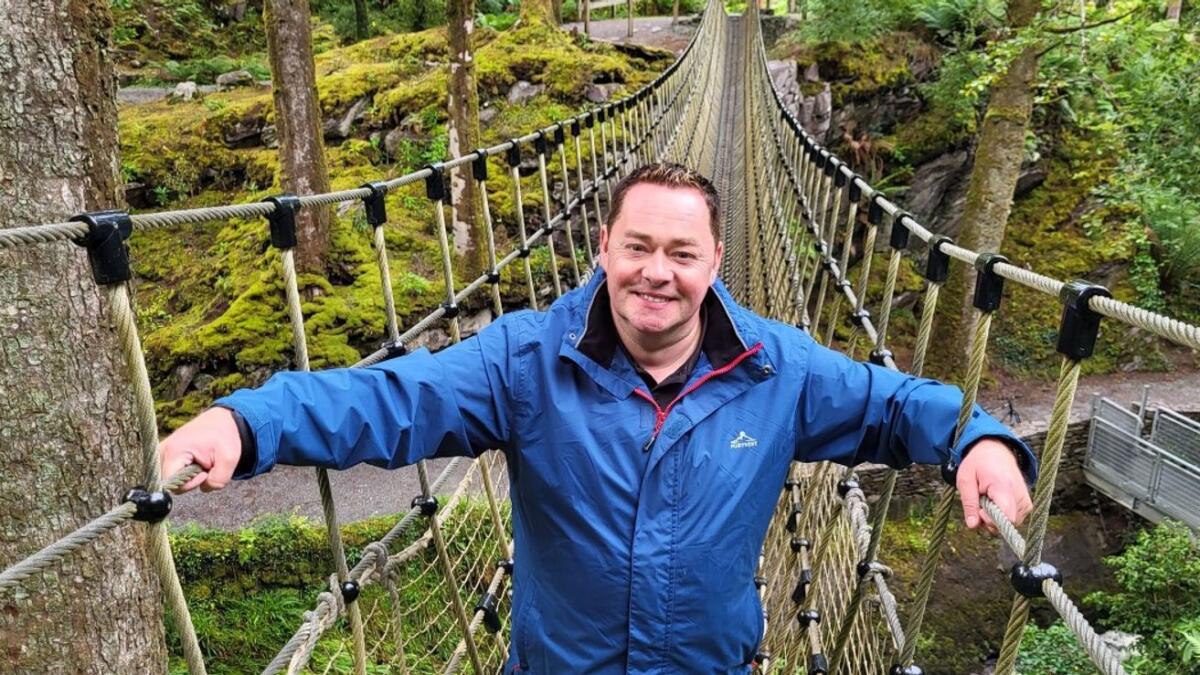 Neven Maguire's latest foodie episode in Kerry
The Cavan chef is set to find Kerry's best bites
Kerry bound celebrity chef Neven Maguire has set his sights on the Kingdom for his next Greenway Food Trails adventure.
This week, the popular television series will see Maguire explore the South Kerry Greenway, a planned cycling and walking track, which will run from Cahersiveen to Glenbeigh on the spectacular Ring of Kerry.
In Caherciveen Neven calls in at the Fox in the Box, a mobile coffee house where he meets owner Marguerite Ahern and enjoys a flat white coffee and a 'brookie' - a cross between a brownie and a cookie.
The Cavan man then cycles to Renard Point where he meets Eamonn Casey of Casey Cycles. Eamonn tells Neven about the historic railway line which was used to transport fish caught locally, and slate from the Valentia Island Slate Quarry. The Greenway will follow the former railway line from Caherciveen, through Foilmore to Kells Bay, Mountain Stage, the Laune Viaduct; and end beside the mountains in Glenbeigh.
On his return to Caherciveen, historian Leonard Hurley tells Neven about the tremendous feats of engineering involved in constructing the Farranfore to Valentia Railway; from boring through mountains to create tunnels, to the construction of the 940 feet long Laune Viaduct. Leonard also shares poignant memories of watching the last train depart Caherciveen in 1960. Another distinctive landmark is the former Caherciveen RIC Barracks built between 1870 and 1875. Leonard explains how the building was originally constructed after the Fenian Rising to secure the transatlantic cable, burned down by Republicans in 1922, and is now restored as a heritage centre.
Heading North East, Neven visits Kells Bay House and Gardens, home to Ireland's longest rope bridge "The Sky Walk". The Sky Walk crosses the Delligeenagh River, spans 112 feet and is approximately 36 feet high. After some initial nerves, Neven ventures across the bridge.
Neven's next stop is just outside Glenbeigh where he visits the Up-Cycle Mobile Café and meets barista Nicole O'Shea. Originally from New Zealand, Nicole describes her coffee-making technique which involves grinding beans to order and weighing every shot of coffee. She prepares a flat white for Neven made with Brazilian beans which has hints of chocolate, caramel and peach. Nicole serves up to 250 coffees per day.
Further north in Cromane, Neven calls in at Realt na Mara Shellfish, which produces dredged mussels in the pristine local waters. He meets manager Sharon Sugrue for a boat trip on one of the largest mussel beds in Ireland at Castlemaine Harbour.
Still in Cromane, Neven visits Jack's Coastguard Seafood Restaurant where chef Jonathan Keary shares two recipes - Organic Irish Salmon with Crispy Skin, Crabmeat Garnish and Beurre Blanc Sauce; and Atlantic Cod with Herb and Caper Crumb and Cream Velouté Sauce infused with Saffron and White Wine.
Neven's Greenway Food Trails is produced and directed by David Hare of InProductionTV and sponsored by Bord Bia.